If you are looking for some fun summer adventures, there are plenty of things to do in the Colorado Springs area. That said, there may be some hot days ahead, and it is important to know how to stay comfortable and safe while hiking in extreme temperatures. We'll go over the best hot weather hiking tips so you can get on the trail and enjoy a safe and fun time.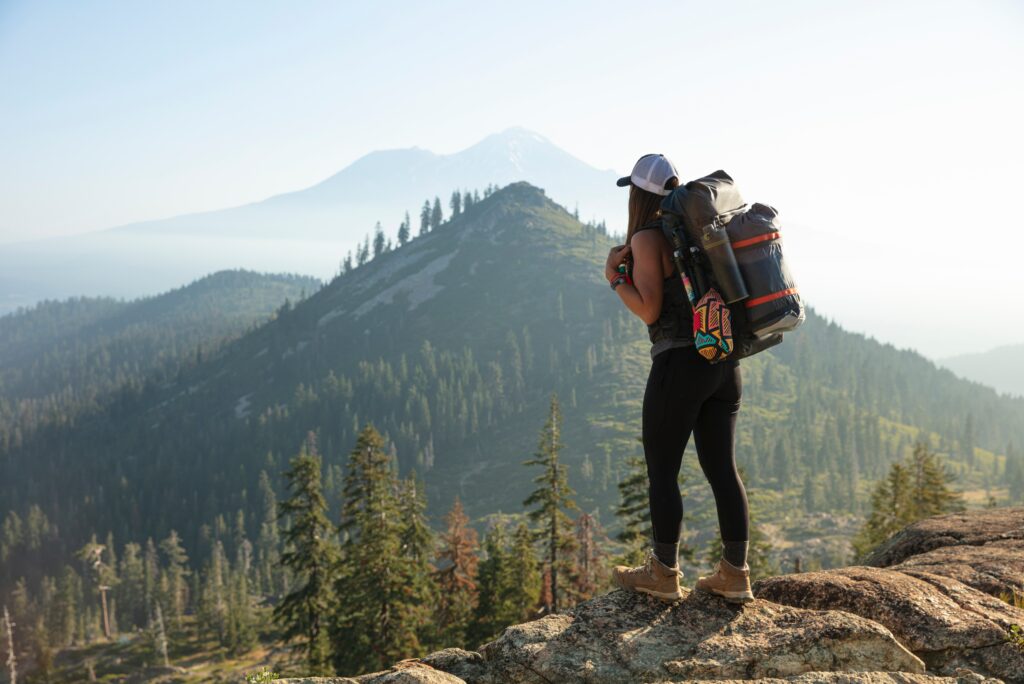 The Right Clothes for Hot Weather Hiking
It's important to dress properly for the weather. In hotter climates, you will be tempted to wear less. But you also need to consider the sun exposure and the potential for sunburn. The best option is breathable and lightweight fabrics. Also, some hiking clothes have vents for those warmer months. Consider finding hiking clothing with these helpful little zippers!
I always avoid cotton when hiking because I don't like feeling wet. While the moisture can help cool you down in the summer, it can also be dangerous if the weather drops suddenly and you don't have a clean, dry shirt. Temperatures in Colorado Springs can change quickly, especially as you gain altitude. The area is also known for afternoon rain, so keep this in mind as you dress and pack dry alternate clothing.
The same definitely goes for socks. Having wet socks during any season is a surefire way to end up with blisters since damp skin is more susceptible to chaffing. Grab a pair of lightweight wool socks and breathable hiking boots. Keep in mind that in most cases, breathable and waterproof do not go together. Most waterproof hiking boots are stuffy, and it can be hard for your feet to stay dry when you sweat in such boots. If this is the case, carry a change of socks on your trip so you can stop, let your feet dry out, and change socks.
Wear Light Colors
It is worth noting that light colors do not absorb sunlight the way dark colors do. Keep this in mind when choosing your dry-fit shirt for the hike, and you will notice that you stay a little cooler. Next time you're shopping for hiking clothes, instead of black, opt for white, tan, or khaki.
Wear UPF-rated clothing
While all clothing blocks out some of the sun's rays, there is the option of wearing specially designed clothes that have UV protection. This is a great option for people with fairer skin or hikers out for a long day. Look for clothes with a UPF rating to ensure skin protection on your hike.
The Best Places to Hike in Hot Weather
If you are planning to go out despite some steamy conditions, there are a few ways to ensure a more comfortable time. One way is to find a hike near a body of water. You can benefit from a nice cool breeze, and you can wet a bandana to cool you down on the trail.
It is fairly obvious, but hiking in shady spots is a must in hot weather. Staying out in the sun too long at the exertion level hiking requires can be dangerous. If you start feeling the heat, pull over in the shade until you feel your body temperature come back down.
The Best Times to Hike in Hot Weather
Another way to avoid overexposure is by picking a good time for your summer hike. The hottest time of the day is between noon and 2 pm. You can get an early start or consider an evening-time hike to avoid the worst of the hot weather.
Staying Hydrated During Hot Weather Hiking
The Importance of a Hydration Pack
Keeping your hydration levels steady is essential when hiking in hot temperatures. One thing to note is that you will stay better hydrated with a hydration pack rather than a water bottle. It is easier to reach for, and you can take a sip without pulling over on the hike and fishing out your water bottle.
How Much Water Should I Drink on a Hike?
When hiking in hot temperatures, you need to account for a few factors. You can't just drink what you normally would when sitting at home, or even on a more temperate hike. You will be sweating, and the temperature and humidity affect how much water you need to take in.
A general recommendation is about a half liter of water per hour of moderate activity in moderate temperatures. Half a liter is about 16 fluid ounces, if you have a water bottle with measurements on it. What this means in hot weather hiking is a gulp or two every five to ten minutes. Keep in mind the saying that if you feel thirsty, you're already dehydrated. Your body generally knows when you need fluids, but on a hike, it's important to stay on top of this and not get to the point of feeling thirsty.
Don't Forget about Salt!
One dangerous mistake hikers make is drinking just water. You should try to drink enough to make up for what you are sweating, but regular water is not the same as what we sweat. Our bodies need electrolytes, aka salt. It is possible to drink too much water and be "overhydrated." This is just as dangerous as dehydration, so make sure your water consumption is balanced. It is also a good reason to consider not hiking alone in dangerously hot temperatures. If you want to stay safe while hiking alone, be sure to tell someone where you are going, carry the ten essentials, and know your limits.
There are a few ways to add salt to make sure you don't overhydrate on water alone. You can get salt tablets or "hydration tablets" that dissolve in water in effervescent and fruity flavors. You can bring along a sports drink that has a healthy mix of electrolytes. You can get a trail snack like salted peanuts, pretzels, or granola bars.
Final Thoughts
Unfortunately, climate change is causing more extreme temperatures. We need to adapt and learn how to stay safe in these hotter months so we can continue to enjoy the great outdoors. Wearing weather-appropriate clothing, using sunscreen, and staying properly hydrated are all key ingredients in safe and comfortable hot weather hiking. Be sure to know your limits, take breaks in the shade when needed, and use a wet hat or bandana to cool off along the way. You can also join a guided hike for practical, on-trail tips for hiking safety.