When you're spending time planning a hiking vacation in Colorado, pouring yourself into the details, you're envisioning everything goes right. You're picturing smiles and laughter, time unplugged in nature, and memories made – whether by yourself or with your family. However, there's a relatively easy way for things to go wrong.
Being unprepared for Colorado's weather patterns can not only put a wringer in your vacation – it can compromise your safety, too. We've put expert advice together to compile this informative overview of what to wear hiking in Colorado. You can also check out our other post on Hiking Safety in Colorado.
Typical Weather
Before you can decide what to wear hiking, accommodate yourself with Colorado's climate.
Spring: Spring weather in the Colorado Springs area means pretty drastic temperature shifts from day to night. Highs can be anywhere in the 50s and lows in the 20s. 
Summer: Summer in the Colorado mountains is definitely warmer than spring. However, with highs in the mid-80s and lows in the low 50s, these significant shifts in temperature from day to night mean you'll still need to pack more than just a t-shirt and sunblock. 
Fall: Highs in the 60s and lows in the 30s is just about perfect weather for hiking in Colorado, but it doesn't mean you don't need to bring plenty of layers – just in case you are hiking later in the day than you planned. 
Winter: Temperatures in Colorado Springs hang out in the 40s in the day and high teens at night during the winter.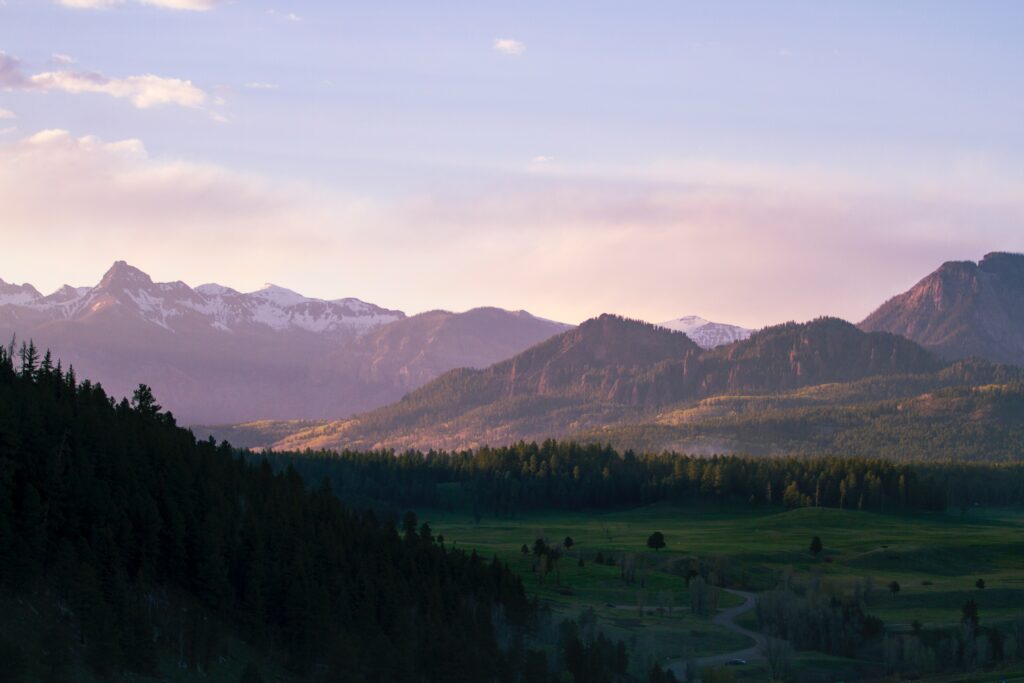 Layering
Wearing and bringing extra layers with you is crucial when hiking in Colorado's mountains. At the very least, your basic hiking outfit/packed extras should contain the following:
Moisture-wicking base layer.
Moisture-wicking undergarments.
Insulating layer. In summer, this may be a warm fleece, depending on the weather forecast. In winter, this needs to be a heavyweight insulated synthetic or down stuffed jacket, like a "puffy."
Rain jacket
Wool or fleece hat
Extra socks. We prefer wool.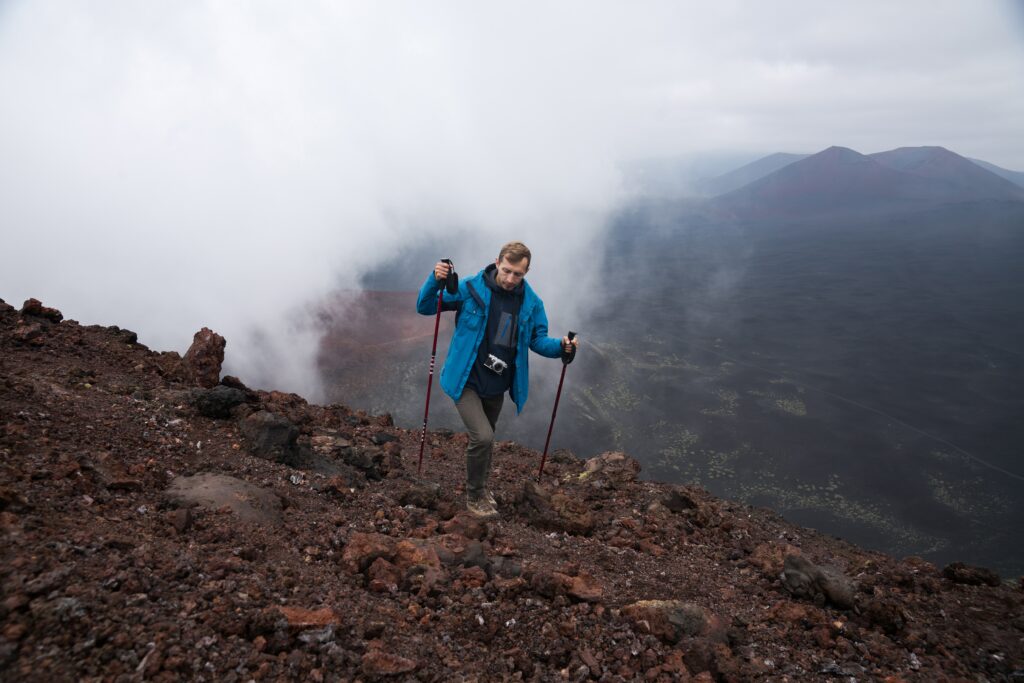 The Problem with Cotton
There's a phrase in the outdoor world that warns us, "Cotton kills." While this sounds extreme and is not the case in every climate, it should definitely be kept in mind when hiking anywhere in Colorado.
Cotton is hydrophilic, which means it loves water; the plant fibers attract moisture and hold onto it, so it dries out very slowly. It's highly absorbent and can hold up to 27 times its weight in water. This means our bodies must work extra hard to heat ourselves along with the cotton fabric in an attempt to dry it out. This can be dangerous in climates such as Colorado's that have major temperature shifts from day to night and storms that seem to come out of nowhere.
Unsafe Cotton Scenarios
Imagine you're hiking in any season – you're working hard and exerting yourself physically, so naturally, you work up a sweat. Your hydrophilic cotton shirt is absorbing every drop of sweat your body generates as you're hiking up and over mountains.
Now, imagine you're wearing that sweaty cotton shirt, and it's getting late in the day, and the temperature is dropping fast. You're going back down the mountain, and although the descent is brutal on your knees, your body temperature is dropping quickly because you aren't using much energy hiking downhill. With strong winds that can decrease your body temperature in seconds, things can take a turn for the worse very quickly from here.
However, the good news is that this scenario is entirely avoidable with knowledge, good preparation, and mindful packing. When packing for your hiking trip in Colorado, it's best to keep the phrase "cotton kills" in your mind.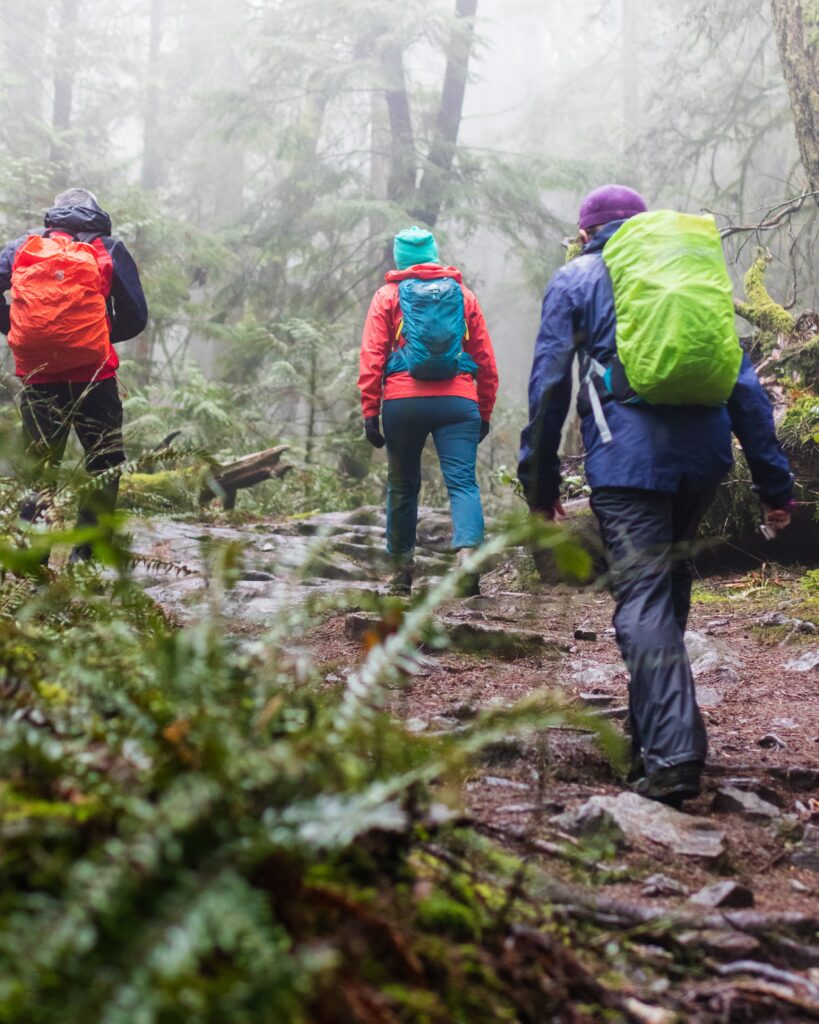 What to Wear Hiking Instead of Cotton
Head to any outdoor gear store, and you're bound to see the term "moisture-wicking" on dozens of tags. Moisture-wicking fabrics like synthetic and wool fabrics are the opposite of cotton: they are hydrophobic, meaning they resist water penetration.
Polyester and nylon are top contenders among synthetic moisture-wicking fabrics, and wool is the leader (and my personal favorite) when it comes to natural fibers. Whether you get soaked in a downpour or sweat profusely on your hike, your moisture-wicking shirt, pants, and socks are going to dry super quickly and not leave you cold and clammy like cotton will.
Additionally, wool is a superb natural insulator. This makes wool the leader in fabrics that transition from daytime to nighttime hiking in areas where temperatures shift dramatically, like Colorado.
But isn't wool too hot for summertime hiking?
You can purchase 100% wool hiking attire that is lightweight enough to wear while hiking in the summer in Colorado. Just look for base layers – they can be pricey but incredibly versatile and suitable for all of Colorado's seasons.
Things to Remember
When considering what to wear while hiking in Colorado, it's important to think past just your clothing.
If you have sensitive skin, make sure you bring sunscreen to apply on all exposed skin, following the bottle's directions.
Sunglasses and hats can protect your eyes, neck, and face from the sun.
Bug spray will help keep the gnats at bay.
Colorado is home to over 27 types of ticks and 20 tick-borne diseases, including Rocky Mountain Spotted Fever. To prevent ticks from crawling onto your skin, opt out of the shorts, and wear long pants tucked into your socks. Even if it's hot, your moisture-wicking pants will keep you cool enough to hike. Also, remember to learn more about Colorado tick bite prevention, dangers, and bite protocols.
Footwear should be closed-toed and provide adequate ankle support for optimal safety.
Conclusion
Safety is the most important thing to consider when planning what to wear hiking in Colorado. If you're unclear on how to hike safely, consider coming on one of our Guided Hiking Tours in Colorado Springs. We'll make sure you've dressed appropriately, show you around Pikes Peak and Garden of the Gods, and keep you safe!