There are countless reasons to visit Colorado, and the plethora of world-class outdoor recreational activities is near the top of that list. Whether you are drawn to the skiing, fat biking, ice climbing of the winter season or the hiking, climbing, and fishing of the summer, The Centennial State has something for everyone.
No matter where they are coming from, many visitors to Colorado have the dream of standing on top of one of the state's fourteeners – the fifty-eight mountain summits standing over 14,000 feet above sea level. Towering just twelve miles west of downtown Colorado Springs is Pikes Peak, one of the most sought after these peaks.
If you plan to visit Pikes Peak, reaching its summit should make your must-do list. Lucky for you, there are a variety of ways to do so. The Manitou and Pikes Peak Railway is the world's highest cog railroad and will bring you right to the summit. Alternatively, you could also drive your vehicle to the top using the Pikes Peak Highway.
However, for the more ambitious, there truly is no better way to enjoy this beautiful mountain than with a Pikes Peak hike. To hike Pikes Peak is to deeply immerse yourself in nature and embrace the challenge of earning a fourteener summit under your own power. If this sounds like a worthy endeavor, you have a couple of options available to you, and this guide to hiking Pikes Peak is here to help.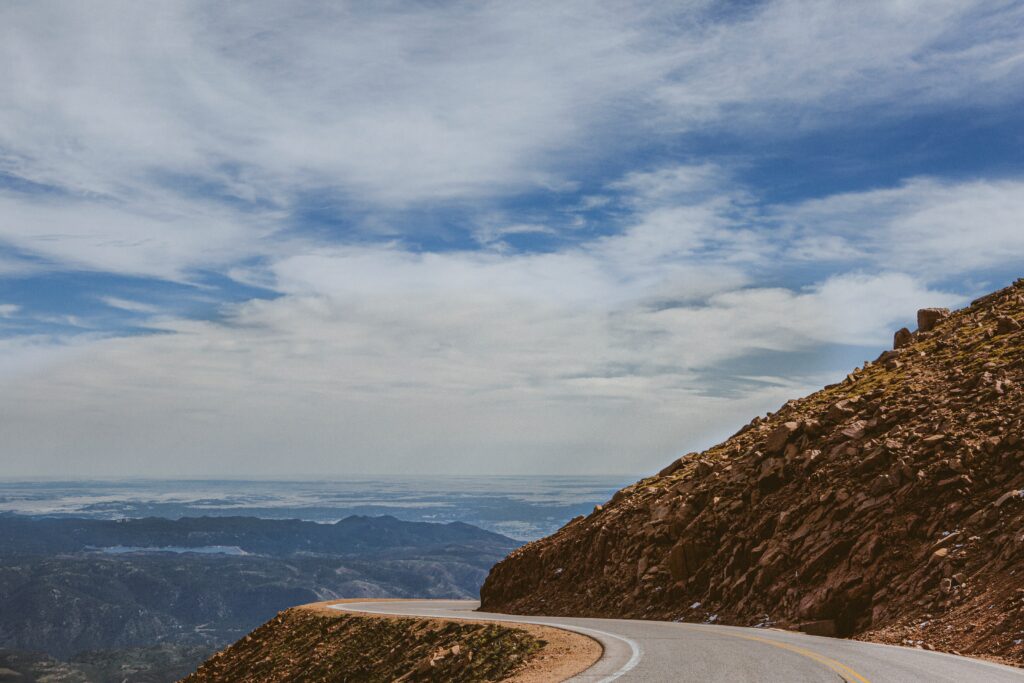 Pikes Peak hike on the Crags Trail
Length: 14.5 miles round trip
Trail Difficulty: Moderate
Elevation Gain: 4,400 feet
Best Seasons: June to October
Map: The Crags Trail
Directions: Take US 24 west from Colorado Springs to Divide, where you turn south on Colorado Hwy 67 for approximately 4 miles. After passing Mueller State Park, turn left on Forest Service Road 383. 
The Crags Trail is the easier hike to the summit of Pikes Peak, covering a shorter distance and less elevation than the Barr Trail described below. Despite being easier, it sees less foot traffic and generally offers hikers a little more solitude on the trail. The views from the trail of the Continental Divide, once above the treeline, cannot be beaten.
After leaving the trailhead (about 1/10th of a mile into your hike), you will hit Fourmile Creek, where you will need to turn right and cross a bridge to get onto trail #664A. Hike through the forest for a little while before eventually hitting a series of switchbacks that will deposit you above treeline.
From here, the real climbing begins as you approach a mountain saddle at 12,750 feet and Devil's Playground just beyond, with the route and summit finally coming into view. Cross the Pikes Peak Highway before beginning the final 2-mile slog up a boulder field to the summit. The final push requires hikers to keep a close eye out for cairns marking the path of least resistance to the top.
Parts of this route can see snow late into spring. So, the best time to hike is in early summer to late fall. The summer months offer excellent wildlife viewing, whereas fall is breathtaking in its own right with brisk mountain air and the changing colors of the leaves.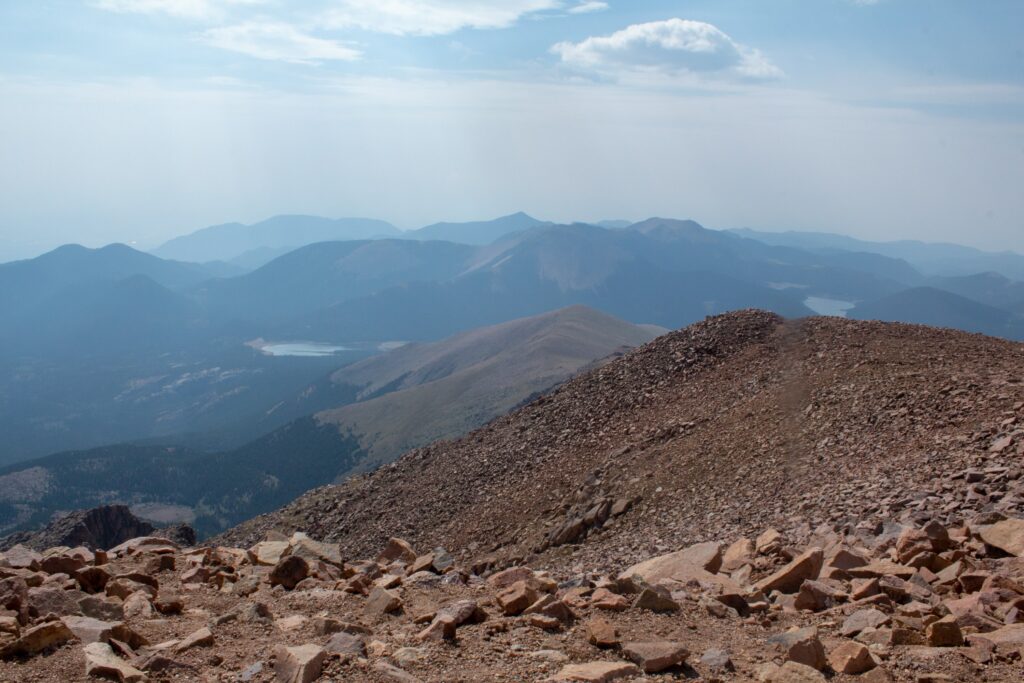 Hike Pikes Peak on the Barr Trail
Length: 25 miles round trip
Trail Difficulty: Advanced
Elevation Gain: 7,434 feet
Best Seasons: June to October
Map: The Barr Trail
Directions: Take US 24 east into Manitou Springs and take a left at the circle to get onto Ruxton Ave. Travel on Ruxton Avenue until the very end. Then, turn right up a steep pitch and into the trailhead parking lot. Have a credit card ready to pay for parking, and arrive early to secure a parking spot.
The most popular and most demanding route to the summit of Pikes Peak is via the Barr Trail. The trailhead sits at 6,700' in Manitou Springs, and it takes a whopping 13 miles and nearly 7,500' to reach the top! If you are up to the challenge, it is worth every bead of sweat.
In the first six miles, there is almost 4,000 feet in elevation gain. The first three of those miles being the steepest. Along the way, you will see a sign denoting the Fremont Experimental Forest. Use the single-track trail and avoid the temptation to hop onto the wider path to your left.
At just over 10,000 feet, you will reach Barr Camp and a pseudo-halfway point for the climb. If you intend to divide your trip into two days, this is a great place to spend the night. Barr Camp has hostel cabins, lean-tos, and tent camping, but it is very popular and reservations are necessary. If you intend to make this into a multi-day affair, pack the right equipment and plan accordingly.
From Barr Camp, you will enjoy a mellow stroll for a couple of miles before hitting a set of switchbacks akin to those that you encountered from the trailhead. Just above 12,000', you will find an a-frame which is a first-come, first-served shelter for anyone to use. Soon after this checkpoint, you will encounter a sign proclaiming that there are only three more miles to the summit. At this sign, take a sharp right turn and begin the steep, high elevation switchbacks on uneven terrain until you proudly stand atop the 14,115-foot summit of Pikes Peak.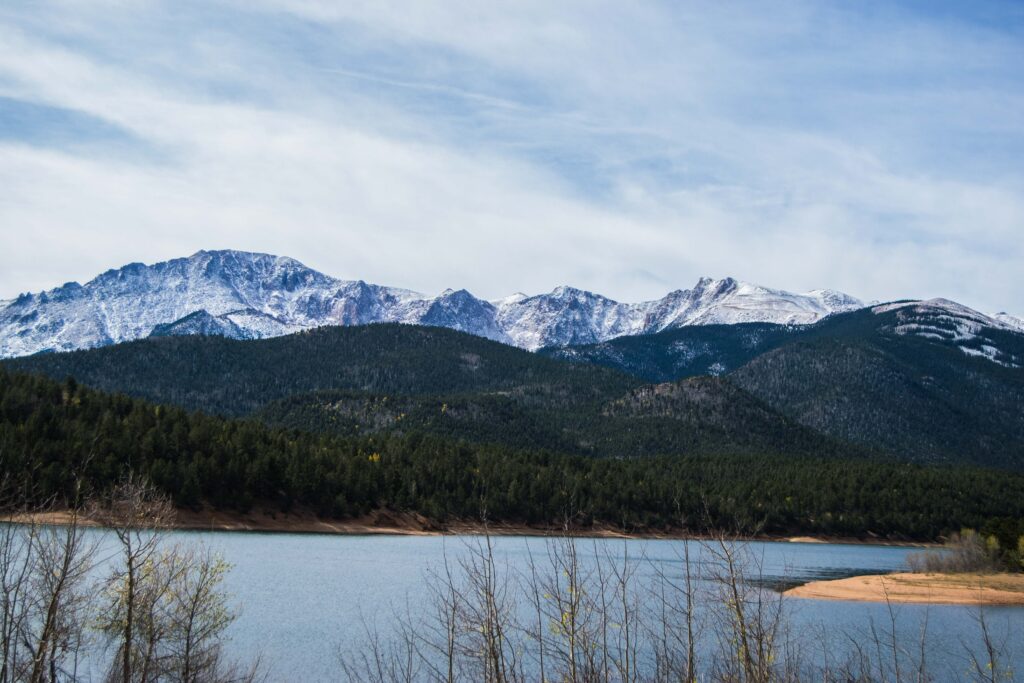 Tips for your Pikes Peak Hike
Altitude
If you are visiting from a lower elevation or sea level, take Colorado altitude seriously. Allow yourself plenty of time to acclimatize before your climb. Do some warmup hikes to get your body used to the elevation, and move slowly!
Weather
High country weather changes quickly and often, and your trip planning should account for this. Bring plenty of clothing layers that can address your needs in both very cold and very hot temperatures, as well as the common afternoon rain shower.
If there are any signs of lightning or an encroaching thunderstorm, do not push for the summit. Leave early in the morning. Depending on your pace and fitness, you'll avoid both midday heat and afternoon storms.
Hydration
The importance of drinking plenty of water cannot be overstated. Your body will be dealing with physical exertion and altitude, and staying hydrated is key to mitigating the potential adverse effects of both. There is no potable water on Pikes Peak, so be sure to bring a purifying system to refill your bottles along the way.
Food
No matter how you choose to hike Pikes Peak, you will be putting in a considerable amount of effort. Your body will need the energy to keep up! High protein snacks like bars or jerky are excellent snacks, but also pack a lunch for halfway through the day. Sugary snacks are great for the quick jolt when you need them, but do not rely on sugar to get you to the top.
Anytime you approach objectives in the mountains, it is crucial to do so with a realistic mindset. If hiking Pikes Peak seems a bit out of reach this visit, enjoy a trip to the summit on the cog railroad or Pikes Peak Highway. Everyone on top gets to enjoy the same sweeping Rocky Mountain panorama, no matter how they got there!
There are plenty of other opportunities nearby to scratch your hiking itch, including with a professional guide with our guided hiking tours in Colorado Springs. From nature walks to summit bids, we guarantee that there is a hike on Colorado's Front Range for every adventurer. No matter where you choose to explore, the Rocky Mountains are sure to impress.