The variety of terrain and difficulty found on day hikes requires the skill of adequately packing.
How to pack for a day hike is a skill that many have been working towards mastering for years and that all hikers need to know the basics of. Before you head out into the backcountry, your pre-trip will always require you to take a look at all of your hiking essentials.
Day hikes in Colorado Springs can be laid back or some of the more strenuous hikes out there. To take these hikes on safely, you need to pack efficiently and effectively. While optimism and a positive mental attitude should be the first thing you pack, you can't forget that emergencies do happen. If they happen to you, what's inside your day pack will often determine how the situation plays out. 
If you're new to hiking or have never hiked in Colorado before, we recommend booking a hike with a guide. Guided hiking tours will help you feel confident in a new environment and help lower risk while hiking in the mountains.
10 Essentials to pack for a day hike
The Ten Essentials are a great place to start when learning how to pack for a day hike. These were created over 80 years ago and have been modified as our technology and knowledge advance.
To begin, we'll take a quick look at each of the ten essentials.
1. Navigation
Before you head out, you'll need to know where you're going and how to get there.
A map and compass are an excellent pick for navigational aids, but you can up your technology game and bring along any satellite navigation and communication devices. 
2. Sun Protection
The sun will quickly ruin your day hike and potentially lead to more serious problems if you're unprepared.
If you adequately protect yourself with the proper layers, hats, and sunscreen, you are much less likely to experience heatstroke, dehydration, or any other sun-related illnesses. Even on cloudy days and in the winter, the UV rays can still reach you, so always be prepared!
3. Insulation
If you're packing for a long day hike or even packing to prepare for potential hazards, extra layers will be key to keeping you safe and comfortable.
The weather flips like a switch in some environments, especially in the mountains. With the proper jackets, hats, and rain shells, you can be ready to take on anything mother nature throws at you. 
4. Illumination
Any day hike can turn into an overnighter if you lose the trail or get turned around unexpectedly (especially if you neglect navigation).
Pack a headlamp or flashlight with spare batteries, so you don't need to shuffle your way through the dark. 
5. First-Aid
There's no need for a complicated first aid kid unless you are a professional, but it's important to have a basic kit ready for any injuries you or other hikers may have.
Remember, not all kits are made for all environments. Buy a basic kit and make changes to it to fit your experience level and the needs of your group. 
6. Fire
Being ready for anything means being prepared to keep yourself warm, cook food, and treat water when in the backcountry.
Fire starting supplies such as waterproof matches, a lighter, or a Ferro rod are great options to help get a fire anywhere. Pick what you are the most comfortable with and pack a spare.
7. Repair kit and tools
Packing a repair kit can seem like overpacking when you're planning on just going out for the day, but it can be one of the most important things you bring along.
You will find more uses for duct tape and a knife than you ever thought imaginable when you need it out there. 
8. Nutrition
Every day of our lives appears to be driven by, "what meal will we have next?"
When you go out into the backcountry, this question is asked even more frequently as your body works harder than normal to bring you from place to place. Even if you bring out just a few calorie-dense snacks on your day hike, you'll be grateful. The best practice is to bring at least an extra day's worth of calories.
9. Hydration
No matter if you're out in the dead of winter or on one of the guided hiking tours in Colorado Springs during the hottest day of the year, water is always your best friend.
Water keeps you warm in the winter and cools in the summer. Almost every ailment you start experiencing in the backcountry comes with the initial treatment recommendation of "drink some water." Unsurprisingly, it usually works. 
10. Emergency Shelter
Going out means going out ready for your trip plans to change drastically. In most cases, you'll never end up spending a night out that was unplanned.
However, if you ever find yourself in that situation, an emergency shelter will be a lifesaver. This can be a small bivy (like a one-person waterproof cocoon) or simply a tarp to protect yourself from the elements.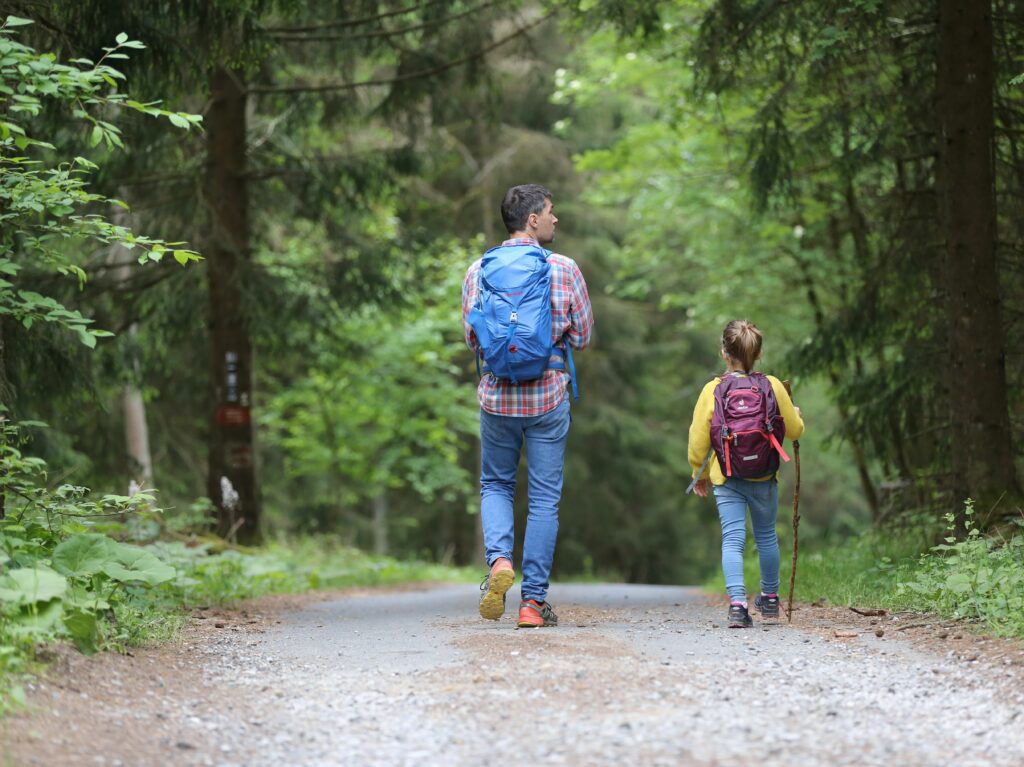 More about comfort, less about survival
The Right Pack
The right backpack for day hiking is going to be a complete game-changer when you're out hiking. A comfortable bag with enough space and support will turn a miserable experience into a walk in the park. For starters, I recommend buying a 30-40 liter pack if you are focused on day hikes.
40-liter packs can be used for short overnight trips but aren't overkill for just a day. 
Do some research on different packs that give you the back support you need. Certain brands like Osprey will form-fit each pack to your back. This can be helpful, especially if you have a history of back problems. 
Don't let not having the perfect day hiking pack stop you though! Start with the bag you have and upgrade when you're ready.
The Right Shoes
Nobody wears flip-flops to the prom, and nobody should wear high heels out on the trail. The right shoes for you will be shoes that are comfortable, sturdy, broken in, and give you good ankle support. After those basics, you can begin looking at the different styles of rubber, traction designs, and waterproof construction.
Wearing the right shoes helps to avoid blisters, which means you won't need to break into your first aid kit. The more preventative measures you can take to save on supplies will leave you even more prepared for your next day hike.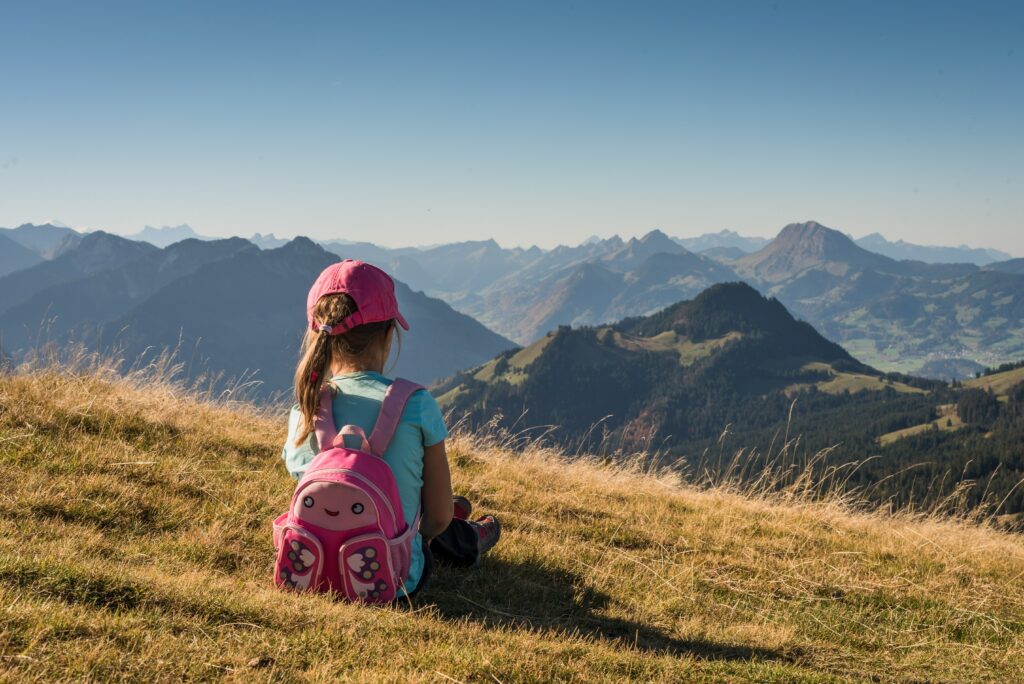 How to Pack for a Day Hike
Now that we've hit the basics of what you need to pack, it's important to talk about the process of packing.
The ABCs
The ABCs are a valuable tool for packing a backpack so that it fits comfortably and makes hiking easier. While most people will only use this method with multi-day trips, it's helpful to consider when you are doing day hikes as well. Like I mentioned earlier, some day hikes in Colorado Springs can push you to your limit. Packing a comfortable bag will take a lot of strain off your back and make these hikes more enjoyable.
Accessibility- When you're packing, make sure things you'll need while hiking are packed on top or in an external pocket that you can easily get to. This includes things like rain gear, snacks, and especially a headlamp. Looking for a headlamp without a headlamp can be the most frustrating thing you'll do all year long. 
Balance- Having a bag that pulls you to one side will end with a cranked back and one leg that takes on a lot more stress throughout the day. The key is to make your pack well-balanced to maximize comfort. The weight should be evenly distributed from side to side, and you want the majority of the weight to be in the bottom third of your bag. 
Compression- Here's what can save you after packing a long list of essentials to bring on any day hike. Gear that compresses down into a small pouch is the best gear for hiking. After all, you don't need to buy an 80-liter pack to go out for the day. Invest in a few compression bags to squeeze everything down into a small space. 
Know your Environment
You need to know what kind of a hike you are headed into and what that environment may throw at you. This means looking at the current weather forecast, the weather trends for your location, and reviews of the hike from recent days. 
You can gather information from apps (like AllTrails), with hikers going out onto these trails every day. If one person notices a dried-up river where most hikers rely on water, you wouldn't know this without their comment. Utilize social platforms to gather as much information as you can before heading out. 
This information will help you greatly when packing your bag. It will tell you if you need extra socks because everything is muddy and wet or if you need to bring a down jacket for when you get up above 11,000 feet of elevation.
If you're uncertain about reading this information and transferring it into packing, don't hesitate to reach out for guided trips in Colorado Springs. These are fantastic resources when first learning how to be comfortable in the backcountry.