Did you know that Colorado has 58 peaks above 14,000' elevation?
Commonly known as the 'fourteeners,' these mountains are popular bucket list items for serious hikers. If you are just getting started on your mountaineering journey, you'll be glad to know that there are a handful of beginner 14er hikes with lesser mileage and elevation gain.
Best Colorado 14ers for Beginners
Check out this list of routes, and enjoy the beauty of our state's mountainous terrain!
Pikes Peak
First on this list is the well-trodden Pikes Peak. This popular destination is a super-accessible twelve miles west of Colorado Springs! The wildflower-adorned trail is used for all sorts of activities including mountain biking and horseback riding. Your pup will be glad to know that dogs are allowed on this trail.

The trail has loads of picnic spots and observation points along the way, so it's also great for a leisurely hike that's not focused on summiting. Pikes Peak is arguably the easiest 14er in Colorado, but if you are looking for a little more help on your first mountaineering trip, be sure to check out our Pikes Peak guided hiking tour.
Handies Peak
Located in the San Juan Mountain Range, Handies Peak is one of the easiest 14ers to hike. There aren't many options with fewer miles or less elevation gain. Handies Peak isn't just known for its relative ease, though. The San Juan Range is a beautiful place to spend time, and it is more underrated (aka less busy!) than the Colorado 14ers further north and easier for Denverites to visit.
Closest to Silverton, CO, this trail is accessible for vehicles with four-wheel drive and decent clearance. Otherwise, two-wheel drives are advised to park in the first lot and hike the mile to the trailhead.
Mount Sherman
Part of the Mosquito Range, Mount Sherman is one of the best fourteeners in the Colorado Springs area. The most commonly traveled Southwest Ridge route is a direct ascent, and views from the top are amazing. You'll have a gorgeous vista of two of Colorado's highest peaks, Mount Elbert and Mount Massive.
Other cool sites along the way include mining ruins, mill structures, and prospecting caves. This is an excellent beginner 14er hike for budding mountaineers and amateur geologists alike!
Mount Evans
The 12th highest summit in the state, Mount Evans is part of the Rockies' Front Range. Accessible from Idaho Springs, this peak is about a two-hour drive from Colorado Springs. Mount Evans is a very popular destination, in part due to its relatively tame elevation gain.
This hike has a lot of cool bonuses, namely the beautiful Summit Lake and the population of local mountain goats. There are also a number of other trails you can take to summit Mount Evans, including a short walk from your car because, yes, there is a parking lot at the top.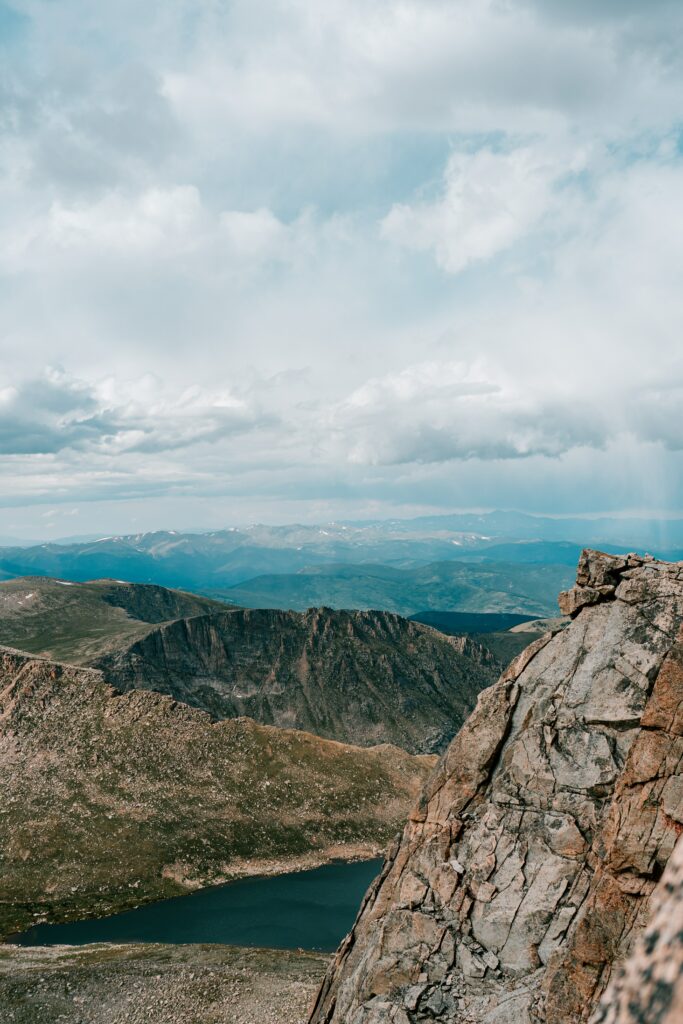 Mount Bierstadt
The western (and slightly smaller) neighbor of Mount Evans, Mount Bierstadt is known as one of the most iconic of the 14ers. Being an hour's drive from Denver, the hike is quite popular and often crowded. Aim for a visit during the week or off-peak season in order to get a little space to yourself on the trail.
Quandary Peak
Regarded as the least technical peak, Quandary is one of the most accessible, easiest 14ers in Colorado. The standard East Ridge route is a straight shot to the top where you'll have outstanding views of Breckenridge and other peaks.
This peak is part of the Tenmile Range, and one of the more robust elevation gains on this list. Still, it is a Class 1 hike and boasts a short-ish round-trip mileage. That might explain why it is often the most traveled, seeing 50,000 visitors last year! If you're in the Colorado Springs area, you'll definitely want to check out Quandary Peak.
Grays and Torreys Peaks
Grays and Torreys Peaks are decidedly not the easiest on this list. However, they are quite popular and for good reason. First, located in the Front Range, these peaks are just past Mount Evans and around ninety minutes from Denver.
More importantly, the two peaks have a saddle ridge between them, meaning it's very doable to summit both peaks in one day. It only adds a mile and a half to the hike! If you are new to mountaineering and looking to cross some of Colorado's 14ers off your list quickly, these make a great two-in-one opportunity.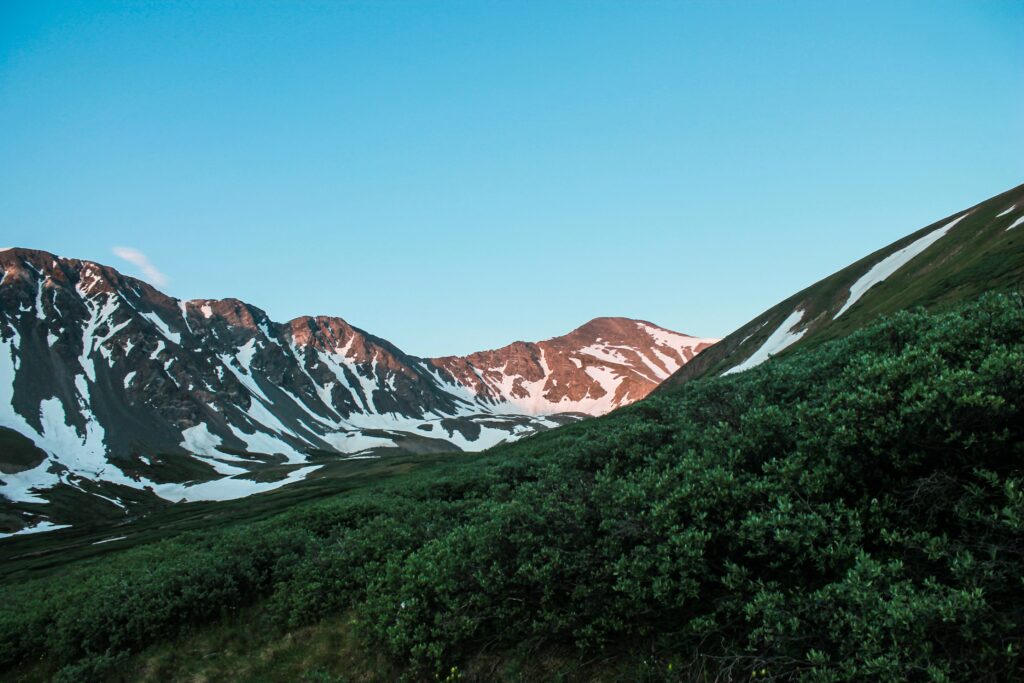 Other popular beginner 14er hikes in Colorado include Mount Antero (14,275') in the Sawatch Range and Mount Elbert (14,439') which is the highest summit in the Rocky Mountains.
With 58 fourteeners in the state, you have a long list to choose from. Be sure to do your research, including double-checking parking reservations, learning the signs of altitude sickness, and planning around weather forecasts. No matter where you choose to hike, these Colorado peaks are sure to provide exciting trails and outstanding views.