Treasure maps and long-form expeditions to find a secret stash of goods are no longer just for youth ages 3 to 10. Geocaching can be seen as a "grown-up" version of a treasure hunt, and it will take you places you may have never been before.
Not only is it a great form of exercise and exploration, but it also reignites the kid inside of you. Today that may be precisely what we all need.
What is Geocaching?
Yes, a treasure map and exploration sounds great, but that doesn't tell us exactly what geocaching is. It doesn't involve digging in random spots to find a buried chest or a compass that points to your one true desire, but rather it gives you a goal to seek out, without compromising the natural integrity of the world around it. Done correctly, it can be enjoyed by hundreds for years on end without making much of an impact at all.
Geocaching is a simple concept made possible and accessible by the technology we all carry around in our pockets. With the Geocaching app, you can find hidden caches just about anywhere around the world, as there are now over 3 million recorded caches worldwide. The sport has become much more popular as a way to get outside and add a bit of flair to your regular daily walk.
To start, download the Geocaching app, or find a local website that directs you to sites near you. Next, you need to prepare yourself for a long hike that could end up being a long day in the woods. Some geocaches are hidden in downtown, urban areas, while many of them live in more natural environments. You should pack for the unexpected, as geocaching can quickly turn into a true adventure.
Once you're out on the trail, you need to channel your powers of observation to spot the camouflaged spot where the geocache lives. Once you find the cache, sign the logbook and add your touch to the cache. Geocaches are most often based on the principle of "take something out, leave something of your own."
Getting Started Geocaching
To start, we recommend simply using your smartphone and the Geocaching app. You can buy a GPS unit that will often have geocaching features, but it isn't fully necessary. Family-friendly geocaching tours are a great way to get started and stoke the entire family for future geocaching adventures. Geocaching for kids builds a sense of adventure and can help to develop helpful skills like navigation.
Once you have your guidance tech figured out, you can decide on a cache to hunt down from the comfort of your couch. One of the best parts of Geocaching is that you can plan trips around the entire world from a single spot. There are limitless options of where to start as more and more caches are being put out there every day.
Now that you have a target in mind, you can put in some more prep work. This will not only include packing your backpack for a day hike, but it will also be planning your route to get to the cache. The app will show you where the cache is, but it doesn't offer you the best route. This means you'll need to pay attention to the landscape and study how to get to this spot. 
Many caches will not be right off a trail. You'll need to head off into the forest to find caches that aren't as commonly found. Remember to take the proper precautions and stay within your experience level.
Once you've found the cache, there are a couple of pieces of etiquette that you need to keep in mind:
Grab the cache and examine its contents away from where you found it. Spending too much time where you found it can leave traces that make it too easy for others to discover it, thus removing a lot of the fun.
Sign the logbook and leave a quick note if you want!
Take an object (if you want to) only if you are prepared to leave something of equal or greater value. This allows the cache to continue giving to future explorers.
Seal the cache tightly and place it back exactly where you found it so it can wait for the next adventurer to stumble onto it.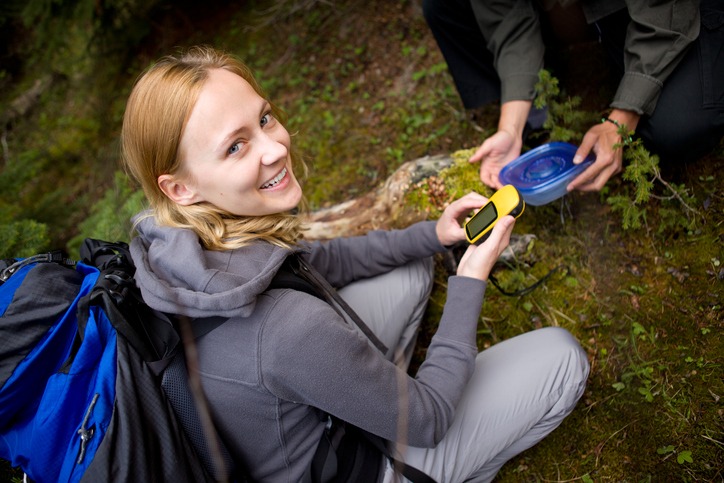 Where can I Geocache in Colorado?
190 countries across the world have geocaches, and over 3 million caches spread out amongst them. Over 22,000 of these caches are located in the state of Colorado. With that many caches out there for you, it makes geocaching a popular sport that can be enjoyed for years without repetition.
Colorado Parks and Wildlife has an extensive list of where you can find caches in the state parks. They encourage visitors to come and explore the area to find the caches and ask that explorers use Leave No Trace methods to leave everything in pristine condition.
Parks and Wildlife points out that there are potentially hundreds of more caches that have not been documented with them. Colorado Springs alone has thousands of caches on record. These hunts take you up and down the trails and mountains surrounding the beautiful city and have some of the oldest caches in the state.
So to answer the question more directly, you can Geocache just about anywhere in Colorado. This is a state that is based on exploration and outdoor adventure. When you start Geocaching and eventually catch the bug, you can expand the sport and bring it to even more distant and remote places throughout the state. The explorations and possibilities are endless.