The trail is where many of us have formed strong bonds and a loving connection with our friends or family. But sharing this space with your children or any group of youth means getting over the mental roadblock of figuring out how to hike with kids. First things first, take a deep breath. Kids can be as stressful, intimidating, and overwhelming as they are cute, fun, or adventurous. Doing this right will end up relieving your own personal stress and create an activity for the kids to tug at your sleeve to do over and over again.
Before you head out on the trail, take a moment to remember what it was like to be a kid. Everything was exciting, full of mystery and adventure. You were figuring things out for the first time and making mistakes along the way. Try to apply that mindset to the trail now. Hiking with kids won't be about putting lots of miles under your boots, but it will be about exploring the outdoors and your imagination.
Now that you're ready, let's jump into some more kid-friendly hiking tips that will help you and the youth you are with foster a growing love for the outdoors. And remember, you can always join us for family friendly hiking tours in Colorado Springs for a stress-free adventure.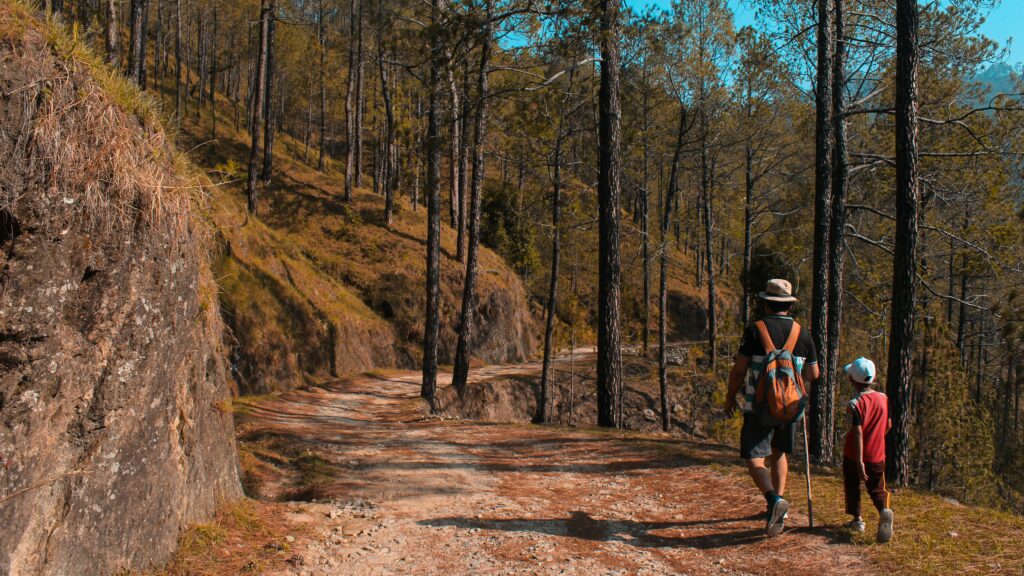 The Basics
No matter your age, you need your basic comforts to have a good time doing anything. Watching a movie while soaking wet, cold, and hungry will make you hate that movie forever. In order to not do the same for hiking, take care of the basics.
Weather
First off, don't pick a cold and rainy day to be the first time you go hiking with kids. Not only does it make most adults turn into grumpy children, but it also has the potential to make hiking unsafe. Pay attention to the weather forecast. If it is going to rain, bring rain gear. Remember layers for cold days, and perhaps plan on a lake-side hike if it's hot.
Clothes
Most weather can be appropriately managed with the right clothing and gear. So, once again, planning ahead is key to make sure you bring proper clothing and layers. Pack a bag full of extra socks and a couple of other layers that will help the kids stay warm and dry. As soon as anyone starts to mention that they are cold or wet, offer some extra clothes to get them comfortable as soon as possible.
Food
Never start a hike on an empty stomach. It would be like going on a road trip without any gas in the car. It won't work, so don't expect it to. Have some quick and healthy snacks in the car to fuel everyone up before you even hit the trailhead.
Kids are so incredibly influenced by food. It can be used as a reward, fuel, or quick break in the day when you need to slow everything down. Also, as all adults learn, hunger can seriously influence our mood. If you notice anyone starting to get a bit grumpy, break out a snack, and it's guaranteed to bring some positivity back.
I like to follow a general rule that the kids you're with are at or below your own level. If you are hungry, they're hungrier. Cold? They're colder. If your feet aren't dry, their boots are puddles. Take care of the basics before they become a problem because that's when moods start to turn sour.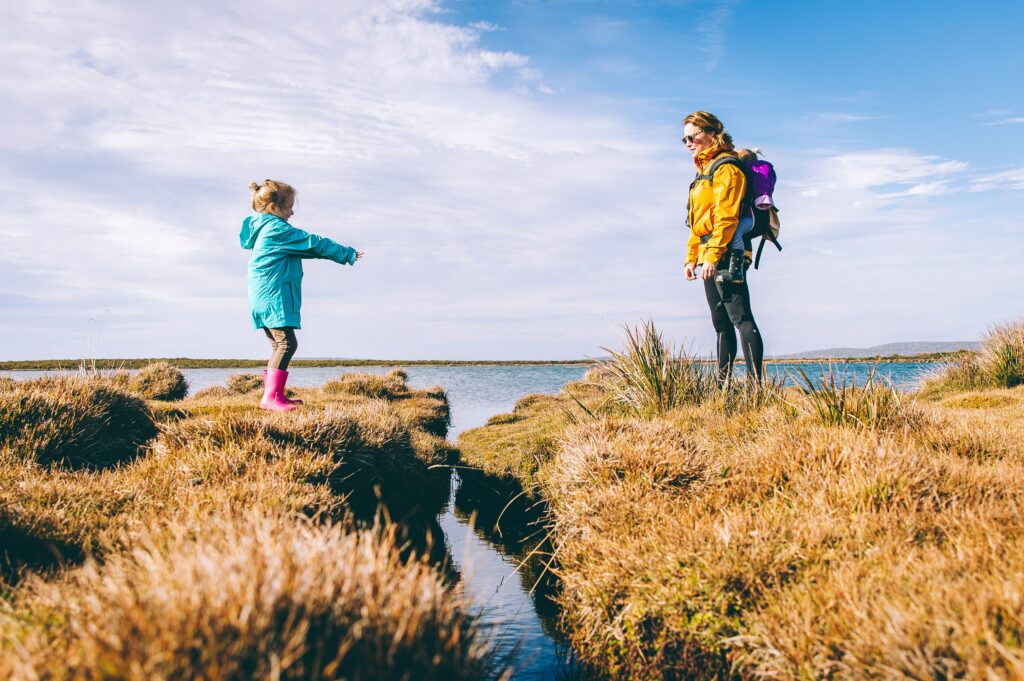 Create Fun
The idea of hiking in Colorado appeals to almost any outdoor enthusiast you can find. There are tons of trails that bring you into a wide variety of terrain and challenges, all the while surrounded by beautiful mountains. But the idea of appreciating nature's beauty isn't always at the forefront of a ten-year-old's mind. To make hiking memorable and enjoyable for younger kids, you need to create fun – perhaps the most important aspect of how to hike with kids.
Terrain
One of the first things you can do to make hiking with kids fun is to choose the right trail. Chances are good that a long flat walkway will bore almost any kid out there. On the other hand, a trail that snakes through the forest and follows a river to a massive waterfall opens up the possibility of exploration and naturally finding fun within the landscape. The forest can be a playground where trees become jungle gyms and creeks become waterslides. You just need to find the right trail.
Encourage Imagination
Don't be afraid to let your kids run a little wild. Their imagination can take them into worlds where they explore the trees looking for Narnia or digging for buried treasure. Just remember to also teach your kids about proper hiking safety and the rules of the trail.
Not every child has the natural spark of imagination, so you may need to encourage this with different activities. Building a fort is a great way to bring fun into the hike. Or you take the time to see how large of a teepee you can build. The hike becomes an adventure and a challenge when you include a little imagination. Forests are also natural spaces for massive treasure hunts that will bring the excitement of both competition and exploration to everyone involved.
Bring Friends
We all want to be our kids' best friends, but it isn't always the case. Kids want to hang out with other kids their own age. Turning a hiking trip into a group activity will make your kids want to come back and do it more often.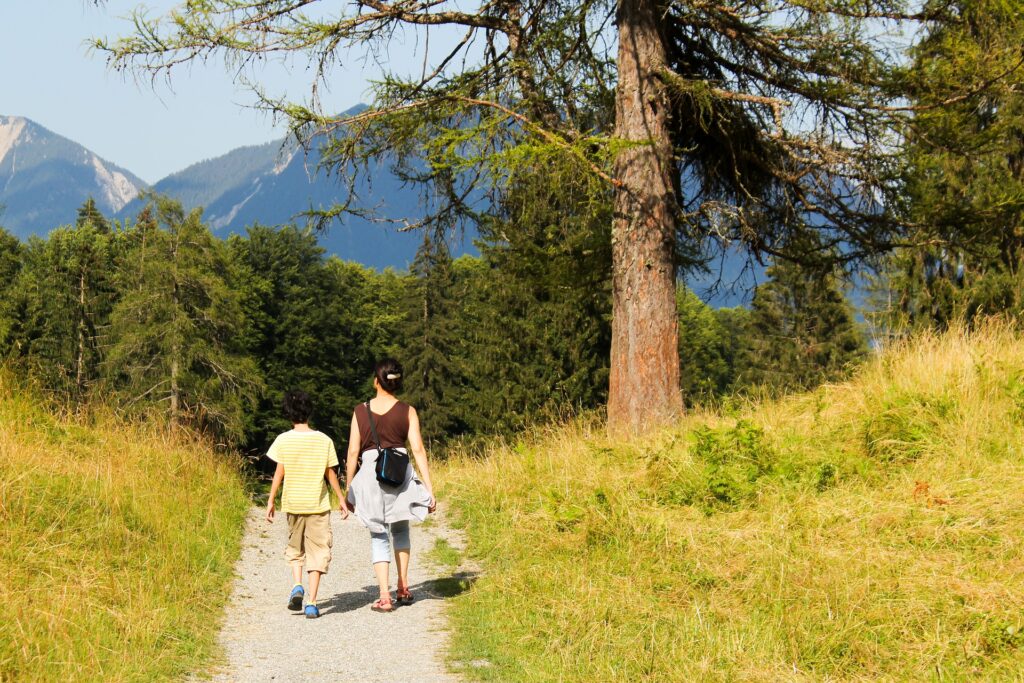 Be Intentional
Going out into the forest and having fun while hiking with kids will take a little planning. However, being intentional with the hike will go a long way with the kids you go hiking with. Ten minutes of forethought can completely change the experience you have out on the trail.
It's Not Hiking
The word "hiking" can get a bad rap with some kids. It sounds difficult and often unpleasant. You may not even need to label the hike. You can get the kids in the car and head off to the woods. Call it an exploration, an adventure, or anything that may have appealed to you as a small child. If you make it sound like work, it will end up being more work for you.
Goals
Very simple goals allow for kids to feel successful during a hike or afterward. Little things like "I want to see a fish" or bigger things like "I want to make it to the top of a mountain" can give kids something to look forward to or challenge themselves on.
Remember that goals are going to change for every child. For some kids, making it a mile down the trail will be a huge accomplishment. Others may just want to swim in a river or find the biggest, slimiest, scariest bug that they have ever seen. Tailor the goals to each kid and work with them on finding out what they want to accomplish.
Responsibilities
It may sound ridiculous, but kids love having responsibilities. Of course, this excludes when it's taking out the trash, cleaning their room, or doing dishes. But on the trail, responsibilities can give kids a sense of ownership and control over what they're doing.
If your kids are a bit older, you can trust them to carry important pieces of gear or lead the way with a map and compass. For the younger kids, you can have them keep an eye out for any interesting detours, hold the dog's leash, or be in charge of finding the coolest lunch rock that anyone has ever eaten lunch on.
End on a High Note
After you get done hiking, always end on a high note. Entice your kids with the thought of ice cream in town, a movie back at home, or any reward that gets them excited. Discover other family friendly activities in Colorado Springs that you can let your kids choose from and create their own vacation fun.
Hiking with kids is one of the most fun things you can do outside. They will naturally push you to see the world differently. No matter what you do, enjoy yourself, and the kids will often follow your lead. Smile, laugh, and become a kid again. Even if you aren't an avid outdoors person, look for family friendly hiking tours that will take you all on a fun hike. You can pick up some hiking tips and learn the basics of how to hike with kids for your future adventures.