Beginning as a way to transport goods and materials across rough terrain and rivers, ziplines quickly became a safer alternative for the workers, too. Nowadays, the sport has become more and more popular, with zip lines popping up in tourist areas all over the world. Zip lining is a great summer activity, a way to see awesome views of the surrounding area, and a thrilling ride for those looking for a rush of adrenaline.
What Is Zip Lining?
In zip lining, riders sit in a harness and hang under a long cable that starts higher on a slope and ends somewhere in the distance. You are connected to the cable via a pulley, whose wheels coast seamlessly along the cable, allowing you to fly through the air at awesome speeds, upwards of 40 miles per hour. 
Ziplines are often set up in forests or jungles, high in the trees. You may also find a zipline across a river or canyon or going down a mountain. In addition to a harness, zipliners must wear helmets. It is also suggested to wear pants and gloves to protect yourself from scratches by rogue branches.
Why You Should Try Zip Lining
If you're not already thrilled at the opportunity to fly through the air, there are plenty of other reasons to try ziplining. First, it's a great way to experience nature. Ziplines often start at great heights – Broadmoor's highest point is more than 500 feet in the air. You'll get amazing views of the Front Range as you soar over the trees on this upside-down roller coaster. 

Next, zip lines immerse you in nature. These courses, which are among the best Colorado Springs attractions, include rope bridges, hikes, and rappels. While you're on the zip line, you'll get views of the forest canopy like you've never seen before. Colorado Springs has some amazing wildlife and scenery, and these zipline courses are unique and thrilling ways to experience that nature.
Is Zip Lining Safe?
All outdoor and adventure activities come with some risks, but zip lines in the United States are certified by an agency that notes a one-in-a-billion chance of one breaking. When properly constructed and run by trained professionals, ziplines are one of the safest ways for adrenaline seekers to get that rush.

The Broadmoor's ziplines also have a minimum weight requirement of ninety pounds to make sure that riders can properly wear their safety equipment. All this is to say that a zipline course is an awesome family-friendly activity, and you can rest assured that ziplines are safe for kids.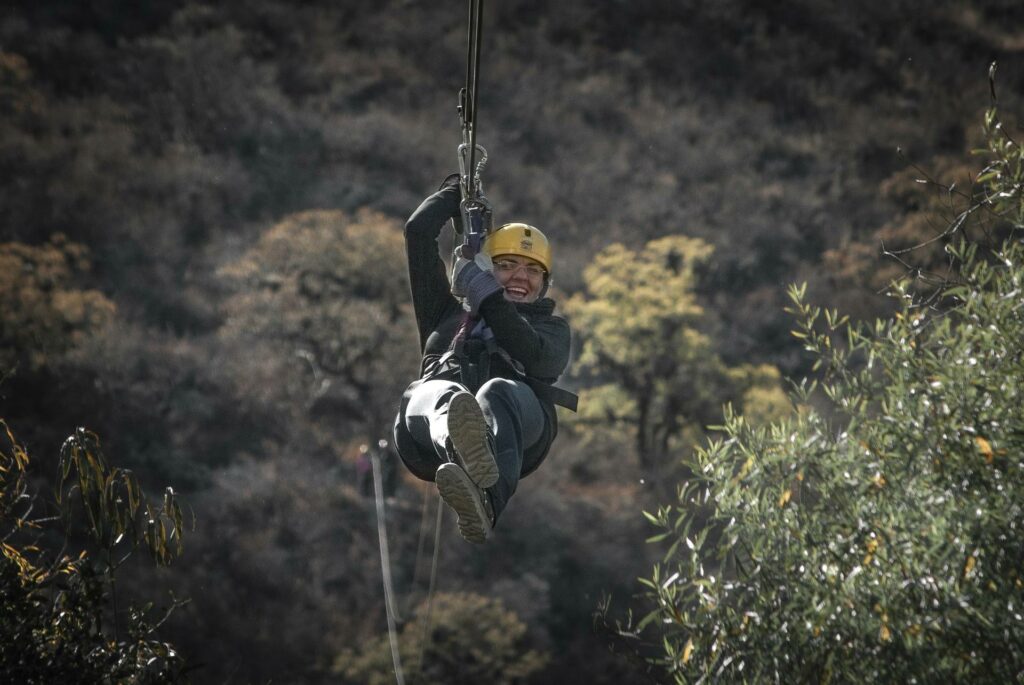 Zipline Courses in Colorado Springs
Now that you're convinced to try it, let's discuss the best zip line courses Colorado Springs has to offer. Between the Woods and Fins Courses, the Broadmoor property has eight zip lines of up to 1,800 feet in length and heights up to 500 feet.
The first and more beginner-friendly course offered at Broadmoor for zip lining Colorado Springs, the Woods Course, travels over Midnight Falls and includes 5 zip lines ranging from 250 to 1500 feet long. The tallest starts 150 ft high in the air, and you'll reach speeds upwards of 45 miles per hour. 
This thrilling course starts with two shorter zip lines to allow riders to get used to the experience. After a short walk, the third zip line takes you over a beautiful granite canyon and creek 150 feet down below. The fourth zip line leads riders to the top of Seven Falls, and the final 1,500-foot ride brings you back to the hiking trail. 
If you want something a little more blood-pumping, the Fins Course is the way to go. This extreme ziplining adventure takes you to high altitudes, steep drops, and an experience in the Front Range like you've never had before. 
This half-day adventure has 5 zip lines of 250 to 1800 feet long and heights up to 500 feet. The course also involves two rope bridges, and a 180-foot assisted rappel. This awesome journey is definitely not for those who fear heights!
The course has two introductory zip lines, just like the Woods Course, before the third zipline takes you to Seven Falls Canyon and its rock fins. You'll walk across two rope bridges and enjoy views of Colorado Springs before the fourth zipline takes you over the canyon to the south side of Mt. Cutler. Being 500 feet above the canyon road provides stunning view and an experience you'll never forget. Finally, the last zip line leads back to the canyon, where you will rappel 180 feet down to the canyon floor.
If you can't choose between these awesome options, you'll be relieved to know that you don't have to! The Broadmoor's combo course allows you to experience both the best zip lines in Colorado Springs. 
This four-hour day starts with the Woods Course, including the introductory zip lines and the awesome Midnight and Seven Falls rides, then all of the Fins Course, from the rope bridges to the thrilling ziplines to the assisted rappel. All in all, this exciting course has 8 zip lines and a 25-minute hike between the two courses. This great half-day adventure introduces you to the world of ziplining and provides other unique experiences in nature.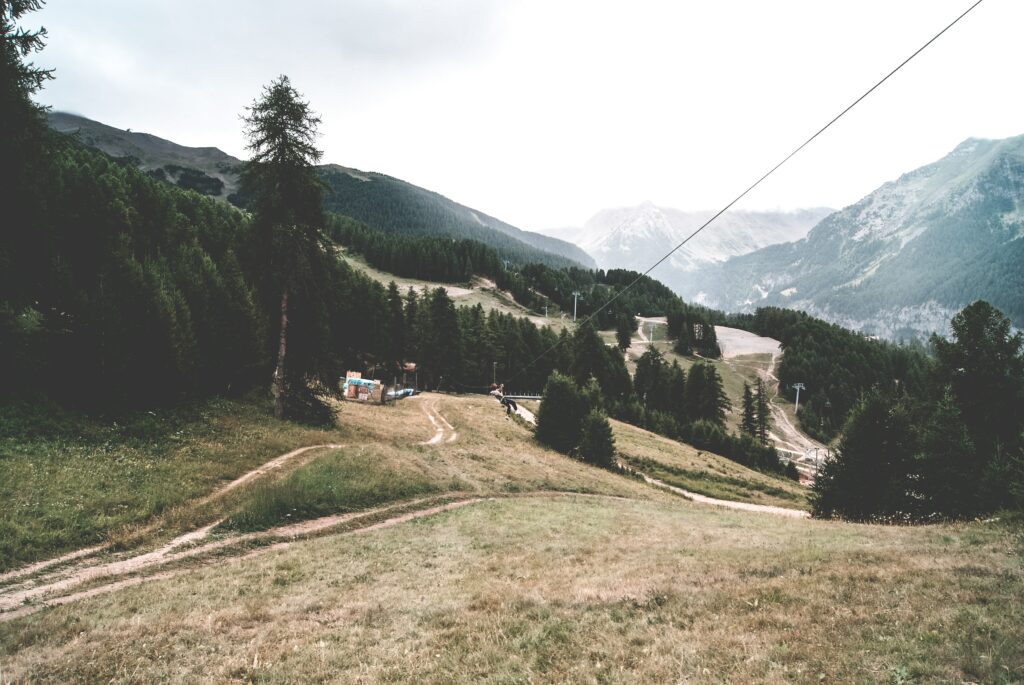 When Is the Best Time to Go Ziplining In Colorado Springs?
If you are wondering when you can go zip lining here in Colorado Springs, Broadmoor's courses are open year-round. While it is fun to go zip lining anytime, there are definitely better months and some weather tips to keep in mind. Summer is the best time for zip lining Colorado Springs. With the sunny, hot weather, the relief of wind and fast speeds will feel great. Spring and fall are also beautiful times to enjoy the weather from a zip line, and don't forget about the gorgeous foliage you'll see.
If you choose to go zip lining in the winter or colder weather, be aware of the temperature drops. On top of the mountains, it will be colder and windier. And with the ziplines propelling you to speeds greater than 40 miles per hour, you will want warm clothes and wind protection. Gloves and face protection are necessary for certain conditions to prevent frostbite. The only other risk is storms or lightning, which might result in closed courses until the bad weather passes.
Final Thoughts
Zip lining is an invigorating way to experience nature and see the stunning vistas of Colorado's Front Range. This family-friendly activity is accessible from downtown, where you'll have access to some of the best ziplines in Colorado. Simply make a reservation, dress well, and you'll be all set. At Broadmoor, we include all the gear and instruction from trained guides. So all you need to do is show up and you're sure to have a memorable time zip lining Colorado Springs – Enjoy!