Are you looking to get into biking in Colorado and not sure where to start? There are a lot of options to consider when you are in the market to buy your first bike. It can be hard to choose whether you want a hybrid or road bike, especially if you are not sure about the differences between them. In this article, we will break down all the important distinctions and features of both so you can make an informed decision about which is right for you.
What are Road and Hybrid Bikes for?
Before we get into the differences between road vs hybrid bikes, it is helpful to remember the goals of each. As the name implies, a road bike is used for cycling on paved roads. They tend to be sleek and lightweight, great for professional cyclists, commuters, and cycling hobbyists. If you are getting a bike for your daily commute to work or weekend rides down paved bike trails, a road bike might be right for you. 
When you hear the name hybrid bike, you are probably wondering, a hybrid of what? It is a hybrid between a road and a mountain bike, giving you some of the capabilities of a mountain bike without quite so much extra weight. Biking in Colorado offers so many opportunities to off-road, from bike paths to mountain bike courses. If you have any interest in checking out the sport of mountain biking, a hybrid bike might be your best bet. While you can certainly ride a hybrid bike around the city, you will just find that your commute takes a bit more effort than it would with a road bike. The fourth type of bike to consider is electric bikes or e-bikes, which give you extra power and can help with long commutes or tough ascents.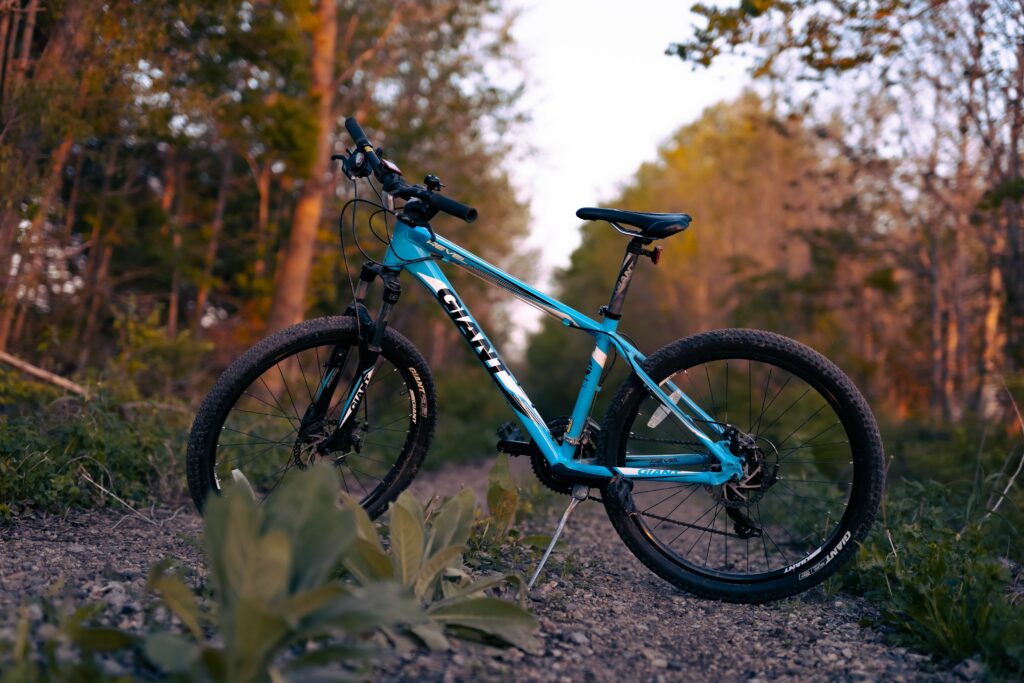 The Main Differences between Road and Hybrid Bikes
Unless you know what to look for, it is easy to confuse road and hybrid bikes. Both have similar shapes and roughly the same features. One of the most obvious differences is the tires. Where road bikes have tires that are narrow and slim, hybrid bikes have wider tires. In order to allow for off-roading, hybrid bikes have bigger tires that are puncture resistant and more durable against biking over gravel and dirt. The extra width also provides added stability and grip on potentially slippery conditions.
The other main difference you can spot between road vs. hybrid bikes is the position and shape of the handlebars. Road bikes have drop handlebars that curve down and allow the rider to adopt a more aerodynamic riding position. This more crouched body position can be harder to get used to as a beginner cyclist, but drop handlebars have some other benefits, too. They tend to be more narrow, thus fitting into smaller gaps in traffic. They also allow for three distinct hand positions, which help long-distance cyclists stay comfortable and adapt to the cycling conditions. 
Hybrid bikes, on the other hand, have the same flat handlebars as mountain bikes. These flat handlebars keep the rider upright for better stability and visibility on the rough terrain of mountain biking trails in Colorado. While this style is easier for beginners, it lacks versatility and proper positioning for faster rides.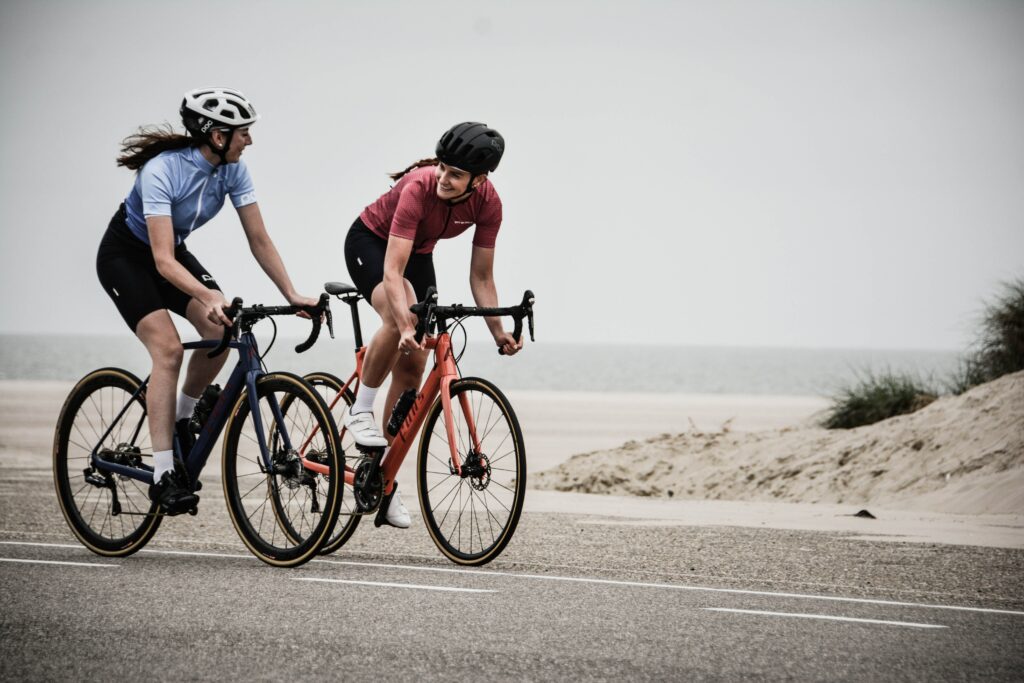 Factors to Consider with Hybrid vs. Road Bikes
Comfort of Road vs. Hybrid Bikes
Road bikes have a lot of perks, but they can also take a bit of getting used to. Because of the more crouched posture, road bikes are initially tough on the rider's back and arms. The most comfortable and unstressed riding opportunity definitely comes from a hybrid bike. The trade-off to this is that road bikes have multiple positions, which you can switch between on a longer ride. This helps prevent stiffness and makes it easier for long-distance cyclists to adapt to a steep uphill slope or be aerodynamic to preserve speed.
Weight Differences between Hybrid and Road Bikes
Hybrid bikes are always heavier than road bikes, and this can be an important factor to you. Because of the bigger tires and a few more gear options, hybrid bikes tend to weigh around five to ten pounds more than road bikes. Road bikes are also usually carbon fiber, which is lighter but more expensive, while hybrid bikes opt for durability and the stability of added weight. If you have to haul your bike up a flight of stairs or are looking for the easiest commute to work, this difference might be a key point in favor of road bikes. Bike weights can also vary by brand and model. If your bike has added features, for example, that will mean added weight. If you are really concerned about minimizing weight, a road bike should be under twenty pounds.
Speed Potential of Road Bikes vs. Hybrid Bikes
The difference in speed possible between hybrid and road bikes is significant. This is from a lot of factors, including weight and riding position. If you are hoping to get involved in some  Colorado Springs cycling events or just want to shave a few minutes off your commute, a road bike is the way to go. You will find that a road bike is much more efficient in terms of converting your work into speed. With less weight and a more aerodynamic posture, you can make every rotation of the pedal worth your effort.
Road v.s Hybrid Bikes and Riding Terrain
If you have any interest in off-roading, you will need to opt for a hybrid bike. This would make your decision very easy, as it is not possible to go off-road with a road bike. It is, in fact, dangerous. Not only will you likely pop a tire, but road bikes are not heavy or stable enough to manage uneven terrain. If you have ever accidentally gone off-road on a road bike, you know it is not safe or comfortable. You need the wider tires, sturdier frame, and more upright posture of a hybrid or mountain bike to safely enjoy unpaved bike trails. If you are not sure if you would enjoy mountain biking or trail biking, consider trying a guided bike tour where you can hop on a mountain bike and see if cycling through nature appeals to you.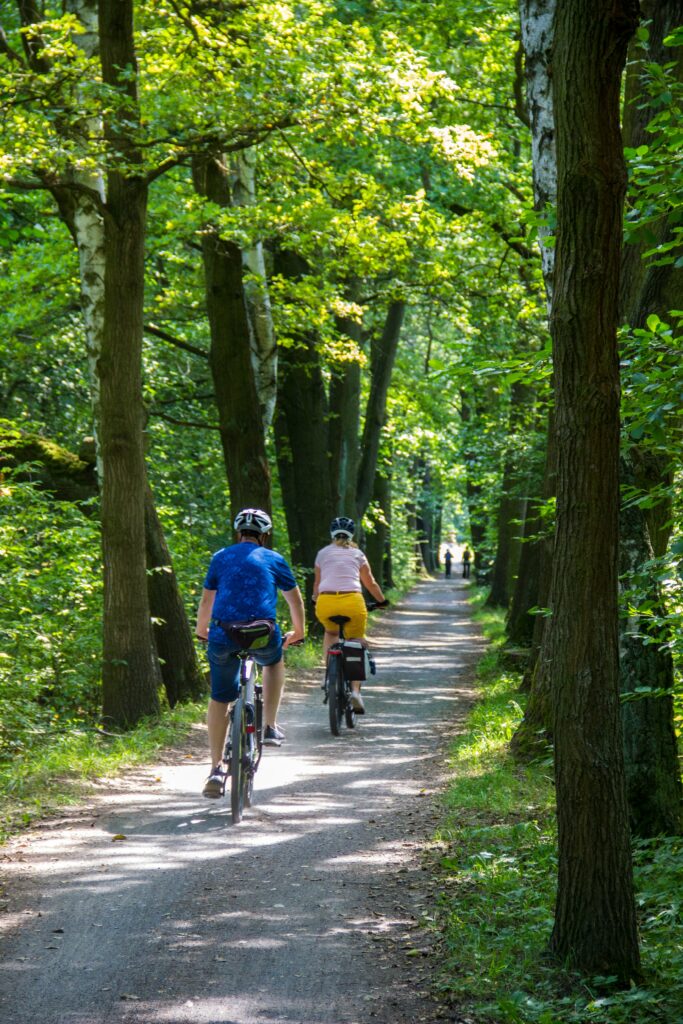 Price Difference of Road vs. Hybrid Bikes
You may be surprised to find that road bikes can be more expensive than hybrid bikes. You can certainly find either at any price point, from a few hundred to a few thousand dollars. Because road bikes prioritize being lightweight, they are often made of carbon fiber which is lighter and more expensive than aluminum or steel frames often found on hybrid and mountain bikes. It would be best to avoid spending too much if this is your first foray into cycling in Colorado. That way, you can ride for a year, better understand what you personally need from your bike, and upgrade to a more long-term investment bike.
Maintenance Needs of Road vs. Hybrid Bikes
As noted above, road bikes are often made with a carbon fiber body. This extra expense should be considered as a potential recurring expense, as replacement parts and maintenance can be more. On the other hand, road bikes tend to have a slightly more simple construction, offering fewer gear shifts, for example, than hybrid bikes. These extra mechanics on hybrid and mountain bikes translate to more care in terms of bike maintenance and potential added expenses. In this consideration, the specific brand and model of bike will need to be evaluated.
Final Thoughts
If this is your first bike since you were a kid, you may want to start with something less expensive to get a feel for it. While the riding is, well, just like riding a bike, you may find that you don't like the handlebars of a road bike or the weight of a hybrid bike. You can rent a hybrid bike for the day or borrow a friend's bike to help you make your decision. Once you know better what you are looking for, you can invest in a quality bike that will serve your needs. Please make sure to always wear a helmet and obey traffic laws. Happy riding!