Blankets of snow are starting to cover the ground, tucking the world in for a long winter break. Getting out on the trails we have become familiar with over the summer and fall automatically becomes a much more difficult task. Not only are they harder to find, but it can be tremendously difficult to motivate yourself to get out and hike in the winter. There are many steps to getting ready, and the experience is entirely different.
With the right winter hiking safety tips, you can step outside with the same confidence you take in the summer. A lot of people talk about seasonal depression happening over the winter. Still, the real secret is, getting outside and hiking in the winter is a magical experience that will keep you fit and happy.
This guide to winter hiking will bring all of the safety tips you need to get up and out with a completely different attitude about winter.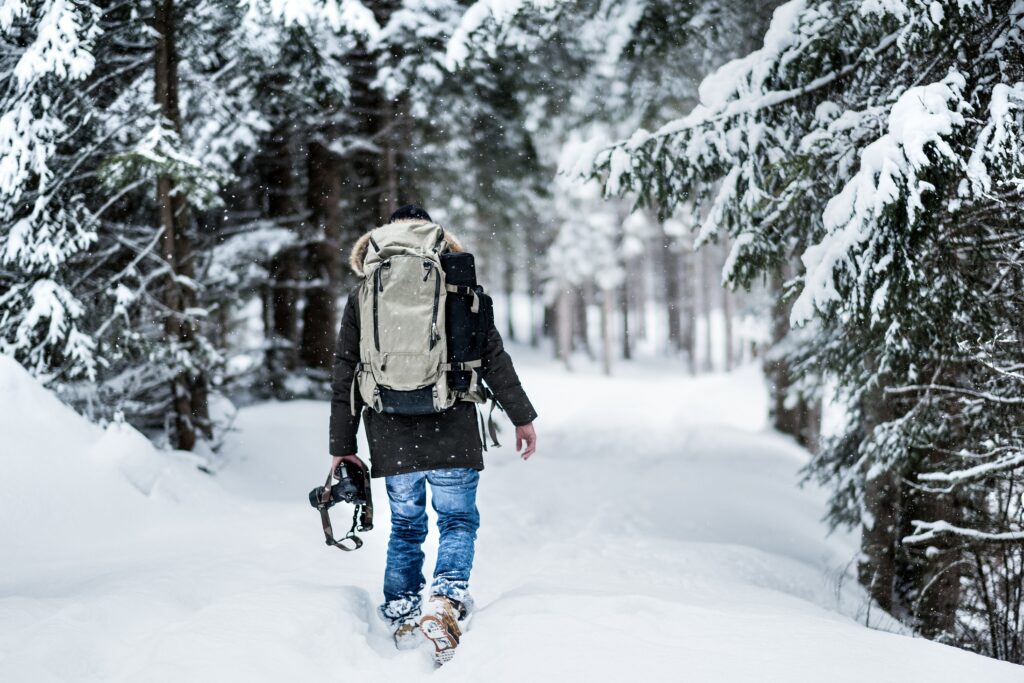 Winter Hiking Safety
For starters, it's important to point out that some aspects of winter hiking are the same as going out in the summer. You need to go prepared, check the weather, bring all the proper gear and follow the trail you choose.
While the general ideas are all the same, some specifics make hiking in the winter a completely different game. 
Check the weather
Winter weather is a tricky beast that can sneak up on you anywhere, especially in certain parts of the mountains. You are cautioned against lightning storms and heavy rain in the summer, but the winter brings whiteout snow blizzards that can sometimes last for days.
Don't only look at the weather that's coming, be aware of what the past few days have brought as well. If there was a fresh dump of several feet of snow, it might require taking extra gear or precautions before hiking. A huge snowfall also means increased avalanche risk, so adjustments need to be made to your hiking route. 
When you look ahead at the weather, it can be incredibly tempting to get excited about the first sunny and clear day that winter has brought you after many clouds. What can easily go overlooked here is that clear skies often bring frigid temperatures. Those clouds you hated so much we're holding the heat in, and now it all has gone. 
So, while the sun can feel like the greatest gift possible, it can also bring some dangerously low temperatures along with it. Don't forget to pay attention to all the aspects of the weather, not just the little emoticon they paste in by the day of the week.
Time your hike with the sun
Colorado is chosen by winter lovers all around because of the number of bluebird days it gets. The snow seems to magically appear overnight and leave by the time you wake up, leaving you with fresh snowfall and a bright blue sky to enjoy it under.
As we get closer and closer to the winter solstice (December 21), the days are getting shorter and shorter. Colorado's shortest day of the year will see only 9 hours and 21 minutes of sunlight. This is a drastic difference from the longest day of the year, where we see just under 15 hours of daylight every day.
On top of the fewer hours of sun, the snow can make things a little trickier as well. As the sun sets, there can be an onset of "flat light," which makes it much more difficult to see the texture of the snow and where there are bumps and grooves, making hiking in the snow a bit more difficult.
Timing your hike with the sun in the winter is incredibly important. Start your hike right when the sun comes up, and make sure you can get off the trail before the sun comes down. It will limit the length of your hikes, especially as you tend to move much slower while trudging through knee-deep snow than you can in the summer.
Stay hydrated
One of the more challenging winter hiking safety tips to follow is to stay hydrated. No one in the world wants to drink the cold water from the cold water bottle on the exterior of your pack when hiking in the cold. Everything at this point is simply cold, and we're trying to avoid that.
Well, yes, we're trying to keep as warm as possible when hiking in the winter. The problem is, you need to stay hydrated to stay warm. Proper hydration allows for your blood to flow around your body smoothly. Your fingers and toes need as much blood as they can get in the wintertime to avoid getting dangerously cold. 
If you're hiking in the extreme cold, you'll run the risk of a water bottle freezing while you're moving. Try wrapping your Nalgene in a wool sock to insulate it. Also, remember to buy an insulating hose cover for your water bladder. Otherwise, the water may freeze in the hose and make drinking is impossible.
One way to stay hydrated without having to sip on one giant ice cube is to bring a thermos. They may weigh a bit more, but hot liquids will help warm you and make hydrating much more enjoyable. A cup of hot tea on the trail is one of my favorite things about winter hiking. My thermos becomes one of my best friends, going everywhere with me, even into the deepest parts of the winter backcountry.
Try bringing tea, hot chocolate, spiced chai, or hot cider. The drinks that bring warmth along with calories are a bonus.
Load up on Snacks
Working through the cold, your body will need to use a significantly higher number of calories to stay warm. That means that hiking in the winter is the greatest excuse this world has ever seen to snack like it's the last day on earth. Bring all kinds of snacks along with you, especially those you don't usually let yourself have.
Calorie-dense snacks that you can eat while you hike are optimal for winter hiking. You can get the 280 calories that a Cosmic Brownie has to offer while on the move. Stopping often means letting your body cool down, especially if you've followed the old-time rule of "be bold, start cold." 
Not only will you feel much colder if you stop more often, but it's also harder for your muscles to start warming up again after you've stopped. That means making your hike even harder on yourself. Eat on the go and forget about whipping up a trailside feast while hiking in the winter. 
Dress the Part
The clothes you choose to wear out are one of the most important parts of winter or any hiking. Knowing what to wear hiking in Colorado is a skill that needs to be mastered all year round but becomes even more important when the cold sets in.
Utilize the layering system to prepare yourself for the stop-and-go moments of a winter hike. You can throw another layer on quickly when you stop, doing so before you start to feel cold, and take it off right when you start hiking. Layers allow for more controlled temperature regulation while hiking, and that's an essential aspect of being outside in the winter.
The main difference in dressing yourself in the winter is that you need to remember to dress your hands and feet. The cold can make your toes and fingers highly susceptible to injury, and wearing the best socks, shoes, and gloves can be a lifesaver. Wool is the winter hiker's best friend, as it won't hold sweat and keeps you warmer than most other fabrics.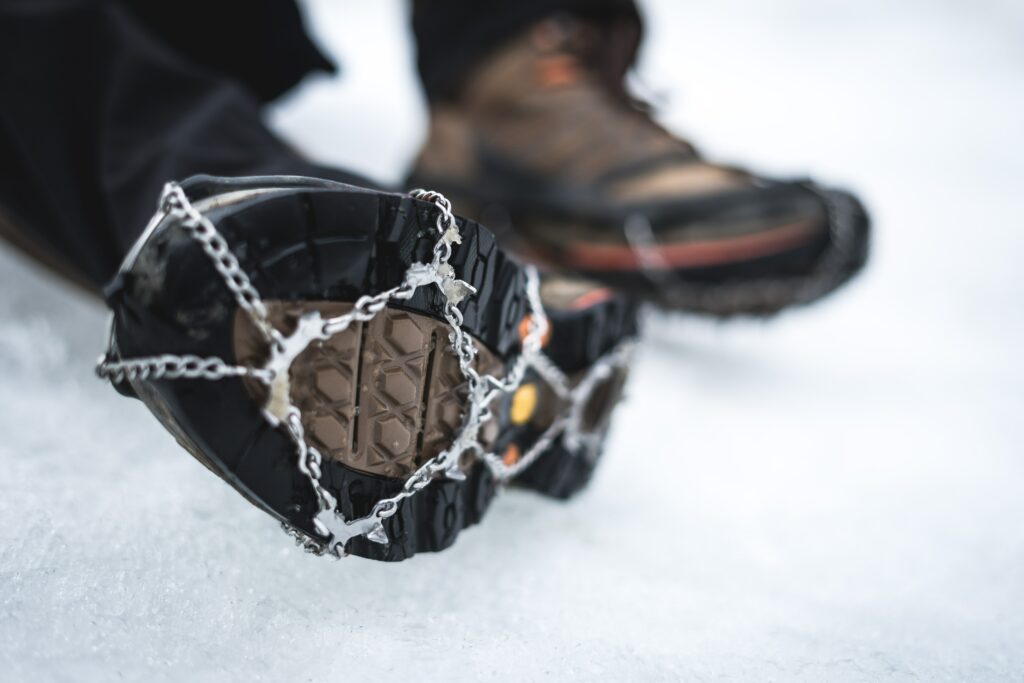 Winter-Specific Safety Risks
There are some specific risks that you will inherently take by being outside in the winter. This is one of the biggest reasons we highly suggest going on any guided winter hikes before setting out on the trail by yourself. If you've never hiked in the winter before or maybe want some more experience at it, these guided hikes are one of the best ways to get the knowledge and skills you need.
Avalanche Risk
Snow-capped peaks are stunning to see and photograph, but they can also be unforgiving. One of the more dangerous aspects of winter hiking is entering into avalanche terrain without knowing it. Avalanches are widespread in Colorado, and the past couple of years have been considerably more dangerous than others. This is only one of the many reasons everyone who goes out in the winter should be well-versed in avalanche safety.
If you choose to go without a guide, we highly recommend taking an AIARE (The American Institute for Avalanche Research and Education) Level One course before heading into the mountains. This course teaches you how to identify avalanche terrain, what factors increase the risk of avalanches, and how to stay safe in the backcountry. It also is a great resource to learn how to use avalanche safety gear to save yourself and the partners you hike with. 
One of the best things you can do is check conditions before heading out. Avalanche.org is a fantastic resource that shows you the level of risk in particular areas. The trick here is knowing what you are looking for, which brings us back to taking an avalanche safety course. 
To attempt to provide you with enough information about avalanches to provide the level of safety needed. What I can say is, be careful and stay out of avalanche terrain unless you genuinely know what you are doing. There are plenty of beautiful places to go with little to no risk of avalanches.
Hypothermia and Frostbite
Cold injuries are much more common than we give them credit for. Hypothermia and frostbite are the most common and most well-known cold injuries, but conditions such as Chilblains can happen more quickly and more often. Chilblains is the inflammation of blood vessels that results in swelling, pain, and itchiness from cold exposure. While it isn't as "serious" as frostbite, the more our bodies are exposed to the cold and not appropriately treated, the easier it is to get more injuries. 
Hypothermia is any time your body temperature starts to drop below 95 F. There are a couple of sure-fire ways that you can distinguish hypothermia from other issues while in the backcountry.
The main signs of hypothermia will start with uncontrollable shivering that slowly moves towards slurred speech and lethargic movements. Keep in mind that this only describes mild cases of hypothermia, and when your body continues to get colder, you will experience worsening symptoms.
Preventing hypothermia and frostbite is all about dressing appropriately, staying dry, and keeping your body fueled with food and water. Learn more about treating and preventing these two common cold injuries by taking a wilderness first aid or first responder course.