Before you head out for some fun winter activities here in Colorado Springs, you need to make sure you have the proper gear to stay warm. Layering is a common and essential system for making sure you stay dry and warm in this winter wonderland we call home. Let's dive into the basic principles of winter layering as well as some key pieces of clothing for winter hiking.
What Is Layering?
Layering is a system of wearing specific types of clothing in a specific order to best insulate yourself from the cold. Typically, it includes a moisture-wicking base layer, an insulating middle layer, and an outer shell that protects against wind and rain.
The Base Layer of Cold Weather Clothing
The key to staying warm when you're out in the cold is to stay dry. Moisture, either from rain or sweat, will steal your body heat quickly and can leave you dangerously cold. A good base layer will be moisture-wicking so sweat doesn't get a chance to build up.
Another key feature of a base layer is that it should be snug to the skin. It does not need to be tight, but make sure it's not baggy. Extra material, crammed into a tight squeeze by your middle layers, will chaff as you hike. This is the same principle as why hikers often wear liner socks beneath their bulky insulating socks to prevent blisters.
Important Material Considerations for Base Layers
One key thing to keep in mind for your base layer is the material. Expert hikers know that cotton is a no-no. Cotton is not a moisture-wicking material. It absorbs sweat and keeps it. You can opt for a synthetic dry-fit material, polyester, or merino wool.
The Middle Layers for Winter Hiking
The purpose of the middle layers of winter hiking clothes is insulation. You can go for one bulky jacket or two or three lighter layers. This is a matter of personal preference as long as you know what will keep you warm. If you are starting at a lower elevation and hiking into the mountains, it's a good idea to start a little chilly and pack an extra middle layer for the inevitable temperature drop.
Good materials for middle layers are down, synthetic down, and fleece. You may want to go for your favorite sweatshirt here, but cotton, again, is not a good material for winter hiking. Cotton is too breathable, and the key to a good middle layer is to keep your body heat close to your body. If you let your body heat escape from non-insulating layers, even vigorous exercise will not keep you warm enough.
The Outer Layer for Hiking in Winter
Now that you are dry and warm, the goal of the outer layer is to keep you that way. This layer protects against wind and weather to make sure you stay comfortable. As you know, many downs and synthetic downs are not supposed to get wet, so you need a waterproof outer layer to keep that insulation from bunching together and not working.
A waterproof shell is a good option for a more casual hike. There are many options that fold into very compact packages and don't take up much room in your hiking bag. You can pull it out only if the weather sours. These thin waterproof layers are great for protection, but most don't tend to be breathable.
For a longer hike or an alpine hiking trip, you will definitely want a legit outer layer. Something that is windproof and waterproof will keep you from feeling the winter's chill. It is also important for it to be breathable to keep from accumulating moisture that will soak your middle layer. One thing to look for, to keep you from overheating, is armpit vents. These little zippers will let off heat without exposing you to the frigid air.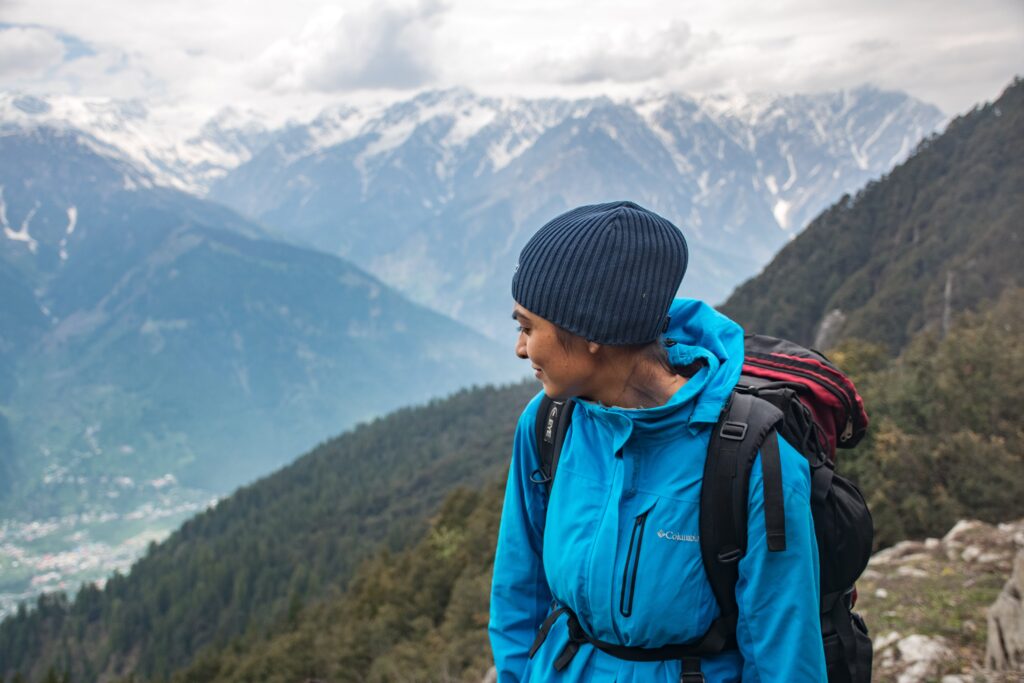 Layering Pants for Winter Hiking
In terms of bottoms, you will want to start with the same skin-tight base layer. Long underwear is key for keeping the cold air off your legs and wicking sweat. The material should be stretchy, so you can move freely on your hike. Wool and polyester are great options, and you can grab a lightweight or heavier base layer depending on the temperature. You can find pretty thick base layers here, especially in wool long underwear, so you can skip the middle layer.
Most winter hikers wear two pairs of pants: long underwear and an outer shell. Similar to the rain jacket, you will want your pants to be weatherproof to keep rain out. For pants, a breathable material is preferable, so you avoid moisture build-up. You can also find outer layers with vents in the inner thigh or through the pockets to disperse a little extra heat.
Other Clothing Considerations for Winter Hiking
Keeping your core comfortable is the most important way to stay safe on a cold hike. But you also need to protect your hands and feet from frostbite injuries. You can find any number of mittens, including liners and waterproof outer layers to keep your fingers dry and warm.
For your feet, you will want to start with a liner sock to keep your feet dry and then something super warm like heavy wool. In addition to a nice pair of insulated, waterproof hiking boots, you can consider adding gaiters. A pair of mountaineering gaiters will bridge the gap between your pants and your hiking boots and make sure no snow or rain finds its way to your ankles.
Finally, don't forget about your head and face. Your clothes for winter hiking should always include a hat, as heat dissipates quickly off our heads and you want to protect your ears from the cold. In extreme temperatures, consider a neck gaiter or balaclava to keep your nose and cheeks safe from frostbite, too.
Final Thoughts
If you're like me, you don't like being cold, but you love being outside. There is nothing quite as peaceful as a trail covered in snow. Luckily, with the right fabrics and the correct layers, you can stay warm on a glorious cold-weather hike. Brush up on some key tips for staying safe on a winter hike, and enjoy the great outdoors all year round!