A winter camping trip brings about a massive list of perks and small adventures. A short, mile-long trek can quickly turn into hours of tromping through deep snow and laughing with each other as you posthole your way to camp. It's a trip to be remembered, and if you want to remember it fondly, you need to come prepared.
Your general skills and knowledge will go a long way when you try to get comfortable in a winter wonderland. If you've already figured out how to dress for winter hiking, it's time to continue adding to your toolbox.
One of the first steps in the entire process is setting up a tent in the snow. It's a task that becomes drastically different once the snow hits, and you'll be developing a brand new set of skills than those you need in the summer.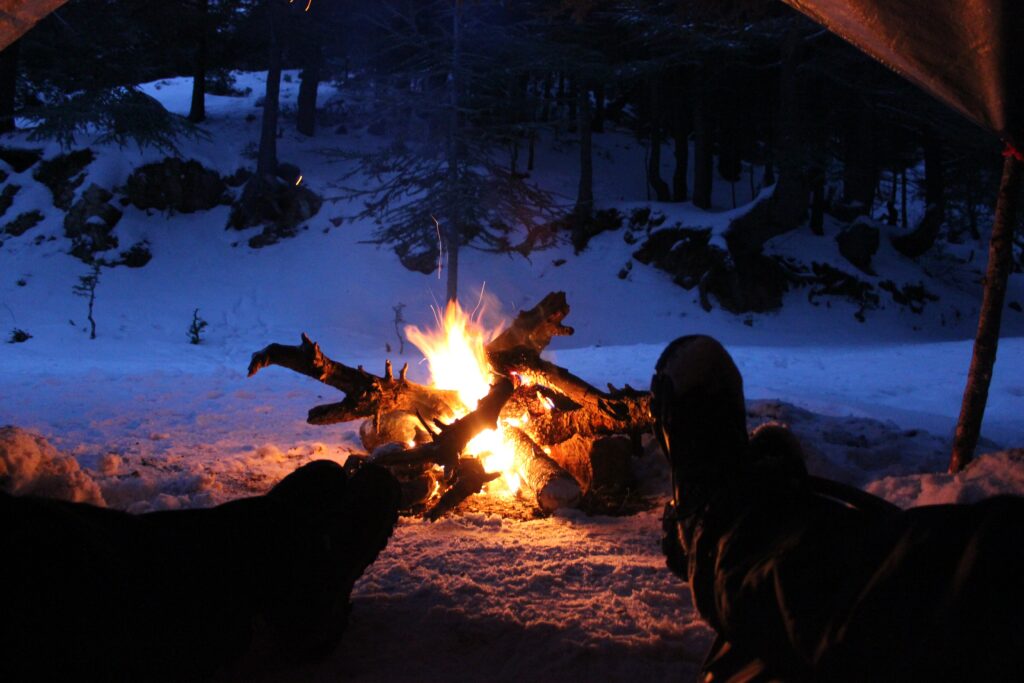 Site Selection
Once you've arrived at camp, it's time to look around for the best tent site imaginable. The snow brings a lot of new elements you need to navigate to stay safe while asleep at night. In the summer, it's watching out for bears or other critters, while in the winter, you're watching for avalanches.
Pick a site as far as possible from any slopes, and therefore any avalanche potential. Even a lower angle slope can be triggered at night, leaving you to wake up partially or fully buried. A safe winter camp is far away from any possible avalanche terrain. Even if you're planning on going up the mountain in the morning, basecamp should be a safe distance from any potential slides.
Another hazard you need to watch out for in the winter is snowfall from trees. If you're below the treeline, pay even closer attention to what's above you. Dead trees are less obvious to spot in the winter, and you now need to watch out for trees that may break under the weight of snow and ice. Even the snow sitting on those branches can be dangerous if it's filled with ice.
If you're sleeping in an area with a large amount of snow, you'll need to consider what's underneath you. At higher altitudes, you'll often be sleeping multiple feet above small trees and bushes that have been buried. The plethora of landscapes you can find below the snow can lead to one major issue.
Depending on how the snow has packed down, you may be on top of some voids that are waiting to collapse inward. If this happens while you're sleeping, you'll wake up a few feet lower than where you started and probably covered in a decent amount of snow. To avoid this nighttime disturbance, probe around and try to find a spot that seems like it's above flat ground rather than rocky terrain.
Pack it Down to Put it Up
Now that you've found a spot, it's time to make the footprint. If you've been hiking in snowshoes, you've got the best tool for the job strapped onto your feet. Using the snowshoes, stomp around and flatten out the ground where you will soon put the tent. This will help create a more stable, flat surface where you can sleep.
Expand the footprint out a bit past where the tent will go. This will give you some more stable ground to walk around on. Be careful when you get out of the tent at night for the bathroom, as it's easy to forget you're in the snow and will soon be up to your waist in it. 
The snow shouldn't pack down any further when you start to walk around on it. Remember, this is where you're sleeping. You don't want to start sinking while you sleep.
Once your area is fully packed down, you can set up your tent.
Tent Setup
In general, a freestanding tent is better than relying on a staking system. With a freestanding design, you don't need to worry about staking out the tent without access to solid ground to hammer a stake into. Snow can be tricky to work with, but it can also be incredibly useful. If you're looking to use a tent that requires staking, look at snow tent stakes.
These stakes are ingenious. First, you dig a small hole and place the stake horizontally in the snow. After you've attached your tent line, you will pack the snow down onto the stake firmly to cement it into place.
The only drawback to this kind of stake is that they can be difficult to remove in the morning. If there has been any level of melting and freezing overnight, they may be inside a solid block of ice that you'll need an ice ax to get through.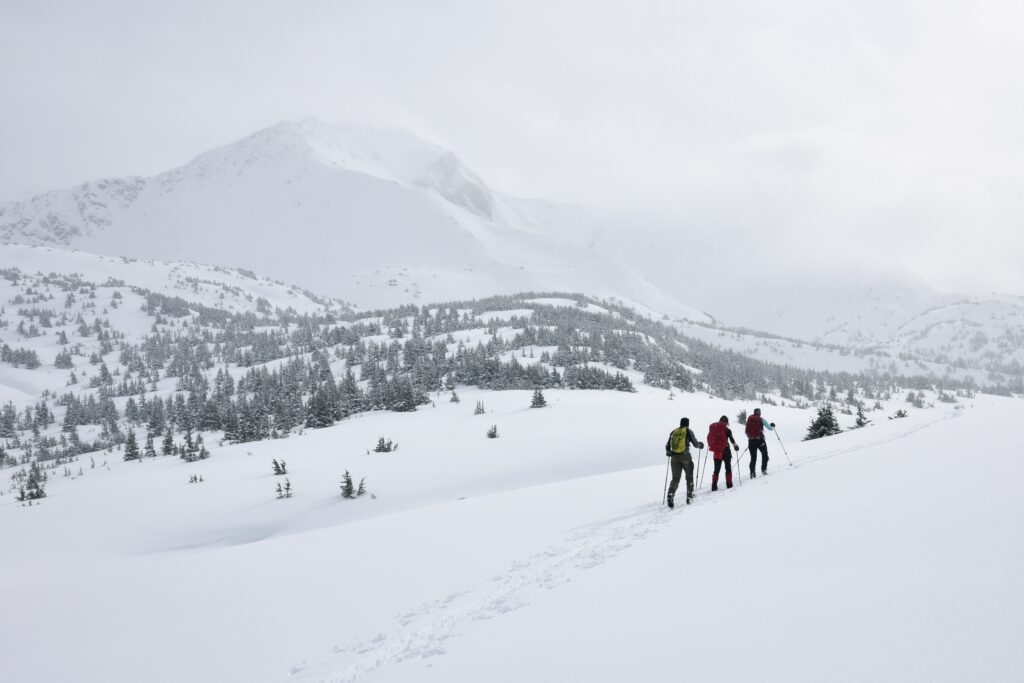 Set up Your Dream Camp
According to Leave No Trace, snow is the most durable surface you can travel on. This is because it will melt and disappear without a trace of you present. This means that you can do just about anything with your camp in the snow, and you won't be creating a huge impact. 
With enough snow, time, and shovels, you can create benches, tables, and full-blown snow castles to enjoy your time in. Whatever you can imagine, you can create. This is one of the best things about winter camping. You're able to create an entire kingdom in the snow without needing to worry about ruining the campsite. It also makes winter camping a fun-filled activity to do with kids. They get to create their winter wonderland, where they can stay overnight.