Hiking in winter can quickly turn south if you don't head out prepared. Sometimes you feel warm and happy until you're miles from your car and the deep, bone-crushing chill starts to settle down.
A successful winter camping trip, or any winter outdoor activities, rely upon staying warm. 
No matter the conditions, it's possible to keep warm for a long time. You only need to know-how. Here are five time-proven tips for staying warm on any winter adventure. Happy snow days!
Get your body moving
One of the greatest fallacies of all time is that you can stay warm if you throw on the largest puffy jacket there is and sit still. The truth of the matter is that clothes don't produce any level of heat. All they do is trap the heat your body produces.
The more you move, the more heat your body makes. 
During winter outdoor activities, your body becomes a furnace. You're making the heat that will help to keep you warm. Plan a trip that will have your body constantly moving. You want to use all the energy you've stored over the holiday season and put it into productive, heat-blasting movement.
The catch is, you must be careful with how intensely you move. Moving uphill quickly, or putting high cardio levels into your day, can soon lead to sweat. In the winter, sweat is no longer your friend; it is exactly the opposite. Getting wet will increase the speed at which your body enters hypothermia. So, keep your movement consistent, but pace yourself and stop before you start to break a sweat.
"Be bold, start cold"
The way you dress is also incredibly important for winter hiking. It will always be tempting to start hiking in a puffy jacket and thick fleece pants.
Why not, right?
It's cold out, so you may as well be warm. Unfortunately, this is one of the quickest paths towards making yourself drastically cold. 
Experienced hikers and winter campers like to say, "be bold, start cold." What they mean is, if you start hiking with fewer layers, while a bit cold, you'll quickly warm up and thank yourself for dealing with the cold for a short period.
Starting cold will help you to manage the sweat situation. When you stop, remember that all of the heat will be quickly sucked from your body to the cold air around you. Have a jacket handy that can be tossed on as soon as you stop moving to help trap the heat. Before you get going again, throw that jacket back in your bag, and then can you start hiking again.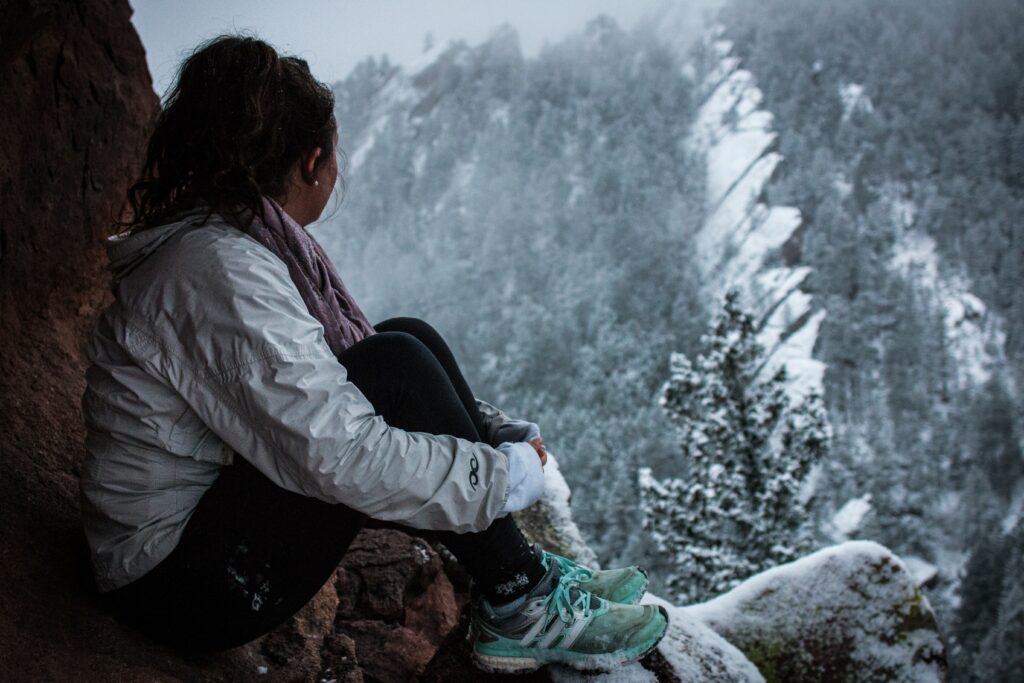 Eat… a lot
Every furnace needs a fuel source. The more you feed the furnace, the more heat it can produce. What we're saying is, here is the perfect excuse to load up on as many calories as humanly possible while hiking.
Foods with high fat and calorie counts are optimal for winter camping. Butter becomes your best friend. Extreme mountaineering trips rely on a hearty stash of butter worth every ounce that it adds to a pack. If you aren't into eating butter without pause, try eating a spoonful of peanut butter before sleeping and reap the warmth and benefits.
Do your best to take a break from any eating restrictions you may have while at home. Hiking in general demands that you eat far more than normal. Hiking in winter means doubling the daily calories, not worrying about sticking to your New Year's resolution. This is where brownies become an acceptable and encouraged breakfast food.
Hydrate, hydrate, hydrate
The outdoors can quickly make you tired of hearing people tell you to drink water over and over. It seems to be the only solution to every problem you encounter. People are telling you to drink water to avoid overheating, drink water if you're sick, drink water every time you breathe, and so on. That being said, if you want to stay warm, drink water.
The trickiest part of drinking water in the winter is wanting to. It seems counterintuitive to drink cold water while it's cold outside and you want to stay warm. There are a couple of reasons why dehydration can be even more dangerous in the winter than normal temperatures. 
First, your blood relies on hydration to help move heat from your core out to your extremities. With less water in your system, it struggles to move heat around the body, resulting in cold fingers and toes that you may not even feel anymore.
Not only do you need it to stay warm, but it's also essential to drink water because you may not even realize that you're getting dehydrated. Most people associate dehydration with sweating profusely. Contrary to popular belief, we lose most of the water in our bodies through breathing. In the winter, the steam that leaves your mouth is precious water quickly leaving the body.
One of the most helpful tricks to staying hydrated and warm is to bring a Thermos. It's heavier, but it can often be a game-changer. Warm drinks like tea or hot chocolate will work to hydrate you and provide a separate heat source. It's one of the few things that makes it easy to forget about weight.
Bring extras
Extra socks, hats, and gloves should be in every winter camper's backpack. These are some of the easiest pieces of gear to misplace or get wet. The moment your beanie is gone is the moment you start to lose a considerable percentage of heat.
Having extras will allow you to keep warm and, more importantly, stay dry. If you get extremely cold feet, try changing socks halfway through the hike to get rid of all the sweat and cold that comes along with it.