It's no secret that we have had some extremely hot weather the past few summers. As much as we want to be out on the trails, it's important to stay safe, too. If you are planning on hiking in hot weather, make sure you know how to prevent, recognize, and treat dehydration and heat stroke. In this article, we'll go over both dehydration symptoms and heat stroke symptoms so you can treat these conditions before they get worse and enjoy a safe hike.
The Risks of Hiking in Hot Weather
Staying safe in hot weather means hiking shady trails, drinking extra water, and wearing the right fabrics. These hot-weather hiking tips will help protect you, but it's also essential to know the risks you face. The most common problem summer hikers will face is dehydration. The more serious risks, however, are heat exhaustion and heat stroke. Dehydration is a common problem most of us have experienced to one degree or another. Heat exhaustion and heat stroke, however, are much more serious conditions where the body's temperature is elevated to dangerous levels.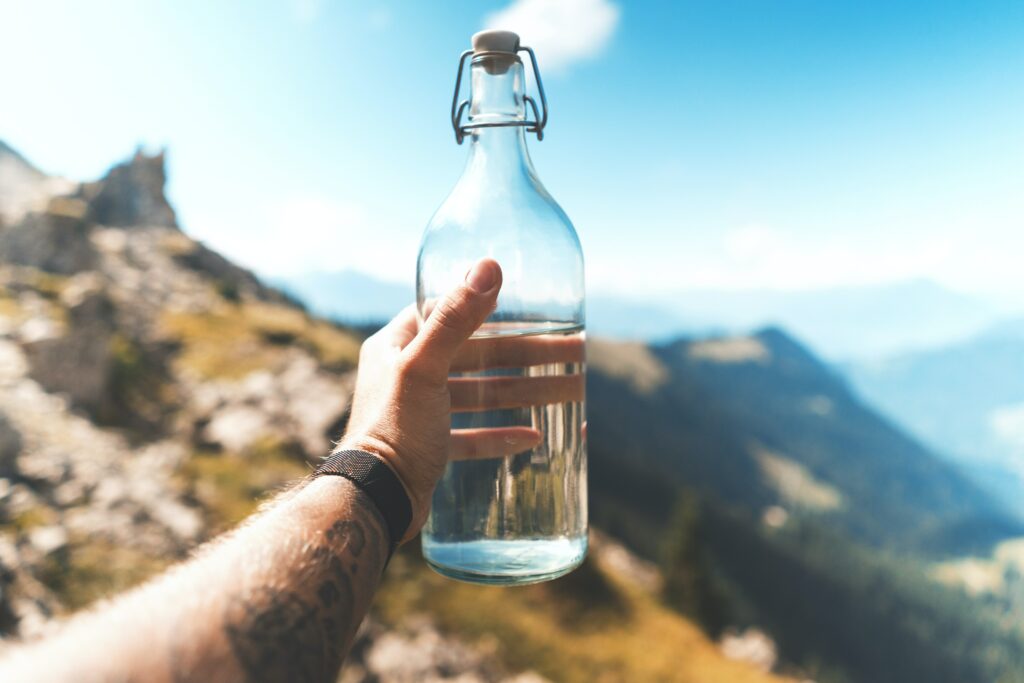 Dealing with Dehydration in Hot Weather Hiking
While dehydration is a common problem, it can be quite serious if left untreated. If you are hiking in hot weather and sweating, it can be hard to figure out how much water you need to take in to compensate for sweat and stay hydrated. Recognizing dehydration symptoms in yourself and your hiking companions is the best way to treat it early and prevent more serious symptoms down the line.
How to Recognize Dehydration Symptoms
The first and most overlooked symptom of dehydration is a headache. If you are on a trail in hot weather and start getting a headache, pull over and hydrate. Many people try to push through a headache, but later symptoms include dizziness, disorientation, and nausea. These unpleasant dehydration symptoms can be very dangerous on a hike, especially if you are hiking alone. Know your limits, listen to your body, and don't hesitate to turn around if you need to.
How to Prevent Dehydration
You may think the best way to prevent dehydration is to drink plenty of water. It's actually not that easy since sweat isn't just water. Our bodies need salts as well, and that is why you see sports drinks advertising electrolytes. Preventing dehydration means having a salty snack in addition to water or adding a hydration tablet to your drinking water. Be wary of consuming actual sports drinks as many contain sugar which increases urination and therefore, dehydration.
Preventing dehydration on a hot weather hike should begin before you get to the trail. Starting that morning, avoid caffeinated beverages and make a conscious effort to drink enough water. While urine is not supposed to be perfectly clear, the less yellow it is, the better hydrated you are. On trail, you will want to consume about a quart (or 32 fluid ounces) of water per hour. This metric will need a little tweaking based on your exertion level, how much you are sweating, and how hot it is.
How to Treat Dehydration
Once you have noticed a dehydration symptom like a headache coming on, it is important to pull over and hydrate. Do not get back on the trail immediately after a sip of water. If you are feeling unwell, take five or ten minutes in a shady spot to relax and let your body cool off. A salty snack or electrolyte water should help you feel better, and you can decide then if you want to continue. Keep in mind that untreated dehydration can lead to heat exhaustion and heat stroke: If you are not sure if you are feeling better, don't risk it.
What Are Heat Exhaustion and Heat Stroke
Heat exhaustion is a condition caused by excessive loss of water. This is why dehydration is a precursor to heat exhaustion. Similarly, heat stroke comes on when heat exhaustion continues untreated for a period of time. Heat stroke means that the body can no longer regulate temperature effectively, and this makes it extremely dangerous. Luckily, all of these can be prevented and treated effectively once symptoms are recognized.
How to Recognize Heat Exhaustion Symptoms
Heat exhaustion is the body's response to severe dehydration and starts with profuse sweating, lightheadedness, and nausea. Other heat exhaustion symptoms include chills, muscle cramps (known as heat cramps), unquenchable thirst, and abnormal heartbeat. While some of these symptoms seem common on a strenuous hike in hot weather, it is important to recognize when there are multiple symptoms appearing together, when they become extreme, and when they affect your state of mind.
How to Recognize Heat Stroke Symptoms
If a hiker ignores heat exhaustion and continues exerting themself, the condition may turn into heat stroke. One obvious sign of heat stroke is that the person will stop sweating. Heat stroke is also characterized by shallow breathing, hot skin, delirium, and eventually unconsciousness. Falling unconscious is the body's final attempt to prevent further exertion and allow the body to cool off. Heat stroke is a life-threatening condition that requires medical attention.
How to Prevent and Treat Heat Exhaustion and Heat Stroke
The best way to prevent these dangerous conditions is by addressing dehydration symptoms and not letting it get worse. Recognizing dehydration symptoms and heat stroke symptoms as they happen can help you treat them sooner and feel better faster.
If your hiking companion is exhibiting symptoms of heat exhaustion, they need to get to shade and rest immediately. You can remove whatever clothing is in the way of a nice breeze but do not do this in the sun where further damage can occur. The best way to cool the body down is by submerging yourself in water. If this isn't possible, wet a towel or cotton fabric for the back of the neck and head to help cool off faster. Be sure to hydrate and take a good long break before hiking back out to the car. If anyone exhibits symptoms of heat stroke, they need medical attention as soon as possible. This may require a medical evacuation, as the person should not continue exerting themself.
Final Thoughts
While heat stroke symptoms are scary and very serious, it is comforting to know that this condition is completely preventable. Paying attention to your body, learning proper hydration techniques, and recognizing dehydration symptoms are important ways to stay safe when hiking in hot weather. Keep in mind that children and older adults are more susceptible to dehydration, and hiking at altitude exacerbates these risks and has its own dangers.