Are you looking to add some excitement to your cycling? Mountain biking is an awesome exercise, adventure, and challenge all in one. The trail can be intimidating to beginners, but you've come to the right place to learn how to start mountain biking. If you know how to ride a bike, you've got all the fundamentals you need.
In this beginner's guide to mountain biking, we've got everything else you should know before hitting the trail.
What is Mountain Biking?
First and foremost, you should know some fundamental differences between road cycling and mountain biking. This is because mountain biking involves biking over uneven terrain, like rocks and tree roots, creating a need for a very different type of bike than those used for road cycling.
Unlike road bikes, mountain bikes have wider tires with improved grip and suspension frames to provide a smoother ride over bumpy terrain. You can imagine how a rigid frame wouldn't fare well on a mountain biking trail, so the suspension is key to a comfortable ride. Mountain biking frames also allow riders to sit taller to have better visibility of the trail.
Finally, it's best to use platform pedals on a mountain bike, which means you don't clip in. Most important for beginners, you should be prepared to fall or jump off the bike at any time when going down a trail for the first time as you can pick up speed incredibly fast. Strapping into your pedals can actually be more dangerous on a mountain bike.
Gear Needed for Mountain Biking
The Essentials
Obviously, you'll need a mountain bike. As noted above, you should make sure your bike has partial or full suspension for the most comfortable ride. Some mountain bikers use rigid bikes, as they use less energy for climbing the mountain. However, this beginner's guide to mountain biking recommends at least partial suspension to absorb some of those bumps on the trail. This will keep you safer and more comfortable as you get used to the difference between road cycling and mountain biking.
The other essential items for getting started mountain biking are protective equipment. As a beginner, you should expect to fall, and protecting yourself will save you from a rough descent that ends early and in pain. A helmet is an absolute must while mountain biking, as there are plenty of hazards, you could hit your head on if you fall. Unlike road biking, mountain biking helmets are full face, with visors to protect your eyes from tree branches and debris. Elbow and knee pads are other important pieces of gear to keep you safe on the trail.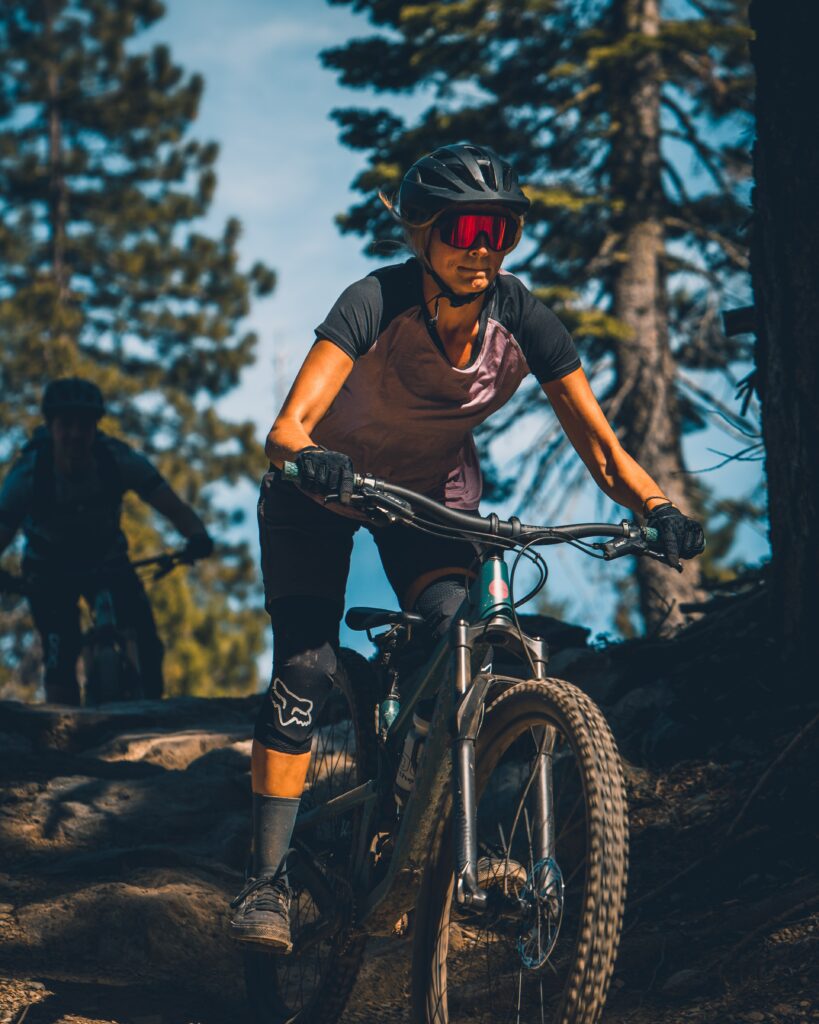 What to Wear on a Mountain Biking Trail
Dress according to the weather to stay comfortable and safe on the trail. It's best to wear a dry-fit shirt that will wick away moisture and keep you dry. Mountain biking shorts with chamois padding (aka butt pads) are key for absorbing some bumps and reducing saddle fatigue.
Similarly, gloves are essential for keeping your hands and wrists comfortable all day long. Mountain biking with bare hands can cause blisters, and when you fall, you could cut yourself. Gloves will protect your palms and offer a little padding and warmth.
Finally, a comfortable pair of light boots are the best alternative to mountain biking shoes if you're learning how to start mountain biking. You want something with a stiff sole for stronger pedaling, breathable material to keep your feet dry, and a grippy textured bottom for good contact with the pedals. Another alternative is skate shoes, though these tend to be less breathable. High-rise shoes are also helpful to protect your feet and ankles in the event of a fall.
Packing Smart for a Mountain Biking Trip
There are many things you should pack on a mountain biking trip, and this is where there is a big difference between mountain bike rentals vs tours for beginners. When you rent a bike, you'll just get a mountain bike and a helmet. On a mountain biking tour for beginners, you'll have a guide who will pack all the essential gear and help ensure you have a great day.
The most important bit of gear is a map! If you're heading out without a guide, please don't forget a hard copy of your directions. It's important to not rely on electronics on the trail: there likely won't be cell service, your battery could die on an unexpectedly long day, or a hard fall could break your phone. Know the trail and the day's plan before heading out, and always bring emergency gear in case you get lost.
Next, a small first aid kit is essential for a beginner mountain biking trip since we all fall when we're learning. As far as getting your bike back in shape after a crash, there are a few things you'll need. You should always carry a spare tube or two and a bike pump. Unlike biking on the road, potential tire busters are all around on a mountain biking trail. Knowing how to replace a tire and having the gear you need will keep you prepared and safe on the trail.
A bike multi-tool is another must, especially for longer rides. Even with suspension frames, mountain biking is a bumpy ride, and it's normal to need to make small adjustments or fixes over the course of the day. A bike multi-tool with the right size hex wrenches for your bike will make a huge difference in your trip's success.
Finally, when you pack food and water for your day on the trail, go ahead and pack extra. It's easy to get a little lost or delayed due to a mechanical issue. Expect a mountain biking trip to last longer than an equivalent road cycling trip, and pack accordingly. If you have one, a hydration pack is a great way to make sure you've got enough water for a long day. We promise: it's worth the extra weight to have the energy and hydration needed to finish strong.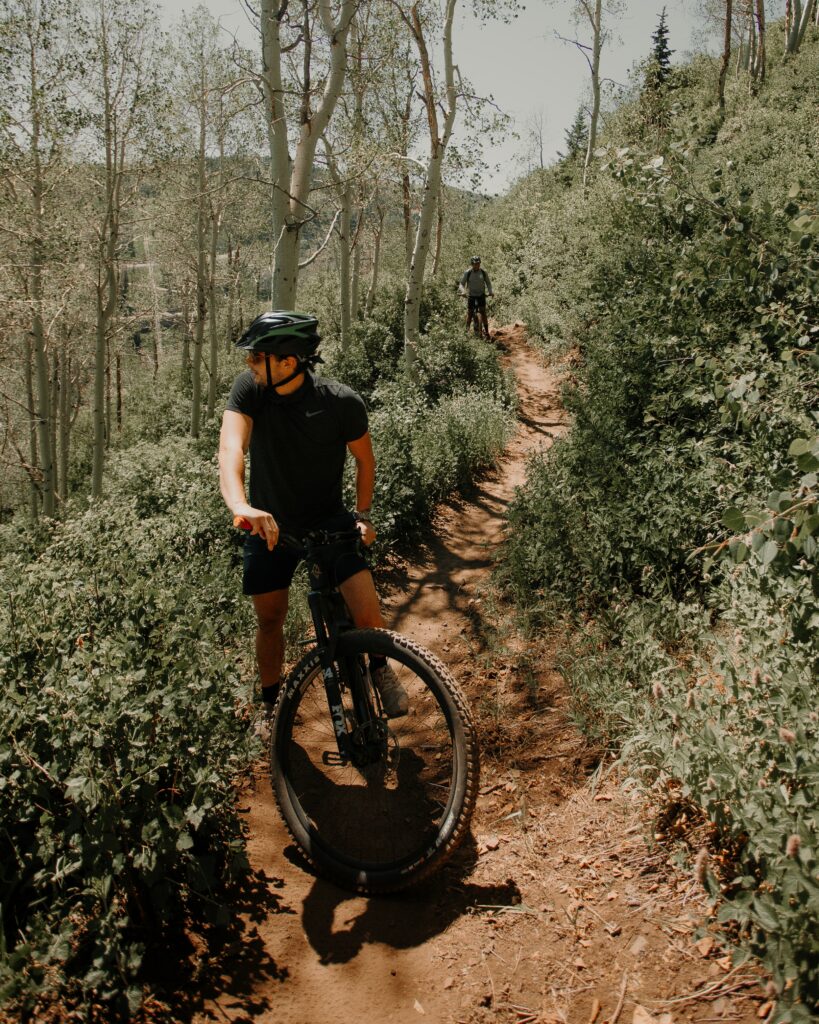 Mountain Biking Tips and Techniques
Get a guide
Finding a tour that specifically offers mountain biking for beginners is a great first step. You'll get in-person professional advice on how to start mountain biking, and you'll start down an easier trail that is suitable for beginners.
Stretch Well and Don't Tense Up
When going over obstacles on the trail, it's important to stay loose and let the bike ride free. Hover your butt over the seat, so you don't feel every bump, and keep your elbows high and your knees out so you can go with the flow.
Stay Balanced
A big difference between road and mountain biking is the need to shift your weight around to stay on the bike. On a flat road, you can pretty much sit back and relax. On a mountain bike, you need to make constant small adjustments – side to side and front to back – to maintain your center of gravity and not tip over. It's sort of like riding a bull, hopefully with less bucking.
Keep a Steady Pace
One thing that will help you manage rough terrain is maintaining an even speed with your brakes and gears. Big obstacles are frightening, and it makes sense that you'll want to slam on the brakes sometimes. But that's a good way to go over the handlebars (via the front brakes) or fishtail and skid out (on the back brake).
Gentle use of the brakes will help you keep an even speed and give your bike the momentum it needs to get over bumps without too much work on your part. You can also move between gears in response to terrain changes that you see down the line. Paying attention and shifting early will make your life easier and help you keep your momentum.
Chin Up, Eyes Down
Paying attention while on the trail is key. Road cycling offers consistent, smooth terrain, and you have time to look around, enjoy the scenery, and even change the song on your phone. As a beginner mountain biker, you need to stay vigilant by watching the trail in front of you. Look past obstacles and focus your eyes on where you want the bike to go. This will help you naturally bike around danger without needing to think too much about it.
Proper biking posture will also keep you focused and safe. Mountain bike frames keep riders in a more upward stance for a reason. You want to keep your head up, looking down the trail at future terrain. This will give you time to prepare and react to potential obstacles. Just like driving, focus your attention a few seconds down the trail and use both your central and peripheral vision. This way, you can see the whole trail, including problem areas and safer alternate routes.
Have Fun!
Now that you know what to wear and pack and how to start mountain biking, you're ready for your first trail experience. We hope you are feeling confident and excited to explore this rugged alternative to road biking. Thanks for checking out this beginner's guide to mountain biking.
Have a safe and amazing time on a mountain biking for beginners guided tour!