Situated against the foothills of the Rocky Mountains lies the City of Colorado Springs. Just south of Denver, this city is a premier gateway to adventure, offering access to various activities and awe-inspiring landscapes. Of these activities, rock climbing in Colorado Springs is one of our favorites.
Colorado Springs has it all, from unique sandstone rock formations to glistening glaciated peaks. Rock climbing in Colorado Springs is an activity you do not want to miss! But with so many options, it can be hard to know where to go. To save you time, we have laid out a quick guide to Colorado Springs rock climbing locations to suit climbers of all skill levels.
Before heading to the crag, remember to review the rules and regulations for rock climbing in Colorado Springs. These include very important safety information and general rules for each park to make sure all climbers have a fun and safe adventure.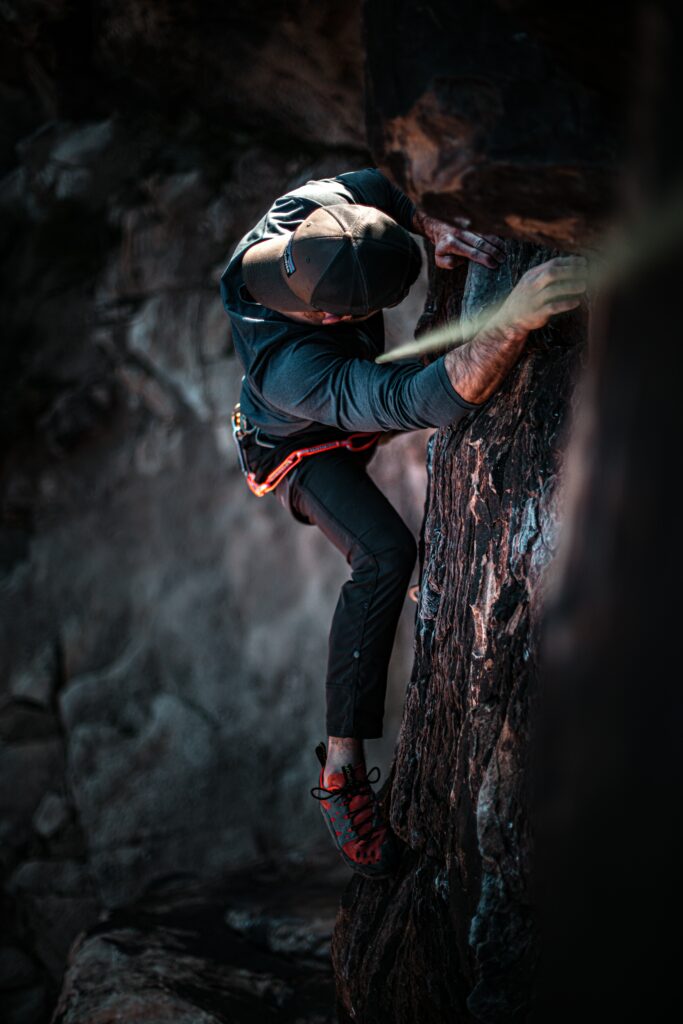 A Quick Note
Climbing is inherently dangerous. However, it can be a safe, enjoyable, and memorable activity with the proper equipment and skills. If you have never climbed before, first try climbing in an indoor space or seek a guided tour. To learn more about rock climbing safety for outdoor climbing, check our rock climbing safety guide.
If you're ready to try climbing outdoors and don't have the necessary skill and equipment, try going with a guide! Broadmoor Outfitters offers several guided rock climbing tours in Colorado Springs to phenomenal climbing locations in the area. This is also an excellent option for those looking to transition from indoor climbing to outdoor climbing. Or for those who have never climbed before but would like to immerse themselves into new landscapes and exciting rock climbing experiences in Colorado Springs.
Beginner Rock Climbing in Colorado Springs
Location: 21 N Nevada Ave., Colorado Springs
Parking: There is metered parking on downtown streets and many parking garages nearby. See parking information here.
Approach: Easy walk in town from street or garage parking.
City Rock offers fantastic indoor rock climbing in Colorado Springs. This gym includes bouldering, auto-belays, sport climbing, and top-roping for all ages and ability levels. In addition to the climbing, City Rock also features a yoga studio, fitness training, a kids' area, and more. This is a great option for first-time climbers or those seeking an alternative activity due to inclement outdoor weather.
Intermediate Rock Climbing in Colorado Springs
Ute Valley Park – Excellent Bouldering Opportunity
Location: 1705 Vindicator Dr, Colorado Springs
Parking: A parking lot is available at the Ute Valley Park Entrance at the address listed above.
Approach: Per Mountain Project, it is best to access the boulders by following Mule Deer Drive past Pinon Valley Park and turning left onto Pinon Park Drive. Pinon Park deadends at a gate; park along the street and walk up the dirt road. After about 100m, you will be at the boulders.
Ute Valley Park is primarily comprised of bouldering – short climbs with hard movements. No ropes or belays for this style of climbing. However, having enough crash pads, a confident partner to spot you, and some practice falling will make this more enjoyable.
While this climbing style is safe and accessible to most, we rank this location as intermediate due to the difficulty of the "problems" (routes). These problems typically range from V1-V12, which can be challenging for beginners. In this scale, V0 is the easiest (or VB for 'beginner'), and the routes get harder as the number increases towards V12. Therefore, this is an excellent place to improve your climbing strength or challenge yourself on a tricky problem.
Location: 3550 W High St., Colorado Springs
Parking: Designated parking areas on the right side of W. High St. – Exact directions on Mountain Project
Approach: Find the trailhead by turning south from US 24 at the only turnoff between 30th Street and the first Manitou Springs exit.
Red Rock Canyon Open Space offers accessible and friendly climbing to novice and expert alike. With 80+ routes from 4th class to 5.13, there is a route for everyone. This area is primarily sandstone climbing with face holds, offering holds and movement very similar to gym climbing. Most climbs are bolted sport routes with lowering and rappelling anchors.
NOTE: A free permit is required before climbing and is obtainable online. Be sure to watch the video on the climbing permit page, as this includes very important rules and regulations for the area.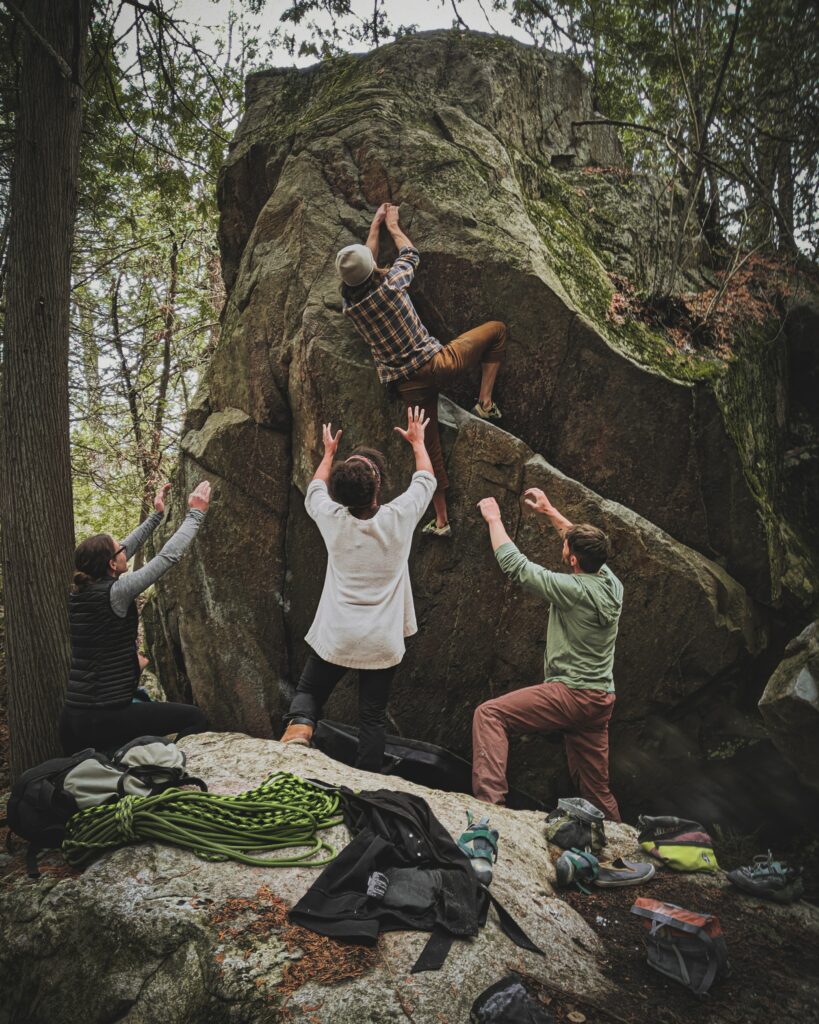 Advanced Colorado Springs Rock Climbing
Cheyenne Cañon Park – Primarily Sport with Crack and Trad Options
Location: 4682 Gold Camp Rd, Colorado Springs
Parking: Enter near the Starmore Discovery Center, drive along the road, and park at various pullouts. There is also parking at the Powell parking lot on Gold Camp Road – See Mountain Project for more directions.
Approach: Most approaches are short and accessible from the parking lot or pullouts.
Situated in a narrow canyon with beautiful views, this fantastic granite crag contains a mixture of climbing styles. The options include bouldering, trad, and sport routes of varying difficulties. Although primarily a sport climbing location, there are a handful of crack climbs and trad routes offering a place to learn crack climbing techniques and trad climbing skills.
This rock is also known to be of varying quality, so be sure to assess your routes. Cheyenne Cañon is an excellent option for hot days as it tends to stay cooler in the canyon shade. If you happen to be around in the winter months, this area is also known for its Ice Climbing.
NOTE: A free permit is required before climbing and is obtainable online. Be sure to watch the video on the climbing permit page, as this includes very important rules and regulations for the area.
Location: 180 N. 30th St., Colorado Springs
Parking: Parking is available in the Visitor Center lots
Approach: From the parking lot along well-marked and traveled paths. See Mountain Project for specific route information.
Garden of the Gods is the most well-known rock climbing area in Colorado Springs. This area comprises beautiful towering sandstone formations with picturesque snowy peaks in the background. This area is well protected, so obtaining a park permit and learning about rules and regulations is mandatory before entering.
While there are some beginner routes, this area is best known for traditional "trad" climbing – often reserved for advanced climbers only. Trad climbing grades range from 5.3 to 5.12. Climbing in this area requires advanced rope system knowledge, gear placement techniques, crack climbing skills, and more. Many famous and historical "test pieces" are available to measure your skill. While mostly known for traditional climbing, this area also offers bouldering up to V8 and sport climbing up to 5.13.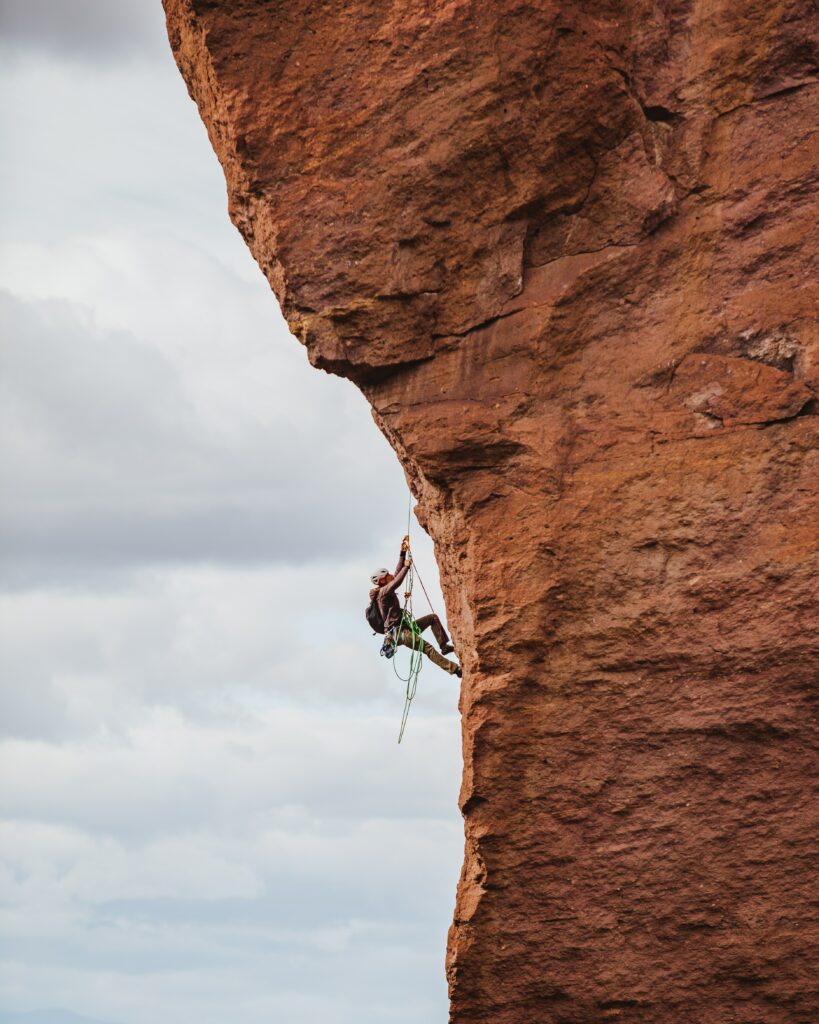 Final Thoughts
No matter where you go or what style you choose, rock climbing in Colorado Springs will be an unforgettable experience. Whether you are testing your abilities, trying out a new sport, going on a guided climbing tour, or searching for the perfect view, Colorado Springs will meet your needs. Grab a friend or guide, be safe, and climb on!