If you are wondering how to get into rock climbing, there is no wrong way to go about it. You can take a class at your local gym, try a guided rock climbing tour, or try it out with a friend and get some hands-on experience.
It is admirable to learn something new, and rock climbing is a rewarding activity. It builds self-esteem, provides instant gratification, and exercises your full body. Still, it is always hard to get used to new movements, so we've prepared some helpful rock climbing techniques for beginners just starting out with the sport.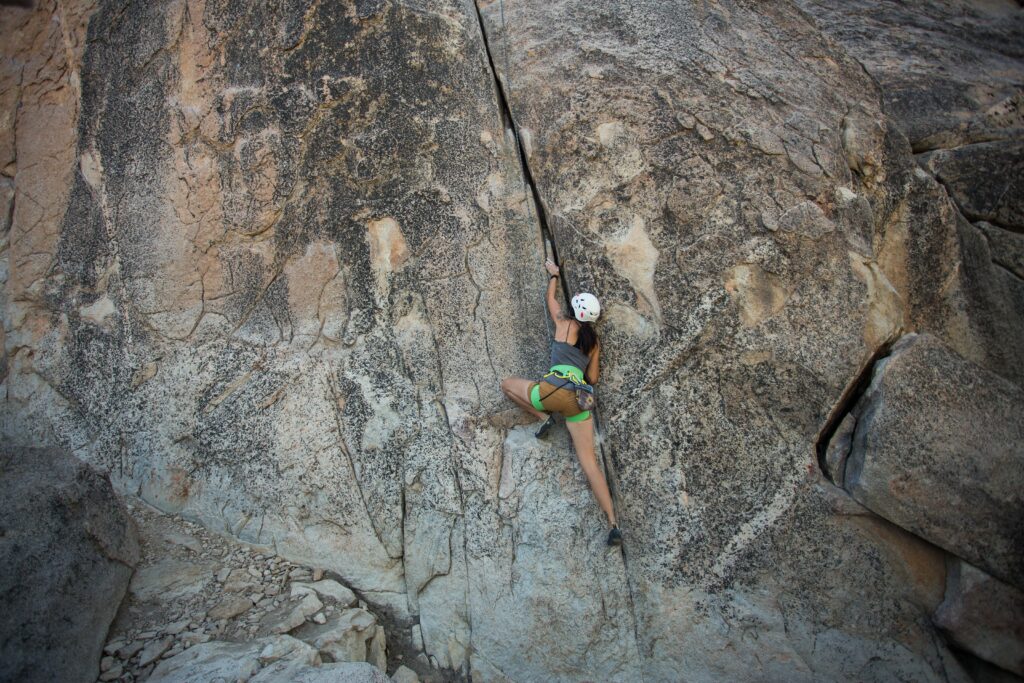 Before You Climb
Stretch
The most important thing to do, both before and after rock climbing, is to stretch. Be sure to stretch your fingers, wrists, and shoulders. You want to stay loose to avoid over-gripping the wall and tiring out quickly. I often stretch between climbs, too, once my muscles are warmed up and again when I am starting to feel tense. Keep your muscles relaxed as much as possible, and you will have an easier climb.
Plan Your Route
When rock climbing in an indoor gym, there will be color-coded routes to guide you. You can find beginner routes around 5.5 – 5.9 for top rope or V0 – V3 for bouldering. Before you jump right on the wall, take a moment to look at the route. You can climb with your eyes, and you should continue this practice as you move up the wall. Look at each hold and the movements between holds. Is that a right hand or a left? Is there a foothold to help boost you up?
Rock climbing routes are placed with intention. There may be multiple ways to do it, but there is likely one way the route setter intended. Understanding their plan will help you complete the route more efficiently and save time and energy. Plan out the climb before you start so you can go in with confidence. As for transitioning to outdoor climbing, there will not be set holds, but it is still important to look at the route before you begin and try to plan your movements.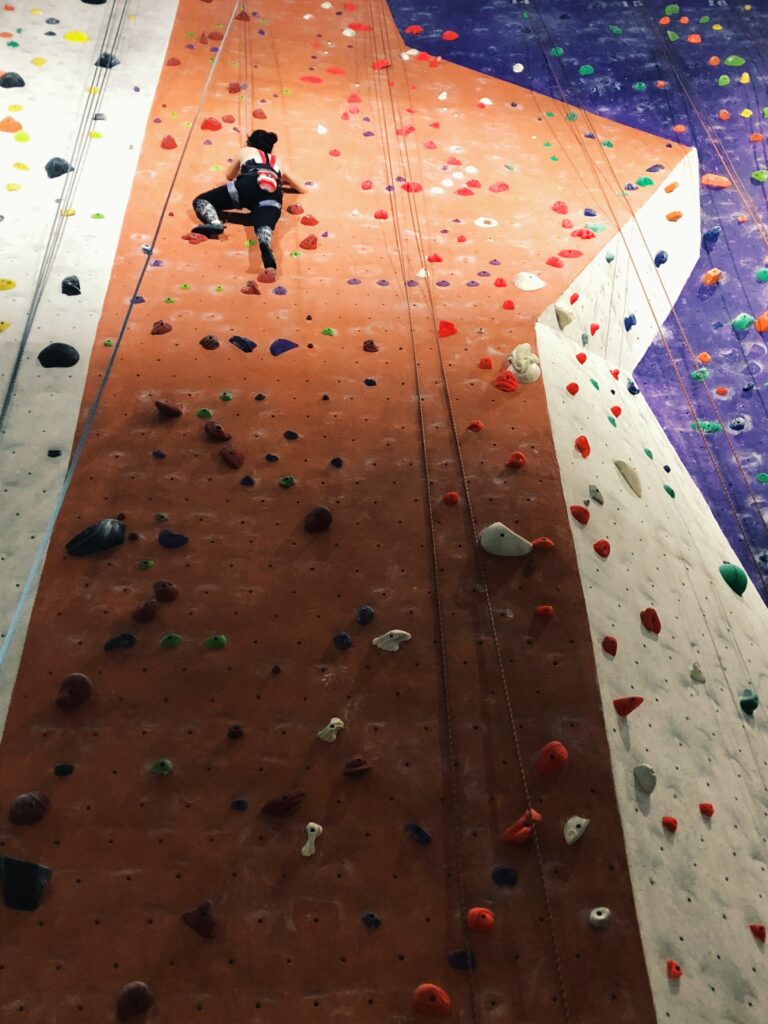 On the Wall – Rock Climbing Technique Tips
Move Your Feet As Much As Your Hands
Beginner rock climbers tend to think climbing is a sport of upper body strength. They forget that they can (and need to) move their feet, too. A good way to use your arm muscles less is to remember that you have other options!
Imagine climbing a ladder. You can stretch your arms to their full extension to reach the highest possible rung, or you can move your feet up and reach that same rung much more easily.
My rule is that you should move your feet just as often as your hands. Alternate hand, foot, hand, foot, if the climb allows for it. This will keep you from overusing your arms and getting tired more quickly.
Hang on Your Skeleton
Another way to avoid burning your arms out too quickly is to use your skeleton more. You can hang with straight arms to give your biceps a rest on the wall. You should pay attention to how your body feels on the wall. Maybe there are spots you can balance and don't need to use too much upper body strength at all.
Control Your Center of Gravity
When you are on a climb, play around with where your body weight is. Pull your body closer to the wall, or relax your weight lower on bent knees. You will notice that it makes a big difference. When you are farther away from the wall, you will feel that it requires more arm strength to stay on the holds. Learning to recognize where your center of gravity is and how it affects your grip and endurance on a route will help massively while rock climbing.
Rotate Your Hips
In the same vein, be sure to move your hips while climbing. You can redirect your weight in order to reach the next handhold more easily. Sometimes you will want your hips facing the wall. Other times, your will need to put one hip into the wall in order to bend your knees and reach a higher foothold.
Take a Rest
Sometimes there are nice handholds or balance-dependent footholds that make for good break spots. There is no shame in taking a rest on the wall, and when you find a place to do it, take it. You can shake your arms out, stretch, or chalk up. A small, minute-long break can give you that extra ounce of energy to get you to the end.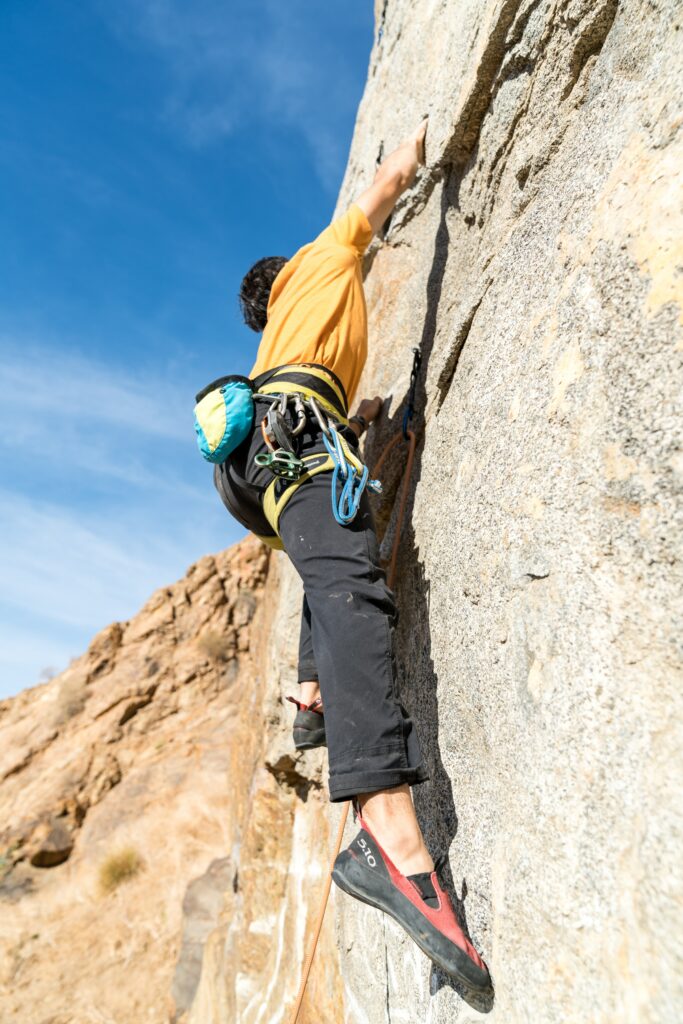 After Your Climb
Review What You Did
The best way to learn to be a better climber is to take a moment after each climb to go over what you did. Were there parts where you had to backtrack or switch hands? It's possible that you did not complete the route as efficiently as possible. Was there a move that felt too hard or too much of a stretch? It's possible that you missed a small foothold or a handhold around the corner of the route.
Practice the Same Route
You do not necessarily need to forget about a route the second you send it ("ascend," or climb without falling). You can climb the same route again and again until you feel confident on each hold and smooth and precise in each movement. As you become accustomed to the most efficient route, you will be able to focus more on your center of gravity, breathing, proper positioning of your feet, and moving with intention between holds.
Stretch Again
For the first few weeks after you begin rock climbing, your forearms will hurt. Everyone goes through this. Continuing to stretch daily will protect you from injuries like tendonitis and make sure your muscles develop in a healthy way.
These beginner rock climbing tips apply equally to bouldering or top rope climbing and indoor or outdoor climbing. If you are looking to get into bouldering, it will also be important to learn to fall safely. In order to be safe while bouldering outdoors, be sure to use a crash pad and have a spotter. If you are planning to head outdoors, make sure you have the proper outdoor climbing safety equipment.