With rock climbing gyms popping up around the country, indoor climbing has become more popular than ever. Still, there is nothing like the thrill and challenge of climbing real rock faces in nature. If you are used to climbing indoors, you may be wondering how to get started climbing outdoors.
There are a few important differences between indoor and outdoor climbing to keep in mind before you make the switch. There are more technical skills and gear requirements, but transitioning to outdoor rock climbing is a worthwhile endeavor. If you are excited to test your indoor climbing abilities on an actual rock face, let's get started discussing how to climb outdoors.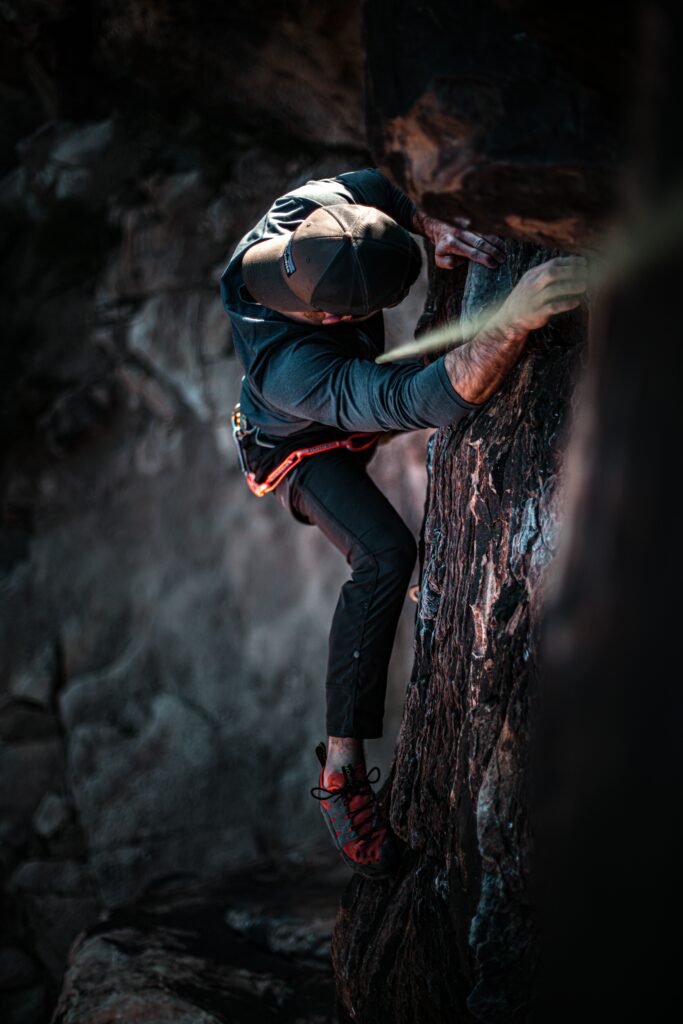 Differences between Indoor and Outdoor Rock Climbing
Prepare for No Defined Holds
When transitioning from indoor to outdoor rock climbing, there are a few key differences you will note right away. First, because you will be climbing on actual rock faces, there will be no specific holds for you to grab. Instead of gym walls with color-coded holds, you will have to decide for yourself where to put your hands and feet. While some climbs will have obvious solutions, others will have fewer potential hand holds. 
Before starting an outdoor climb, you should prepare your route, mentally envisioning each move, noting potential hard spots, and planning your approach. You can also refer to climbing guide books which might provide additional information on the climb's crux, or hardest parts, and beta, which are technique suggestions.
Move Carefully on Rough Rocks
Regarding the holds themselves, depending on the type of rock, outdoor climbing tends to be less comfortable than gym climbing. Rocks can cut up your fingers and wear away at calluses, so be prepared with a first aid kit and move a little more cautiously. Especially if the weather is colder, you will likely want fingerless gloves to protect yourself from the elements.
Anticipate Harder Climb Ratings
While all the climbs use the same rating system (aside from bouldering problems), outdoor climbs will feel a lot harder. Many climbing gyms rate a bit generously, and the lack of structure outdoors is at first challenging.
Start off with beginner routes to figure out your outdoor climbing abilities. If you climb an 11a in your gym, maybe start with an 8 or 9 outdoors, and don't be hard on yourself if you can't meet your expectations right away.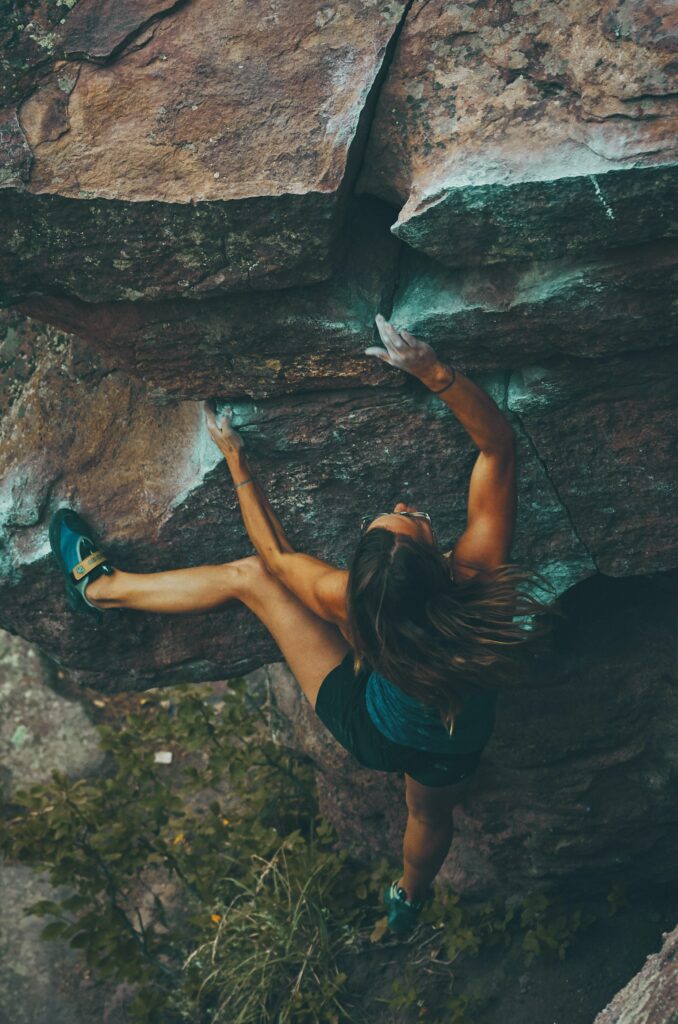 How to Pack for an Outdoor Rock Climbing Trip
Now that you know what to expect when switching to outdoor climbing, let's talk about how to prepare. Aside from where to go, which we will cover soon, you will need extra gear (on top of your harness and climbing shoes) and food for an outdoor rock climbing trip.
As safety is key, the first things on your list are a helmet and a first aid kit. These are two items you wouldn't need in a climbing gym but are essential when climbing outdoors. In addition to your other essential rock climbing gear, you should add a comfortable and reliable half-dome helmet to your basic climbing kit.
Another difference will be clothes and footwear. If you have a long walk to your climbing area, you'll want to bring hiking boots with you on the trip. When you learn how to set your own climbs, you will especially need good footwear for the scrambles to the tops of climbs.
You should also check the weather for the day and bring rain gear and cold-weather gear. It takes a while to set up outdoor climbs. Therefore, you may find an indoor hour-long climbing session is more like a half-day outdoors. On this same note, prepare for your outdoor climbing trip with enough water and snacks for the day. There won't be water fountains on the trail! If you are looking for other helpful tips, check out how to pack for a day hike. 
How to Set Up Top-Rope Climbing Routes Outdoors
The last key difference between indoor and outdoor rock climbing is that outdoor climbs are not usually ready for you to just start climbing. Unlike rock climbing gyms, which have fixed anchors and ropes already dropped for you, outdoor rock climbers have to prepare the protection themselves. While it can seem overwhelming at first, the skills needed to set your own top rope climbs are very attainable.
For beginners, top rope is the best introduction to the outdoor climbing world. You would need to set anchors, using nearby trees or rocks, to create a reliable place to attach your top rope. For lead climbers, you would need to learn how to use trad gear, like cams and nuts, in order to create the points along the climb where you can clip in. Both of these options require a lot of additional gear, including static and dynamic ropes and loads of carabiners.
You should try outdoor climbing a few times with experienced friends before worrying about these pieces. But if you are still interested in learning how to set your own climbs, you'll need to find a friend or professional guide to help you learn the knots and safety rules.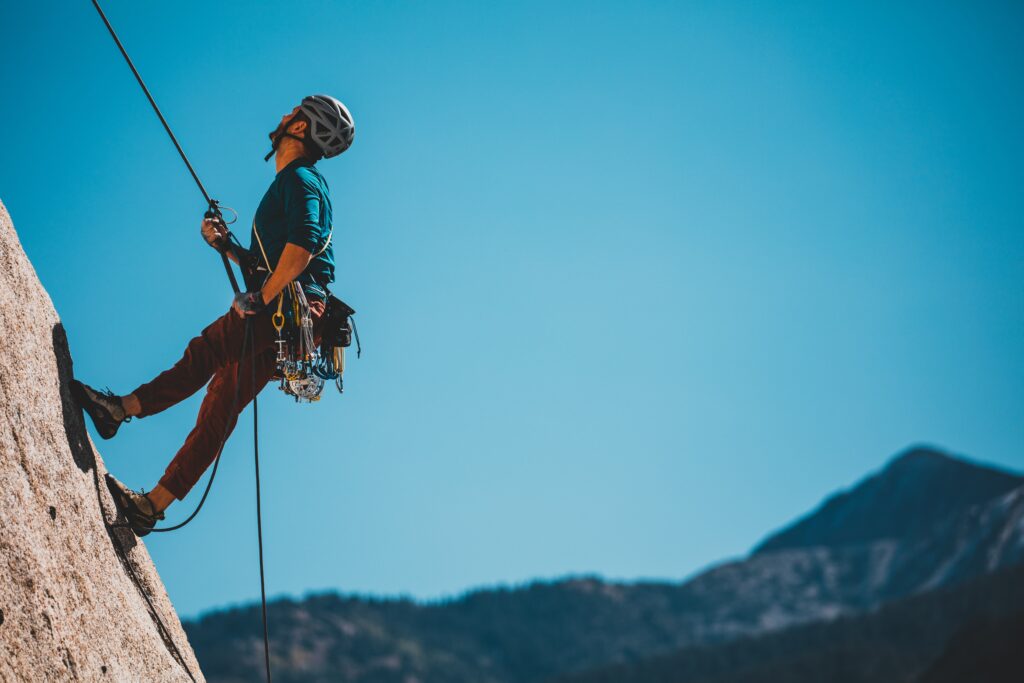 Where to Get Started Rock Climbing Outdoors
There are multiple ways to find good outdoor rock climbing spots. Guidebooks are an excellent resource for identifying available climbs at different skill levels, and there are so many great rock climbing spots near Colorado Springs. Garden of the Gods and Cheyenne Cañon Park are two locations that offer a variety of challenges. Both of these locations also include beginner-friendly climbing routes. Once you have identified somewhere to check out, be sure to get the proper rock climbing permits for Colorado Springs parks. 
Outdoor rock climbing is an invigorating experience that brings you closer to nature and rewards you with stunning views once you finish the climb. Transitioning from indoor to outdoor climbing requires planning, learning to create anchors, and buying additional climbing gear. Before committing, you can experience outdoor rock climbing with a skilled professional guide. Get started and enjoy some of Colorado Springs' best climbing spots on a guided rock climbing day trip.