As a fun and challenging all-body workout, it is no surprise that rock climbing is such a popular sport. With indoor gyms popping up in cities all over the country, you might be wondering how to get into rock climbing.
We will explore the different types of rock climbing that you can try as a beginner, whether you plan to climb indoors or outdoors, as well as the gear you will need to get started. With some of the best beginner rock climbing routes right here in Colorado Springs, outdoor climbing is a fun way to explore nature, get access to some beautiful views, and learn a new athletic skill.
Also, don't forget that a Guided Rock Climbing Trip with Broadmoor can also be an excellent introduction to this exciting sport.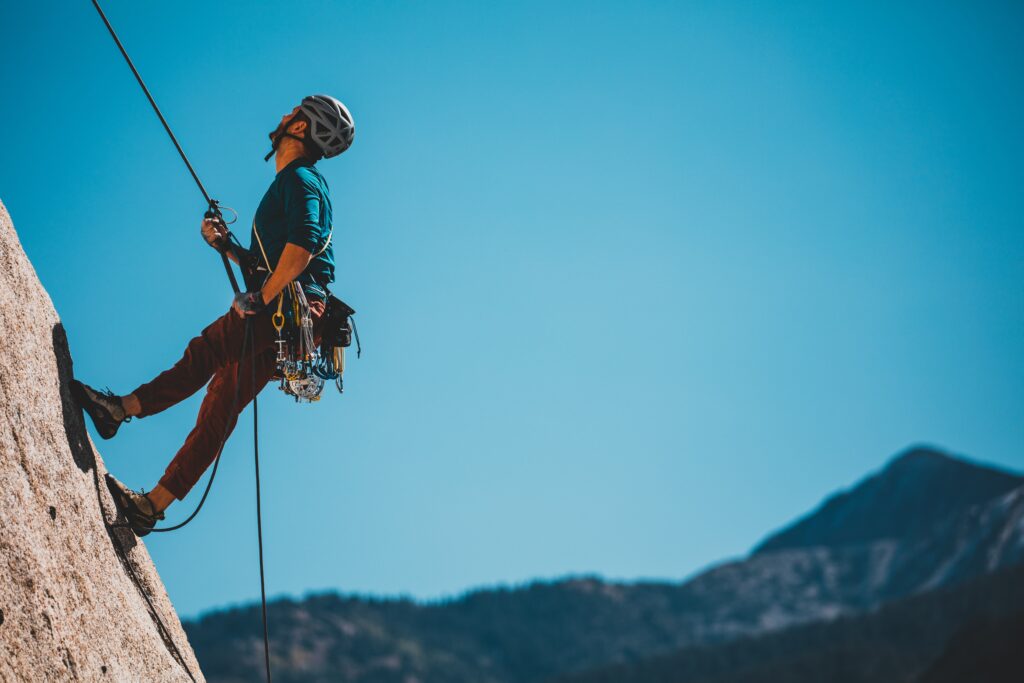 Types of Rock Climbing
Top-Rope Climbing
There are two types of climbing that are suitable for beginners, top-rope climbing and bouldering. In top-rope, as the name suggests, a rope hangs down from above, and as you climb, a belayer takes in the excess slack to keep the rope taut in case you fall. In an indoor gym, ropes hang from anchors like large pulleys. If you climb outdoors, a guide or qualified friend will create an anchor system using ropes and trees or rocks. 
Top-rope climbing routes range in difficulty from 5.0 to 5.15d, with 5.10s and above using a, b, c, and d to further distinguish difficulty. Where a 5.10a is easier than a 5.10d. Based on strength and athleticism, beginner climbers can generally climb up to a 5.4 or 5.6 on their first go. Climbers who are tall or strong might get away with these higher routes upfront, but as you move into intermediate climbs, technique and precision become more important than brute force.
Bouldering
Bouldering is a rope-free experience, with climbs typically up to fifteen feet maximum. If you are at a gym, the bouldering area will be padded to keep you safe when you jump down or fall. Learning how to fall correctly (stay loose and bend your knees!) will keep you safe from injuries. I generally downclimb to protect my knees, but it's still important to know how to fall safely. If you are climbing outdoors, crash pads are essential for rock climbing safety.
The bouldering rating system is different from top-rope. Bouldering routes go from V0 to V17, with V2 being the hardest I've seen first-timers accomplish. Not only are these ratings different from top-rope, but they also don't translate easily. Some people are much better at the big, power moves that many bouldering problems have. Others are more skilled with finesse and balance – challenges that are also more common to top-rope. Top-rope climbs at indoor gyms also range from 30 to 60 feet, making them a lot more of a cardio workout than bouldering climbs.
Advanced Climbing Options
For more advanced climbers, lead climbing, sport climbing, and trad climbing are fun options that you can look forward to after learning to climb. Once you know what type of climbing you are looking to start with, you can get out there and take the first step.
Getting Started with Rock Climbing
The Gear
Whether you decide to top-rope or boulder, you'll need rock climbing shoes and a chalk bag. The shoes are crucial for proper technique and movement while the chalk keeps your hands dry and grip secure. Rock climbing shoes are meant to be snug; generally one size below the sneakers you wear. Keep in mind that climbing shoes should not be worn anywhere but for climbing. Their extra snug fit emphasizes this point and generally makes them uncomfortable to walk around in. Also, you will stretch out the shoes and ruin the grippy soles if you wear them for non-climbing activities. 
If you are top-rope climbing, you will also need a belaying harness to be properly tied in and secured to the rope. You can take a belay class to learn how to belay a partner, and then you can switch climbs with a friend. To belay, you'll need a carabiner and a belay device. Many climbing companies sell beginner-friendly packages with harnesses and belay equipment together.
If you are climbing outdoors, you should always wear a helmet to protect your head in the event of a fall or a rock tumbling down from above you. It's also common to be so focused on your climbing that you forget to look up and climb right into a rock sticking out of the wall. It has certainly happened to me! Other outdoor equipment involves crash pads for bouldering, as mentioned above, a first aid kit, sunscreen, and maybe fingerless gloves if it's a cold day.
Indoor Rock Climbing
If you want to get started at a gym, most have classes on rock climbing basics. Most also have rental gear available, so you don't need to buy everything up front before trying rock climbing. You can also head to the gym and start bouldering right away; no help needed. Watch other people do the routes and even ask for "beta" if you need advice on how to get up.
If you're interested in trying top rope climbing but don't yet have a belay partner – no need to worry! Many gyms have several auto-belays. These devices clip into your harness and function just like a human belayer, allowing you to test out top-rope climbing as a beginner.
You can easily search for local climbing gyms in your area online, or take a look at this gym directory on Mountain Project to find a place to visit.
Outdoor Rock Climbing
In order to get started with climbing outdoors, you need a guide or, as mentioned above, a qualified friend. The most surefire way to have a fun and safe adventure is with a guided rock climbing tour, which will take you rock climbing in Colorado Springs at a popular local spot. On a guided trip, you'll learn climbing techniques and safety and have a chance to try different climbs. 
If you want to get into rock climbing via a more DIY style, you'll need to find a friend who has the necessary gear and know-how to set up climbs. You'll also want to research the different climbs available in your area to find the best sites for outdoor bouldering or top rope spots with anchor points.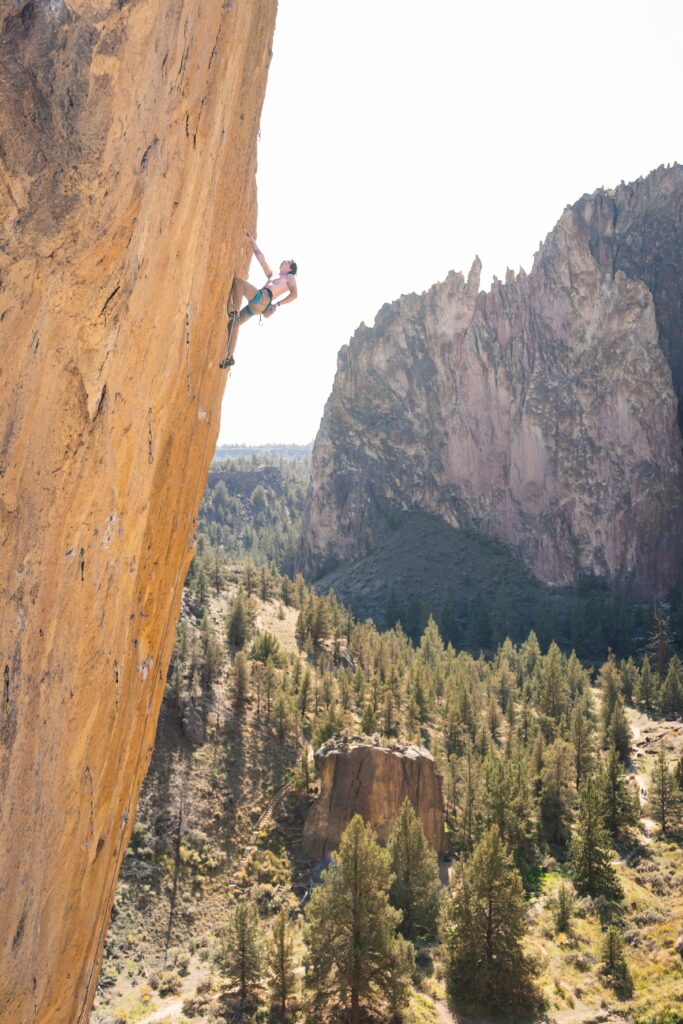 Rock Climbing Basics
The best way to learn how to rock climb is to get on a route and give it a try. It's easier to learn rock climbing techniques once you experience the grips and movements. Rock climbing also involves using your forearms, wrists, and hands in ways that most people haven't developed through other athletics, so it takes time to build these muscles.
My favorite advice for beginner rock climbers is to remember to use their legs and hips. Beginners often overuse their arms and tire quickly. Using all limbs available will help your endurance and give you a good leg workout. My general rule is to make sure I move my legs just as much as I move my arms. There are enough holds on a beginner indoor climbing route to climb a route almost like a ladder.
Similarly, if you find yourself in a tough spot, pivot your feet and move your hips. These small adjustments can get you more reach and flexibility to find that next hold. Keeping your hips closer to the wall also brings your center of gravity closer to minimize the strain on your arms.
Now that you know how to get into rock climbing, I hope you'll give it a try! Even people who are nervous of heights can overcome this fear by learning belay safety or bouldering. Outdoor rock climbing is a truly unique way to experience nature, and the views from the top of a climb are like nothing else. Enjoy!