If you are interested in taking a biking trip but not sure you have the strength or endurance for a longer ride, e-bikes might be for you. In the past few years, electric bikes have become very popular among trail riders and commuters alike, and it is easy to see why. They have the power to assist riders on harder sections of a bike route while still leaving room for riders to get in a quality cardio workout. But how do electric bikes work? Let's get into it.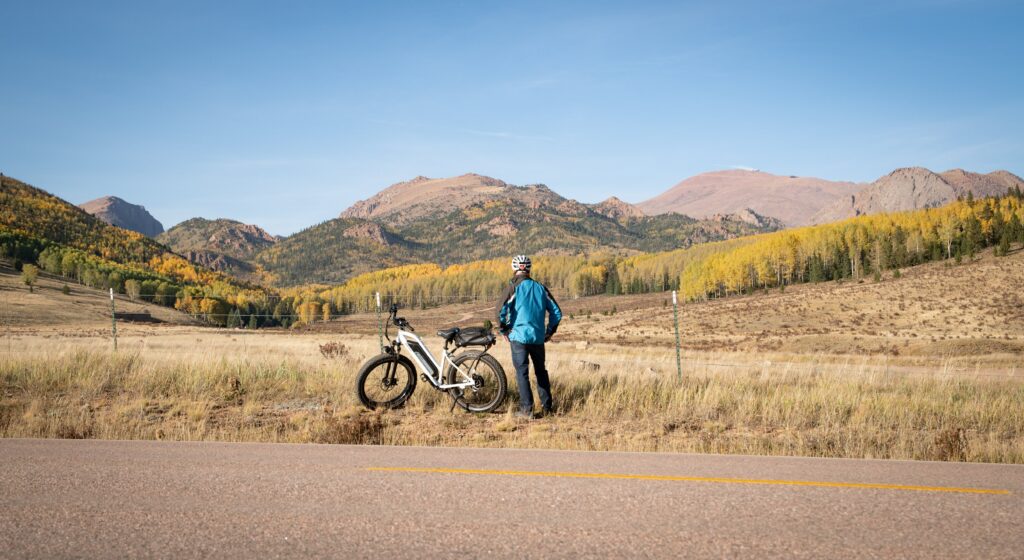 The Mechanics of an Electric Bike
E-bikes differ from standard bicycles in two important ways: the battery and the motor. Powered by the batteries, electric bike motors provide pedal assistance, meaning that they work with you to deliver increased power and speed with your pedaling. They differ in this way from, say, a motorcycle, which is powered solely by the throttle and does not require an input of physical exertion.
The Battery
Strapped to the down tube of a bicycle's frame, the battery is the main reason e-bikes are much heavier than traditional bicycles. They are generally easy to tell apart from other bikes because of this battery bank. The battery may also include a power button and an LED screen to show the battery's charge. The battery is responsible for generating power for the bike, and its capacity will limit how fast you can accelerate and how long you can ride.
Conveniently, electric bike batteries can be recharged with standard electric outlets, and most e-bike batteries last between thirty and seventy miles on a single charge. Unless you are a marathon cyclist, this will be enough capacity to get you through a day's ride. Keep in mind that most e-bikes do not recharge the battery as you pedal or coast down a hill.
The Motor
The e-bike motor is usually attached either to the back wheel's cassette, encased in a hub, or to the chain ring where the pedal cranks are attached. The motor converts stored energy from the battery to kinetic energy and helps you turn the pedals via the crank rings.
With an e-bike's pedal assistance, you do not exert as much energy per cycle as with a standard bicycle. This difference can be felt most in the initial acceleration and on inclined ascents. Therefore, it makes e-bikes great for people with long commutes or tough trails. Beginners who are training their legs and lungs for harder rides also benefit enormously from e-bikes.
The Speed Sensor
One other important feature of an e-bike that you may not see is the speed sensor. Electric bikes are designed with a maximum speed to protect the user. This means that the motor will kick on, assist up to this speed, and then stop. Once you are there, you can coast at this speed and maintain it with pedal assistance, but you will not be able to achieve a higher speed unless you are going down a hill. The specific speed limit depends on the bike's manufacturer and your state laws. But most e-bikes are limited to somewhere between twenty and thirty miles per hour.
The Benefits of an Electric Bike
Now that you know how e-bikes work by providing pedal assistance, you can better gauge if an electric bike is a good fit for your cycling interests. Even though it is counterintuitive, e-bikes can actually give you a better workout because you can ride more miles, climb steeper hills, and get over harder obstacles.

However, electric bikes are more expensive and heavier than traditional bikes, but you may find the pros outweigh the cons. There are many more factors to consider, which we already dive into in a different article. Be sure to check it out if you are asking yourself, are e-bikes worth it?
The Best Uses of an Electric Bike
Another essential consideration for cycling with an e-bike is whether you might want to ride without assistance. While it is possible to use an electric bike like a traditional bike (with the motor assistance turned off), it is not the most feasible option. Since e-bikes are bulkier and heavier due to the extra features, your ride will suffer if you try to use an e-bike without the pedal assist.
So when should you use an e-bike? There are tons of great reasons that people are turning to electric bicycles for daily use. One is commuting to work, where e-bikes give riders the opportunity to traverse longer distances in less time. A second is mountain biking. What's more, biking in Colorado Springs is an especially good cause for trying out an electric bike.
Biking in Colorado Springs
There are tons of beautiful and scenic trails in and near Colorado Springs. While many are accessible for hikers, longer trails are also available to cater to Colorado's active mountain biking community. If you have ever wanted to try mountain biking, an electric bike is a great first step.
Electric bikes provide pedal assistance so first-timers can enjoy longer trails without running out of energy. They also offer more stability since they are heavier and have a lower center of gravity than standard mountain bikes. This combination makes e-bikes ideal for beginner mountain bikers looking to explore Colorado Springs.
If this sounds like something you want to try, there are two ways you can hit the trails and enjoy a great day trip. First, e-bike rentals give you the space to experience an electric bike for yourself. You can explore nearby trails at your own pace and difficulty. Or you can ride through town and see if commuting with an e-bike is a good fit for you.
The second way to get on an electric bike is with guided e-bike tours. Join a professional guide on a tour around the Garden of the Gods Park, a stunning National Natural Landmark everyone should see. This gorgeous park has views of Pikes Peak, and the five-mile ride is perfectly suited for beginner cyclists. If you are looking to try out an electric bike, these are great opportunities to enjoy the beauty that Colorado Springs offers and better understand how e-bikes work.