There is no better way to celebrate the coming of spring than to spend time outdoors in the warming weather. Some of the best hiking trails in Colorado are made even better by the beautiful wildflowers. Seeing these colorful blooms will get you pumped about the new season and all the spring activities around Colorado Springs. Here are a few of our top spring hikes in Colorado.
Canyon Loop Trail at Deer Creek Canyon Park
Length: 3 miles
Difficulty: Easy
Address: 13388 Grizzly Dr, Littleton, CO 80127
Trail Map: here
Just outside Littleton, Colorado – an easy drive from Colorado Springs – is Deer Creek Canyon Park. This space is great for an easy day hike, and it gets vivid colors during the spring and summer. It is tucked neatly into the foothills, providing both nice views of the surrounding mountains and some peace and quiet from nearby civilization.
You can hike a loop via the Meadowlark and Plymouth Creek Trails and enjoy excellent views from the mild 500-foot elevation gain. Meadowlark is a hiker-only trail, but Plymouth Creek does allow bikers. Just keep this in mind as you explore. You can extend the hike by continuing up Plymouth Creek Trail, though you will have to turn back at some point, and you may find it a steeper incline.
South Mesa Trail at Boulder Open Space
Length: 4.4 miles
Difficulty: Easy to Moderate
Address: 3633 Eldorado Springs Dr, Boulder, CO 80303
Trail Map: here
This hike is short in mileage but does manage nearly 800 feet of elevation gain, making it a slightly harder easy hike. The benefit of this is that you will get up well into the foothills and earn sweeping views of the surrounding plains. In the spring and summer, the area is covered with vivid Colorado wildflowers. There are also excellent views of the nearby Bear Peak, South Boulder Peak, and El Dorado Mountain.
To hike here, there is a parking lot right at the trailhead and another across the street for the Doudy Draw Trailhead if it gets crowded. If you want to extend the hike, Shadow Canyon is a great way to get in a tough workout and walk the saddle between Bear and South Boulder Peaks. This is a beautiful trip that will excite any nature lovers. While this is a 90-minute drive from downtown Colorado Springs, you will find it an excellent day trip to make in the spring. This is one of the best spring hikes in Colorado thanks to astounding views and colorful, unspoiled land.
Spruce Mountain Trail at Spruce Mountain Open Space
Length: 5.5 miles
Difficulty: Moderate
Address: 13415 Spruce Mountain Road, Larkspur, CO 80118
Trail Map: here
Spruce Mountain Open Space offers a beautiful wooded hike that summits to a flat top. The trail is moderate in difficulty, in large part due to the 600 feet in elevation. At the top, you will be rewarded with gorgeous views of Pikes Peak, the Palmer Divide, and the surrounding area as well as the pride of completing a challenging ascent. Between the natural limestone formations and the pine and fir forests, this park easily makes any list of the best hiking trails in Colorado. It is made even better by the explosion of foliage and wildflowers in the spring, so don't miss this one.
This is a quick trip up from Colorado Springs, just north of Palmer Lake. Keep in mind that horseback riding and mountain biking are both allowed on the Spruce Mountain Trail, so be sure to follow proper trail etiquette on your hike. The park has toilets and water and allows dogs on leashes. It is also a great place to see wildlife near Colorado Springs. All in all, it makes for a great day hike and an excellent way to ring in the coming of some warmer months.
Carpenter Peak Trail at Roxborough State Park
Length: 6.5 miles
Difficulty: Moderate to Hard
Address: Parking Lot, Roxborough Park, CO 80125
Trail Map: here
Roxborough State Park is a gorgeous 4,000-acre park northwest of Colorado Springs. It is home to a range of wildlife, including a variety of species for birdwatchers, and beautiful explosions of foliage. You can access the park via East Roxborough Drive, and you will find a series of parking lots along with restrooms and the trailhead for Fountain Valley Overlook. A short walk south on Willow Creek Loop and you will intersect with Carpenter Peak Trail.
The Carpenter Peak Trail is a great medium selection in this park which has nearly 14 miles of hiking trails in total. This trail can be a bit steep at times and definitely falls within moderate difficulty for the top spring hikes in Colorado. It covers about 1,000 feet of elevation gain and includes amazing panoramic views at the summit. From the highest point of the park, you will be able to enjoy outstanding views of Denver to the northeast and Pike National Forest.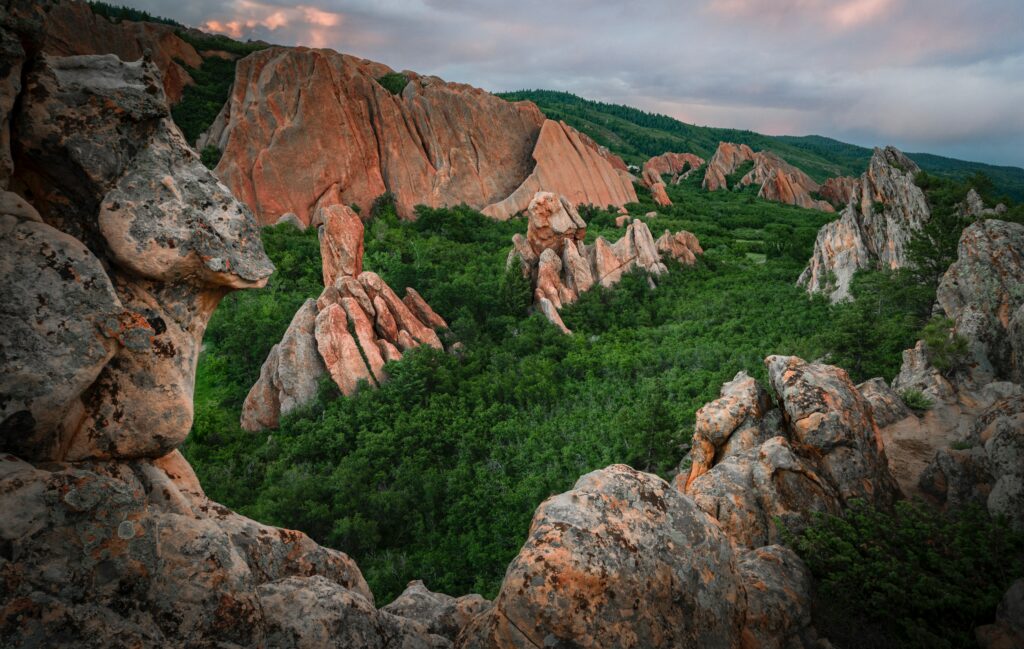 Red Rock, Lion, Section 16 Loop at Red Rock Canyon Open Space
Length: 11 miles
Difficulty: Hard
Address: 530 S 31st St, Colorado Springs, CO 80904
Trail Map: here
Red Rock Canyon Open Space is a popular place year-round for Colorado Springs residents and tourists alike. It features iconic red rock formations, parallel ridges, eroded canyons, a quarry, and more. There is no shortage of wildlife and interesting geology to spot at any time of year. However, it is an extra treat in the spring and summer as it is home to a variety of colorful wildflowers. You can practice your wildflower identification here, where you will be sure to spot Indian Paintbrush, Rocky Mountain Bee Plant, and more.
For an easier version of this hike, you can skip Manitou Section 16 and do a shorter loop just around Red Rock and Lion trails. This 3-mile hike is rated as moderate and still provides excellent views of the surrounding landscape. For either of these options, you will want to park at the most southern of the three lots, off S 31st Street, which is listed as parking for Red Rock Loop. No matter which trail you choose, you will undoubtedly have a great experience as the whole park houses some of the best hiking trails in Colorado.
Final Thoughts
Colorado Springs is chock-full of amazing hikes and opportunities for outdoor adventure. Once you hang up your snowshoes or skis, it is time to get out the hiking boots. If you are just getting started, you should check out an easy, half-day guided hike. Otherwise, learn how to pack for a day hike, grab a map, and hit the trails. Happy hiking!