There is so much to do in Colorado Springs that it can be hard to pick your next adventure. That's why we've compiled some suggestions of unique outdoor activities to fit the season. If you need a new idea to get you excited to head out, here are some of the best outdoor activities available around Colorado Springs.
Best Winter Activities near Colorado Springs
Snowshoeing and Cross-Country Skiing in Mueller State Park
Snowshoeing and cross-country skiing are classic Colorado winter activities with plenty of trails to choose from. In Mueller State Park, all trails are open for both, and if you are looking for an easier go of it, two routes are groomed depending on snow conditions. Mueller State Park is less than an hour's drive from downtown Colorado Springs, just south of Divide, Colorado. This is a great way to enjoy the fresh air and the fresh powder. Mueller has a variety of trails offering different difficulty levels and lengths so you can enjoy a full day on the trail or a shorter trip with the kids.
Ice Skating in the Park
Take the kids ice skating in Acacia Park anytime from November 11 through January 31. This fun pastime is a great seasonal activity for people of all ages. You can go with friends, take a date, or schedule a birthday party around it. The park offers special events and skating times all throughout the day. Acacia Park is conveniently located in downtown Colorado Springs, offering plenty of places to enjoy a cup of something warm after your ice rink adventure. And if you don't want to wait until the winter, you can always head to one of Colorado Springs' local ice rinks all year-round.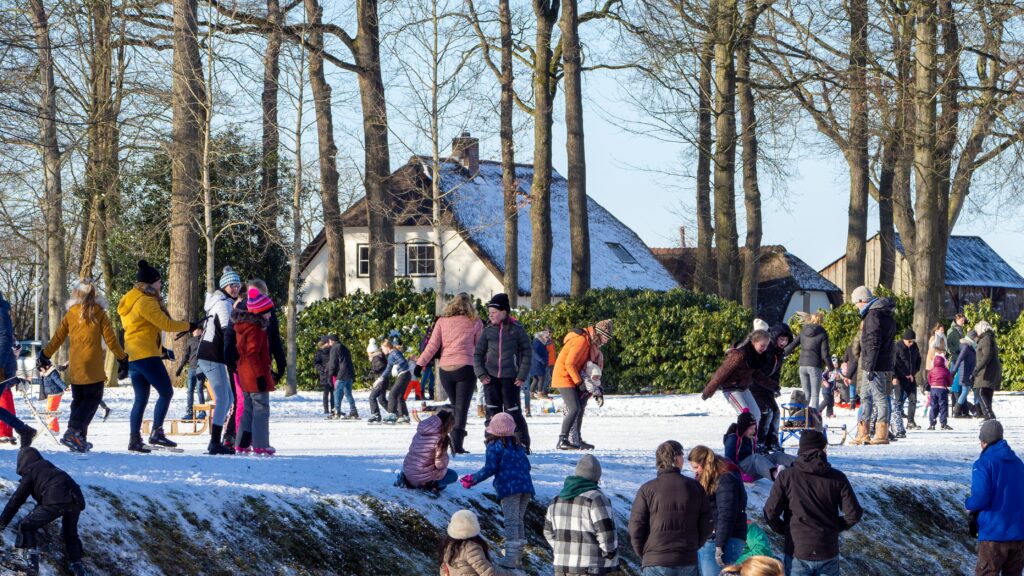 Ways to Enjoy the Spring in Colorado Springs
Wildflower Spotting in Red Rock Canyon
Spring in Colorado is a colorful time. When the wildflowers bloom, you can see a vibrant rainbow across the valleys and up the mountainside. There are Colorado Columbines, Bluebells, Indian Paintbrushes, and more. That's why heading out to find wildflowers is one of the best activities for the spring season in Colorado. Red Rock Canyon Open Space is a tucked-away preserve just northwest of Old Colorado City. This 1,474-acre park has miles of hiking trails with plenty of places to enjoy views of the spring blooms. 
Elk Sighting in Rocky Mountain National Park
When the sun comes out in the spring, so do the animals, and there is no place better to see wildlife than in Rocky Mountain National Park. With more than 265,000 acres, the park is chock full of opportunities to spot elk, bighorn sheep, and bison. At less than three hours from Colorado Springs, Rocky Mountain is a perfect weekend getaway for someone looking to shake off the winter cold.
Outdoor Activities to Enjoy the Colorado Summer
Stand-Up Paddle Boarding in Colorado Springs
Summers in Colorado are beautiful, and with so many bodies of water around, it would be a shame to not take advantage. There are plenty of ways to do so, from canoeing or kayaking to swimming or boating. One unique and increasingly popular summer sport is stand-up paddle boarding (SUP). It is easy to learn and offers the flexibility to explore the water in a new way. Try it out with a guided SUP tour available on a local Colorado Springs lake. Don't forget the sunscreen, and this will be a seasonal activity sure to please.
Manitou Springs Natural Mineral Springs Walking Tour
If you are looking for a unique and interesting way to spend a day outdoors in the summer, Manitou Springs is the place to be. The town has eight naturally-carbonated mineral springs you can find via a free, self-guided walking tour. These gorgeous and mystical springs have potable water with varying tastes, from sweet to citrus. This is a popular seasonal activity for locals and tourists alike, and it's a fun way to stay cool and hydrated on a beautiful summer day.
Best Fall Adventures near Colorado Springs
Hiking in Garden of the Gods
There is nothing like the fall in Colorado. You can enjoy perfect weather and stunning scenery in a multitude of ways, from hiking to biking. Enjoy a guided hiking tour of one of Colorado Springs' most recognized wonders. Garden of the Gods has exceptional hikes that provide amazing views and opportunities to see a variety of wildlife. With a tour guide, you can learn about the geology, ecology, and history of the National Natural Landmark. There are plenty of ways to keep the little ones happy, too, from horseback riding to segway tours to the Junior Rangers Program.
Fall Colors from the Pikes Peak Cog Railway
One of the best places to enjoy the colors of fall is Pikes Peak. With thousands of acres of national forest, fall brings out rich golden and red hues that make for a gorgeous vista. If you want to sit back and enjoy a tour of the landscape, the Pikes Peak Cog Railway is the perfect way to do it. The Cog Railway is a 9-mile trek that takes you to the 14,115-foot summit of Pikes Peak. From here, you can enjoy jaw-dropping panoramic views from the Summit Visitors Center, have a meal on the outdoor dining terrace, and buy souvenirs in the retail center. The 3.5-hour round-trip journey offers non-stop sightseeing and is a great way to spend a Saturday or Sunday. 
Final Thoughts
Colorado Springs is beautiful year-round and full of outdoor adventures waiting to be had. This short list of some of the best activities by season shows that there are an endless number of ways to enjoy nature whenever you want. No matter what season, as long as you prepare with the right gear, you can spend time outdoors in any weather. Check out the trail conditions at a park near you, and explore all that Colorful Colorado has to offer.