If you are a big hiker or nature enthusiast, you know that fall is arguably the best season for hiking. The energizing nip of crisp air on your face, the colorful foliage as nature buckles down for winter – personally, it's my favorite time of year. If you are hoping to enjoy fall hiking here in Colorado, you certainly need to know how to layer for hiking. These tips on proper layering techniques will help ensure you are prepared for the weather you might encounter on a fall hike in the beautiful Rocky Mountains.
The Principles of Layering for Colorado's Fall Weather
The first thing to know is that the term 'layering' doesn't mean just wearing more and more clothes. In order to brave the elements and stay comfortable and safe, you need to wear the proper clothes in the proper order. First, the base layer serves to keep you dry when you sweat. Next, the middle layer is insulating to help retain body heat in Colorado's colder weather. Finally, the outer layer protects against the harsher conditions you may experience on a fall hike.
We'll start at the base layer and work our way out, so you understand what fabrics are best for each layer. We'll also learn how to layer for the specifics of fall weather in Colorado and the hikes you are planning. As you likely know, fall in Colorado can range from warm to very cold. The weather can change quickly, and conditions can worsen with no warning. Especially if you are hiking to a higher elevation, say summiting one of the state's many fourteeners, you will find temperatures and precipitation requiring a much different outfit than what you had on in the parking lot. It's important to dress and pack well, as you will learn.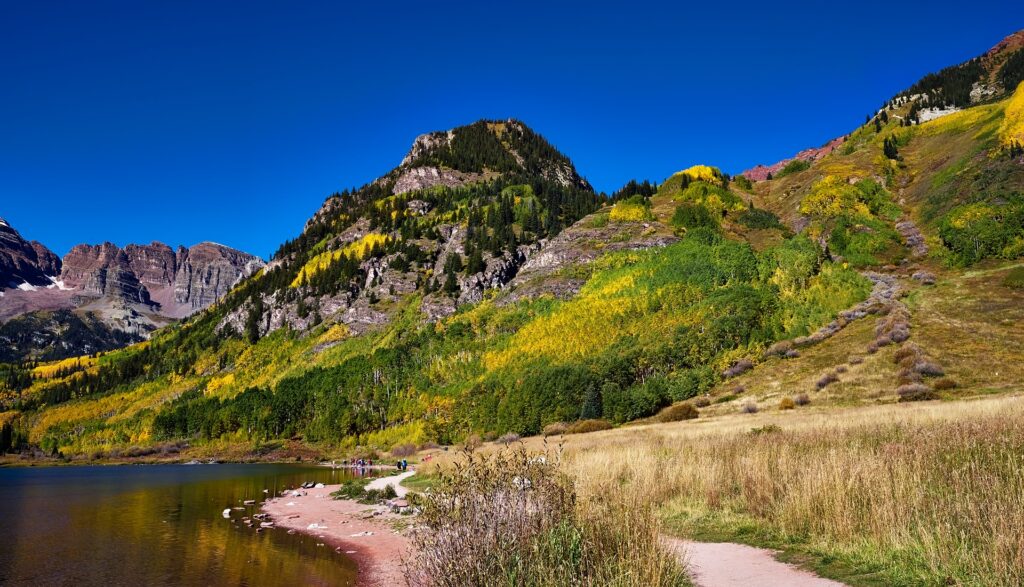 The Wicking Base Layer
You can think of the base layer as the clothing that touches your skin. This is more than just a t-shirt and shorts or a long-sleeved shirt and long underwear. Remember that the base layer also includes underwear (boxers, briefs, bras, and more) and socks.
The main goal of the base layer is to wick away moisture and keep your skin dry. As you know, sweat cools you down, stealing your body heat much faster than a cold breeze. In the hot summer, you may not mind a cotton shirt absorbing and holding your sweat. In the fall and winter, though, cotton is at the top of the "Absolutely Not" list. Seriously, it's one of the most important hiking safety tips of all time.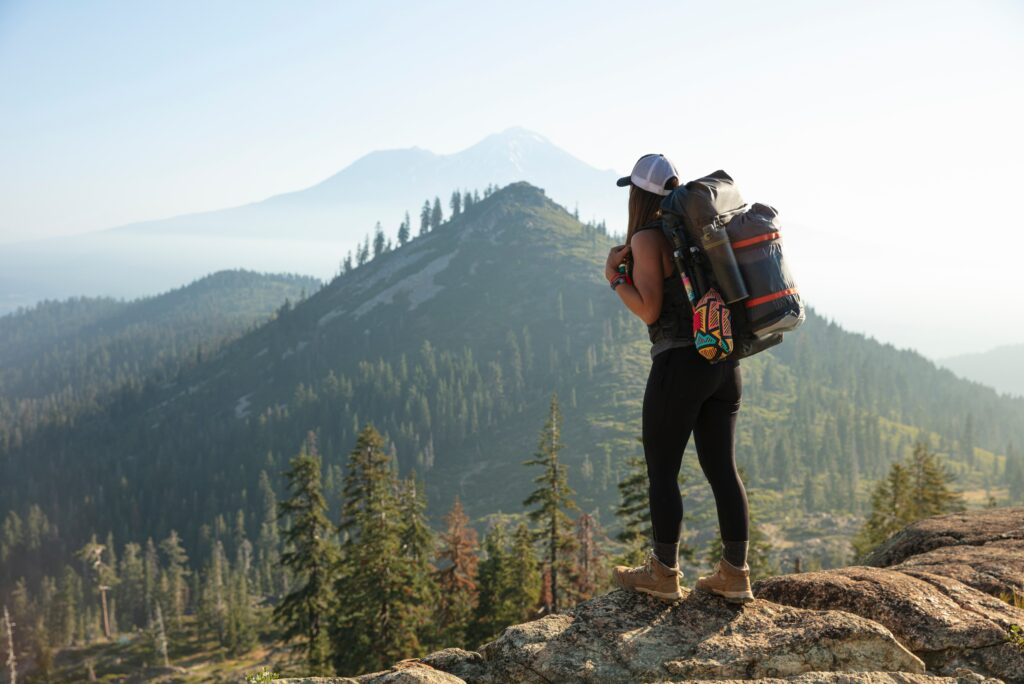 The Best Base Layer Materials
The best synthetic fabrics for base layers are polyester and nylon. You likely have these in your closet as your running or exercise clothes. You can go by personal preference, as long as it is 'moisture-wicking,' 'dry-fit,' or the like. Again, make sure your bras and boxers meet these criteria, too. A great natural fabric, especially for socks, is wool, as it wicks moisture and provides great heat retention. Wool is good for clothing, too, if you are in colder temperatures or hiking Colorado's many mountains. It will keep you warm without being too heavy, but it also is more expensive than synthetic fabrics.
There are a few different options in terms of the weights of base layers, and you can decide based on the time of year and anticipated weather. No matter what you choose, your base layer should always be moisture-wicking. This layer should also fit snugly against your skin. You don't want gaps between your skin and the material as it won't be able to wick sweat away as effectively. A tight but comfortable base layer will keep your skin dry, which in turn will keep you warm and prevent skin irritation, like chafing and blisters.
Base Layering Tips for Colorado's Fall Weather
Base layers are organized by weight; lightweight or ultra-lightweight for hotter weather and midweight or heavyweight for the colder months. This might mean shorts and a t-shirt in early fall when Colorado temperatures are in the 50s or 60s, and long johns and long-sleeved shirts in late fall when it'll be in the 30s and 40s on average. Because the weather can change quickly here, especially in the mountains, I prefer to keep my base layer light and carry a heavier middle layer in my day pack.
Remember, the goal of this layer is moisture-wicking, where warmth is the job of the middle layer. That's why lighter base layers make sense in Colorado's fall conditions. You can always add more clothes later if the temperature drops up the mountain. The one exception to this is socks. My feet always run cold, so I highly recommend a thick wool sock for fall hikes, ones that cover your ankles! As long as your hiking boots are breathable, your feet will be happily dry and warm.
The Insulating Middle Layer
Next up, it is the job of the middle layer to retain body heat and keep you warm in colder temperatures. Where base layers tend to be stretchy and thin, you'll recognize your middle layer pieces by their soft and puffy qualities. When shopping, you may see middle layer options listed as 'soft shells.' Depending on the weather, you can choose a lighter or heavier option, so it's a good idea to have multiple middle layer pieces if you are planning on frequent fall hikes in Colorado.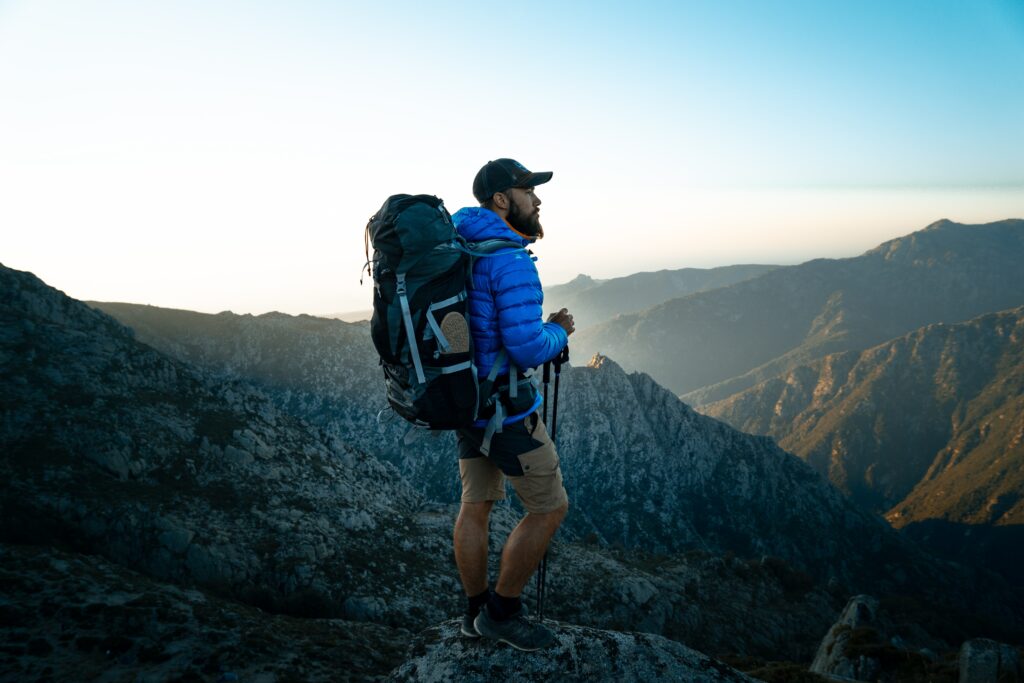 Middle Layer Options for Fall in Colorado
For lighter wear, you might go with a microfleece pullover or hoodie. Fleece is nice because it dries quickly and stays warm. It is also breathable so that you won't overheat. This is a great option for the early fall in Colorado. However, if it's windy, you will definitely need an outer shell, or you'll find the breathability a weakness.
For the colder days, a down jacket is the best middle layer. I am partial to synthetic down, both for the animals and the water resistance. Down insulated jackets don't hold up well when wet, but they compress better than synthetic down if you need to save space in your pack. If a softshell is all you plan on wearing, I'd recommend one with a hood, so your neck stays warm. In this case, though, you will definitely need to pack a waterproof outer shell, as the fall in Colorado sees rain or snow regularly.
The Defending Outer Layer
Once you've got the dry and warm inner layers set, the last part of knowing how to layer for hiking is protecting against the elements. Fall in Colorado can be all over the map in terms of weather conditions, and this outer shell is key for making sure the wind, rain, and snow don't penetrate and leave you cold and miserable.
The Best Outer Layers for Colorado's Fall Season
For both jackets and pants, you will want waterproof outerwear. Trust me when I say that "water-resistant" is not good enough! If you get caught in a downpour, a water-resistant layer is going to soak and leave you shivering. Also, be sure it has a hood. Rain dripping down your neck and back is truly an uncomfortable and dangerous way to spend a hike.
In addition to water- and wind-proof material, your outer layer should also be breathable. These pieces are more expensive, but if you plan on exploring Colorado's fall hikes, this feature is a must. Breathable jackets, ones with zippers in the armpits and such, are key for longer hikes because they keep you dry while you work hard. If the inner layers are wicking away moisture, but your outer layer isn't breathable, the moisture will condense against it and soak your middle layer. You need breathability to allow fresh air to move through and clear out the humidity.
One final feature of a good outer layer is durability. Since this layer has to brave the elements, you want something that will stand up to a bit of a beating, especially for pants that you'll sit on, trek through the brush, and more. If your outer layer gets torn, you'll have leaks when it rains. And with the expensive nature of these clothes, you want to make sure to buy something that is a good investment.
Packing for a Fall Hike in the Rockies
Now that you know the options for layering clothes, let's talk about how to pack for day hiking in Colorado. Seasoned hikers are always carrying day packs, and it's not just for the granola bars.
When you start at the trailhead, you might be in your base layer and outer shell. Mid-fall in Colorado is comfortable, and you might reason that it'll only be a few hours. But as you hike up the mountain, the weather changes. It will get colder and windier the higher you go, with less protection from surrounding trees. You may even get an unexpected shower or snow flurry.
Before you leave, always check the weather to know what to expect. Then, pack that insulating middle layer anyway. A light fleece or down jacket won't take up much room or add much weight, and you will be glad you have it when you need it. Wearing appropriate clothing and knowing how to layer for hiking will keep you comfortable and protected during your hike so you can enjoy mother nature, no matter what weather she brings.