Are you hoping to get back in the saddle this summer season? There are so many great places near Colorado Springs for road cycling and mountain biking alike. If you are thinking about taking a bikepacking trip but are not sure where to start, we've got you covered. We'll go over how to plan a bike route, choose the right trip for your skill level, and use an online cycle route planner.
Choosing a Bike Tour Length
The first thing to figure out is the distance you want to ride or the time frame available. If you have a weekend free or a whole week set aside, that timeline will determine approximately how many miles your planned bike route will be. Starting from the other option, if you know you want to get to a particular location or complete a route, you can work backward to figure out how many days it will take.
Beginner bikepackers should plan for 30-40 miles per day unless you know you can do more. Keep in mind that the gear you pack will slow you down, so that day ride of 80 miles may not be a fair estimate. If you have some time before your trip, you can prepare physically with our guide on how to train for a bike tour. In addition to your fitness level, you need to consider the terrain where you will be riding. Long uphill stretches or overall elevation gain will also decrease your daily mileage, so don't forget to cut yourself a little slack for these factors.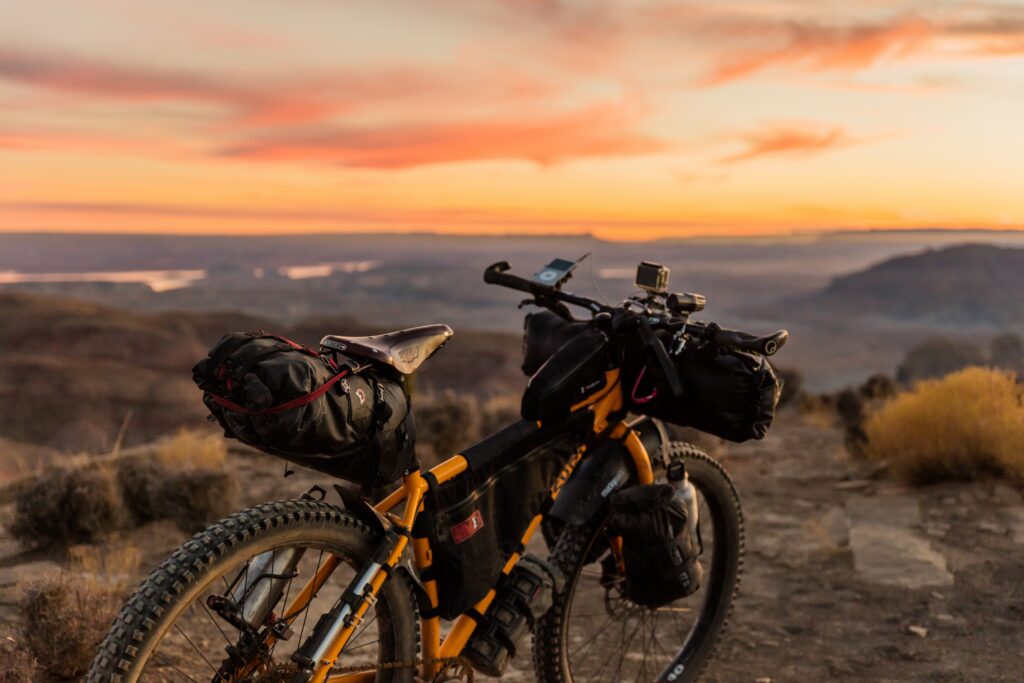 Picking a Bike Tour Location
Once you have a sense of how much time your bikepacking trip will take, you can start to look into different locations. Maybe there is an area you've always wanted to explore or a park that looks particularly beautiful this time of year. Wherever you are thinking about going, you will need to do a little research to confirm if it is a feasible bike route.
First, look at the weather in that area. No one wants to spend a week biking in the rain. Make sure the forecast is generally clear wherever you are thinking of going. Next, check road or trail conditions. You don't want to show up ready to go and realize the roads are slippery and dangerous. If it's still early in the spring, you will certainly need to make sure trails aren't still covered in snow. Finally, make sure there aren't any road or campsite closures. If all the campsites in the area are closed for the season, you'll have a hard time finding somewhere to camp overnight.
Designing a Bike Route
Once you have a general idea of where you want to bike and how long your bike route can be, it's time to plan a route. You can create your own route, choose a pre-planned route, or a mixture of the two.
First things first: One of the most overlooked factors is the start and finish. If your trip doesn't end at the same place it started, you will need to get a ride back to your car! Make sure not to forget this logistical consideration. See if there are shuttles in the park or ask a friend for a lift. If not, you will know to design your bike route in a loop.
On the other hand, if you want to bike a pre-planned route, you can find a number of great resources online that have bikepacking routes other people have done with ratings and travel tips. If you want to plan your own route, you can consult guidebooks and use an online cycle route planner. You can look up trails with the Forest Service Interactive Visitor Map to find campsites along the way. Using a cycle route planner, identify campgrounds for each night of your bikepacking trip spaced out the mileage you want to accomplish each day. Make sure to account for elevation gain and check to see if there are any permit requirements.
Once your route is all laid out, be sure to download it onto your phone or GPS. Many bikepackers use a GPS device to track their progress and mileage. Pre-loading a route is another helpful feature that can give you peace of mind on your journey. With turn-by-turn directions, you'll know you're on the right path and never worry about getting to your destination.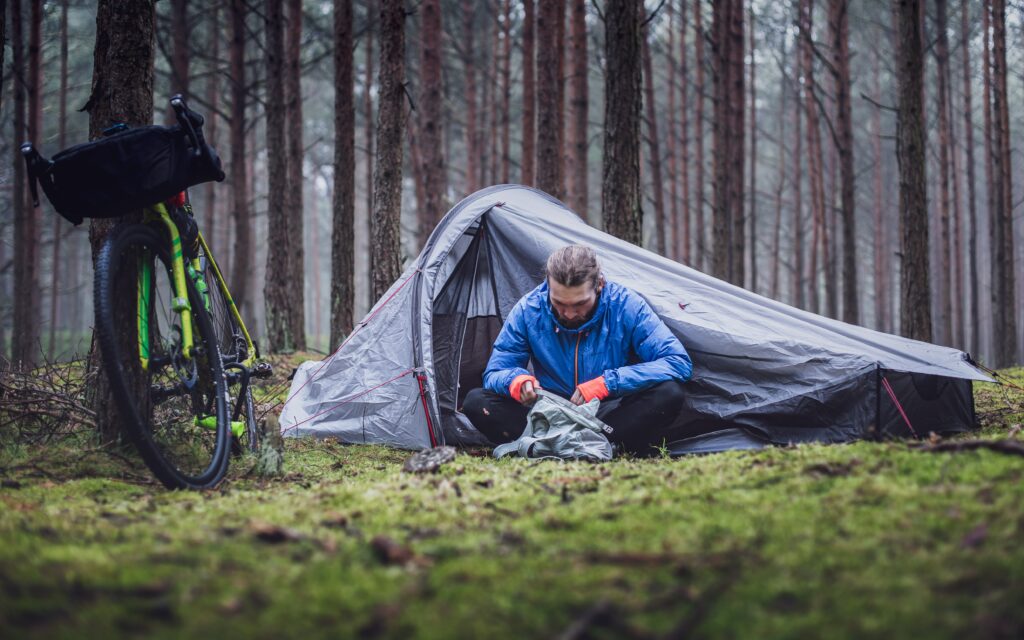 Packing for a Bike Tour
If you have experience packing for a camping trip, you will mostly be good to go. The only additional gear to consider is bike-related. You will want to figure out what to include in your bike repair kit and make sure to balance necessity with weight. Your bike gear should also include lights, your helmet, and the bike packs to store everything.
Other necessary gear includes your shelter, sleeping bag and pad, clothing, hygiene products, and a first aid kit. One of the ten essentials not to be overlooked is sun protection. You will be on the road all day biking, so be sure to bring a hat that fits under your helmet, sunscreen, and sunglasses.
In order to keep your weight down, note all of the places on your route where you can get fresh water. Most campgrounds will have a water pump, but you might need a second stopping point mid-day. Be sure to bring a water purification system in case you can't find potable water on your trip.
Finally, when planning the proper amount of food, remember that you will be working hard. You will need a few extra calories than you consume on a normal day in order to have the energy for the trip. Find power bars and other snacks that you can eat one-handed on the bike so you have ways to fuel up without slowing down.
Final Thoughts
Once you have your bike route planned out and your bags packed, the last thing to do is make sure your bike is ready. Complete the essential steps of a pre-ride bike inspection, and you're good to good. After all the hard work you did planning, you will be well prepared to enjoy an awesome bikepacking tour. Be safe and have fun!