As we enter the warmer months, you are surely excited to get back in the saddle and hit the trails. Beginner cyclists and mountain bikers need to be aware that you will need more than just a helmet and water bottle. There are a few biking tools you should carry with you at all times. A simple bike repair kit can keep you from a serious inconvenience on the trail. We'll go over the essential bike maintenance tools so you can assemble a basic bike repair kit for your trip.
Essentials for a Bike Repair Kit
If you think about all the emergency biking maintenance you may have to do mid-ride, you can quickly pull together a list of essential biking tools. For any adjustments to the bike or to tighten a loose part, you could need an Allen wrench, a Torx wrench, or a screwdriver. For an issue with your bike chain, you could consider bringing lubricant or even a chain tool for a multi-day biking trip. The biggest problem you might face mid-ride is a flat tire. A good bike tire repair kit will certainly include a pump and might also include a spare tube, tire levers, or a patch kit.
The Beauty of a Bike Multi-Tool
The first thing to do is examine your bike (or owner's manual) and get a sense of all its nuts and bolts, literally. One common issue mid-ride could be that you need to make a quick comfort adjustment to the seat or handlebars. If you are on a mountain biking trail, another big concern will be that you may find that some screws loosen from all the jostling the bike experiences on the course. To address these problems, you will likely find that your bike requires a couple of sizes of hex keys (also called Allen wrenches), a Torx wrench, and maybe a screwdriver.
A great way to get all of these tools in one is with a bike multi-tool. There are a ton of options on the market that will give you the tools you need in a compact and lightweight device. Most multi-tools come with 2-8mm hex wrenches, for example, but double-check what you need before you buy one. Also, keep in mind that not all multi-tools are the same. There are many price points for these because some will be more comfortable to use than others and some will be more durable. If you are a serious rider and want something that will last, consider a fully metal device with a comprehensive set of bike tools.
The Basics of Bike Tires
Getting a flat tire on a ride is such an inconvenience. It would be even worse, though, if you failed to bring a tire repair kit and needed to walk your bike out and hitch a ride home. The best way to avoid a flat tire is to inspect your tires before you head out and select a tire pressure appropriate for your ride. This is the first step of a pre-ride bike inspection and arguably the most important.
Your bike's tires will have a recommended range of air pressures (around 30-70 PSI for mountain bikes and 80-130 PSI for road bikes), and you can choose anything within the recommended range. If you don't yet know your personal preference, inflate your tires to something in the middle. Less-inflated tires are great for off-road mountain biking because they can absorb more shock and get more grip on wet ground. More fully inflated tires will have less resistance and allow you to go faster, which will be better for road cyclists.
How to Handle Mid-Ride Bike Tire Repairs
Every time you rest on a ride to get water, you should inspect your tires and see if they need a little air. In order to refill your tires, then, a pump is an absolute must for any bike repair kit. If you do get a flat, there are a few other bike tools you will want to have. A simple bike tire patch kit is an economical and lightweight option for addressing a small tire puncture mid-ride. However, patching a tire does take more time than a full replacement (waiting for glue to dry, etc.), so many riders opt to replace the tube mid-ride and patch the old tube later.
Especially if you are on a longer mileage ride or multi-day trip, you will need to carry a spare tube and tire levers in order to fully replace a tire. This is also necessary for a larger hole, a hole near the valve stem or base, or a full blowout. While you hope this won't happen to you, it is always possible, especially when off-road mountain biking, and better to be prepared.
Bike Chain Maintenance Tools
While a bicyclist on a simple day trip will probably not carry bike chain tools, it may be wise for a multi-day bike tour. At the very least, chain lubricant and a lubricating tool are great options for keeping your chain running smoothly. When you finish every ride, be sure to get the muck out of your bike's chain to preserve it and prevent issues in the future. Learning how to clean your bike and take care of the chain are great skills for every bicyclist to have. If you do need to repair the chain, it will require a chain breaker or splitter, spare chain links, and a chain tool.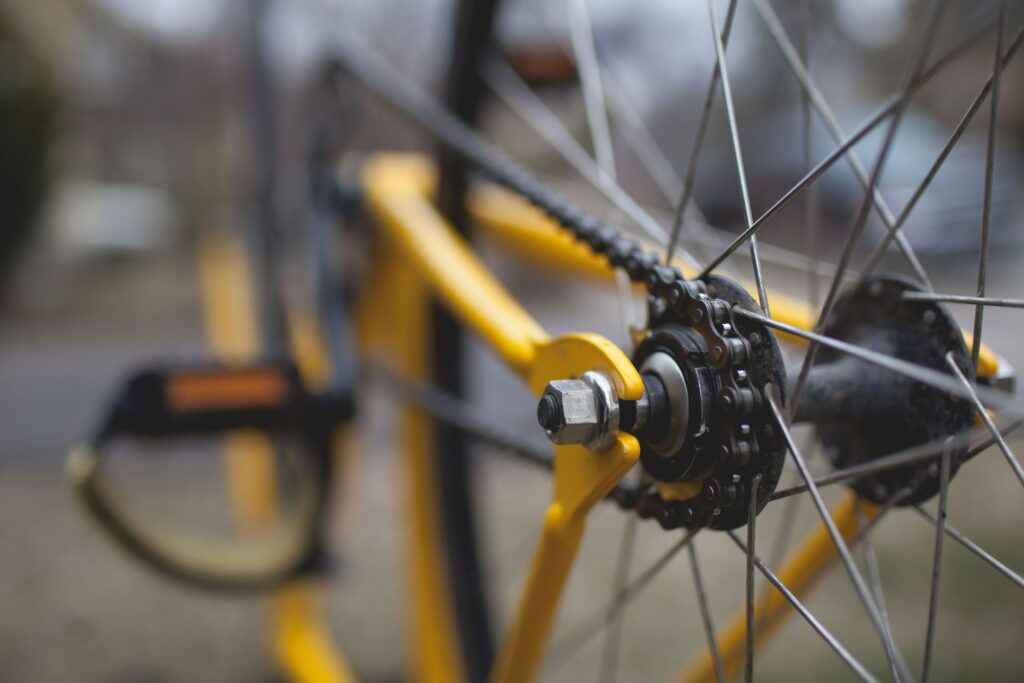 When to Bring Which Bike Tools
Depending on your gear, these items could be small and lightweight or add up to be a bit bulky. You might not want to bring all this gear on every ride, and it can be okay to go without some bike maintenance tools sometimes. Which of these items you bring will depend on a number of factors, including your planned mileage, whether you will be on- or off-road, and your bike's particular needs.
For a short day ride that is on-road only, a basic bike repair kit can be as simple as a tire pump, a tire patch kit, and a multi-tool. Before you leave, you should make sure your chain runs smoothly, check your tires for deformities, and test the brake pads. You should also be sure to check the weather and any fees or regulations if you are headed on a bike ride in a state or national park.
If you are headed onto a mountain biking trail, a spare tube and tire repair kit are highly recommended as the chances of tire damage are much greater. A multi-day trip will require more gear so you don't have to end the trip early due to a chain problem or worn-down brake pads. Finally, consider a guided mountain biking tour for professional instruction as you start your journey into bike ownership and maintenance. Happy riding!