There is an undeniable power in the shared experience. Whether you are on a scout troop guided trip, corporate retreat, or large family reunion, there are few places better catered to team building and creating lifelong memories than Colorado.
From casual escapes into nature to adrenaline-pumping activities that will push you and your crew to the edges of their comfort zone, the group activities in Colorado Springs can't be beaten. When planning your next corporate outdoor activity or group retreat, bump the Centennial State to the top of your list.
Not yet convinced? Check out these five most popular group activities offered right here at Broadmoor Outfitters.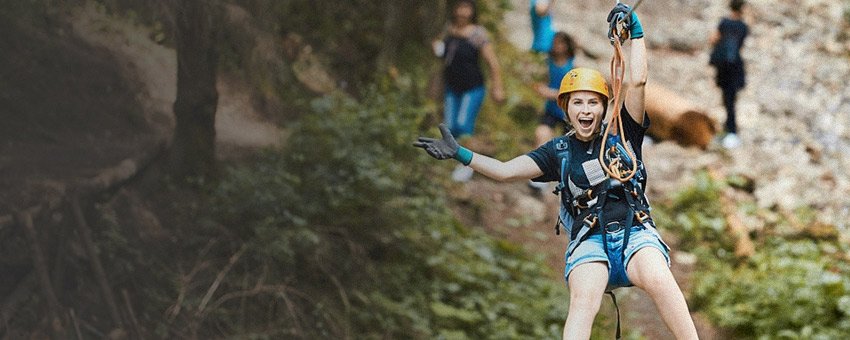 1. Zip Lining
Number of Participants: 8 per tour, multiple tours available
Duration: Woods Course – 3 hours, Fins Course – up to 4 hours
Ages: All ages for the Woods Course, 10 – 80 for the Fins Course
Level: Woods Course – Easy, Fins Course – Intermediate
In the past couple of decades, zip lining has experienced a meteoric rise in popularity across the globe. It is a fun thing to do when traveling and an excellent team-building activity for large corporate getaways and scout troop guided trips alike. Zip lining is incredibly fun, very exhilarating, offers sweeping views of the surrounding landscape, and is accessible for just about anyone.  
The Woods Course is our more beginner-friendly option and is accessible for thrill-seekers of all ages. Lasting about three hours, this group activity will have you traveling high above the forest and canyon floor on five individual lines reaching a maximum height of 150 feet. Those brave enough will enjoy unrivaled views of waterfalls, launch off of spectacular granite rock features, and travel smoothly through the trees. 
For even more airborne adventure, give the Fins Course a try. Similar to the Woods Course, this adventure puts participants on five separate zip lines. These lines, however, are much higher (maxing out at 500 feet above the ground!) and longer (the longest measuring in at 1,800 feet), and the course also includes two rope bridges and a rappel.
For a full day, combine the two courses!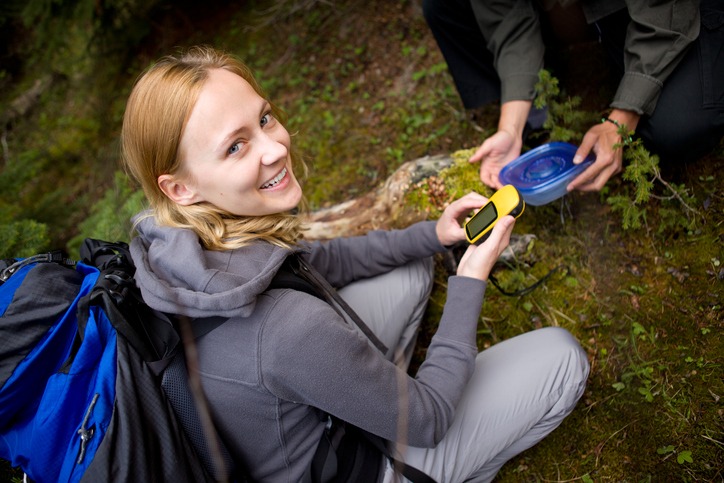 2. The Broadmoor Hunt
Number of Participants: 5 – 100
Duration: 2 hours
Ages: All ages
Level: Easy
For the ultimate activity for groups of all sizes, ages, and abilities, schedule a day to complete the Broadmoor Hunt. This Amazing Race style scavenger hunt traverses all over the Broadmoor property and includes over 35 unique challenges. From riddles and clues to activities and photo captures, you can break your large group into smaller teams for some friendly competition and team building.
The hunt works off of your smartphone, and each group can strategize their path to victory. From corporate retreats to family reunions, The Broadmoor Hunt is a fun and interactive way to explore and learn all about the historic Broadmoor and the surrounding area. There's nothing like a bit of competition to bring a large team together!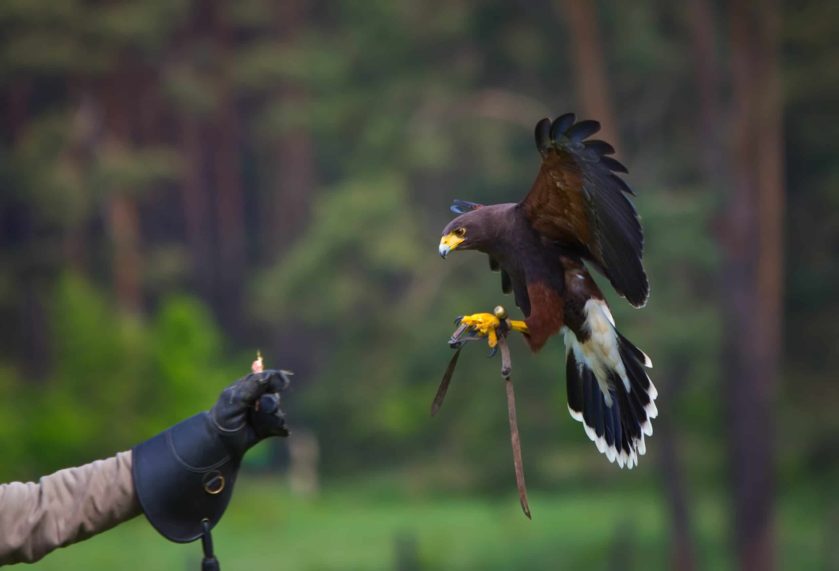 3. Falconry
Number of Participants: 14 per group
Duration: 1.5 hours
Ages: 5 and older
Level: Easy
Falconry is undoubtedly one of the most unique group activities in Colorado Springs – allowing you and your group to learn about hunting with birds of prey. The lesson will start with a fair bit of education, where your group will learn all about this 4,000-year-old pastime, sport, and way of life, as the experts give a flying demonstration and you get to meet many of our captive-bred trained birds of prey. The day closes with a bang, as everyone in your group will have an opportunity to hold a trained hawk after learning proper technique.  
Those that have completed the beginner lesson can advance to an even more exhilarating experience: the opportunity to walk scenic trails with a guide as a trained Harris Hawk flies through the trees, returning to your glove on your command. Whether your group stops at the beginner lesson or takes your falconry education to the next level, it is sure to be an experience no one will soon forget.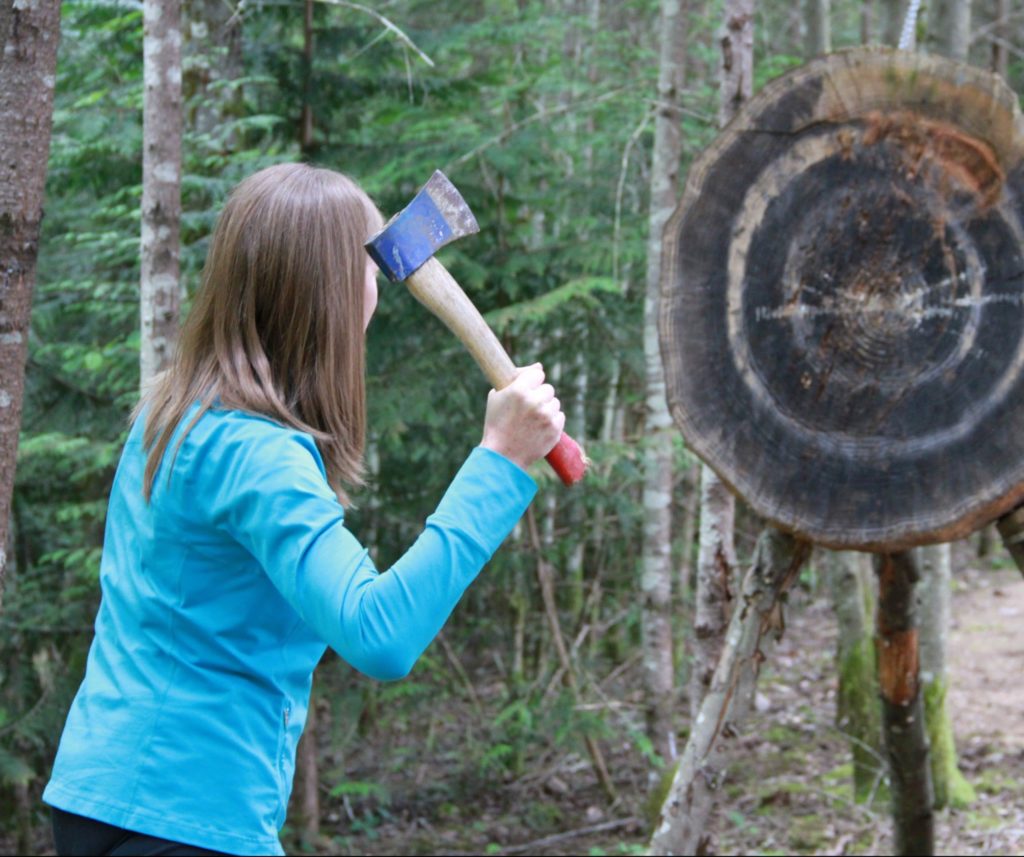 4. The Wild West Experience
Number of Participants: 12 per group
Duration: 2.5 to 3 hours
Ages: 5 and older
Level: Easy
If you have come to the mountains searching for group activities in Colorado Springs, perhaps none are more fitting than the Wild West Experience. Gain an appreciation for the skills that allowed people to survive and thrive in mountain landscapes for thousands of years. The three-part Wild West Experience is undeniably the best bang for your buck as you learn how to use a bow, air rifle, and throwing ax. 
Guides will walk your group through traditional archery skills and accompany you to a range where you will then put your skills to the test. From there, your guides will instruct your group on rifle shooting. Then, test your meddle with .22 caliber air rifles on a range with many different moving and stationary targets. Close your western skills experience with an ax-throwing session. Following more direction from an expert instructor, your group will have the opportunity to toss tomahawks into wooden targets. 
The Wild West Experience provides the perfect avenue for skills and team building, cooperation, coaching and support, and friendly competition – depending on the angle you would like to take. No matter how you slice it, though, this is one of the best group activities in Colorado Springs.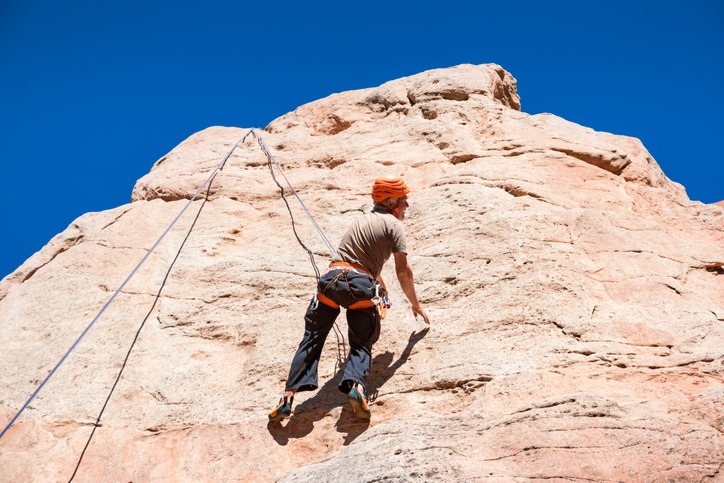 5. Rock Climbing
Number of Participants: 12
Duration: Half day to full day
Ages: 12 and up
Level: Easy to challenging
There is no better way to add some adventure to a large group getaway than with a day of guided rock climbing. No matter your group's skill, fitness, or comfort level, the professional rock guides promise to deliver an unforgettable day. Push your physical and mental limits, and coach each other through enjoyable challenges in the mountains. You will learn climbing knots and belay techniques from expert guides and practice your skills on real outdoor cliff faces. 
With many picturesque climbing areas right out our front door, we have the opportunity to cater the entire day to your specific needs. Your group will coach each other up the wall and perfect your technical skills from one challenge to the next!
---
Group travel is an incredible way to create a shared experience and foster lasting memories with people you care about. Scheduling free time and exploring on your own is a necessity when planning these types of trips, but guided group activities and tours in Colorado Springs can add a meaningful exclamation point to an already unforgettable trip. Regardless of the group activities you choose, the Rocky Mountains will always find a way to bring people closer together.