Tips for Planning a Corporate Event with Broadmoor Outfitters
Corporate events are great opportunities for staff to bond and get to know one another better. If your team is struggling with poor communication or lackluster morale, planning a corporate event where colleagues can spend quality time together outside the office is a great solution to help your team feel more connected.
The Benefits of Outdoor Adventure Events
Outdoor adventures are among the best corporate events. They give employees time in nature and the fresh air to recover from the stress of work. It has been proven that spending time outdoors relaxes us and promotes positive mental health. If you know your team has been struggling with working overtime, a project gone wrong, or office conflict, an afternoon outside could be just the ticket to getting a fresh start. The benefits of holding a corporate event for your team are near endless; Let's get started on your Broadmoor event by reviewing some corporate event ideas.
The Best Times for a Corporate Event
It is not always easy to know the best time for planning a corporate event. For some outdoor events, you might want to schedule an early spring activity, so your team can enjoy and celebrate the coming of warmer weather. If you have a big project going on, planning a corporate event or happy hour to celebrate its conclusion is a great way to show your staff you appreciate their hard work. If your team is undergoing stressful changes like a merger or new office procedures, a half-day guided event can make a huge difference in morale.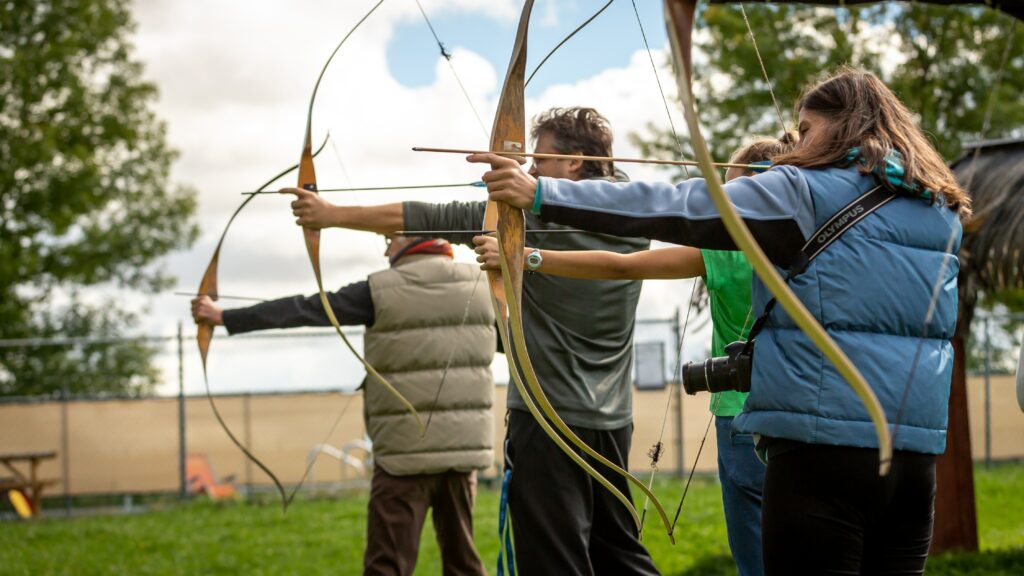 Top Corporate Event Ideas
If you are planning a corporate event and need a novel alternative to boring trust falls, outdoor adventures in beautiful Colorado Springs provide infinitely more excitement and engagement. There are so many options to choose from, like zip lining, falconry, firewalks, and scavenger hunts. These activities challenge colleagues to work in new ways and create fun memories that your staff will remember for years. Let's go through the different corporate event ideas and explain the benefits you can expect for your team.
Happy Hour Events
To start with some more relaxed corporate event ideas, these cocktail hours are perfect options for staff to hang out and chat. It's just like inviting your team to grab drinks at a bar, but with a thrilling twist. These happy hours will surely give your employees something to talk about for weeks and build your company's reputation for having fun social events for staff.
Ready to meet the stunning birds of prey cared for by The Falconry and Raptor Education Foundation? This is a cocktail hour your staff will never forget. A professional falconer introduces you to hawks, falcons, and owls at the Broadmoor's flying field. You'll learn about these amazing creatures and maybe even have one perch on your arm!
Challenge your colleague to see who has the best aim! This fun happy hour event lets staff throw a traditional tomahawk and practice hitting the target. Your team will enjoy seeing each other in this new light and finding out who has a hidden talent!
This archery cocktail event is a great way to get staff out of the office and trying a new skill. Instructors teach archery basics, and the portable equipment can be brought to almost any location. If you are planning a corporate event in a specific venue, this is one of the most convenient ways to spice up a happy hour.
With this inflatable 26-foot outdoor movie screen, you can throw a corporate event like no other. This can serve as a unique way to give a presentation or a larger-than-life alternative to a standard staff movie night.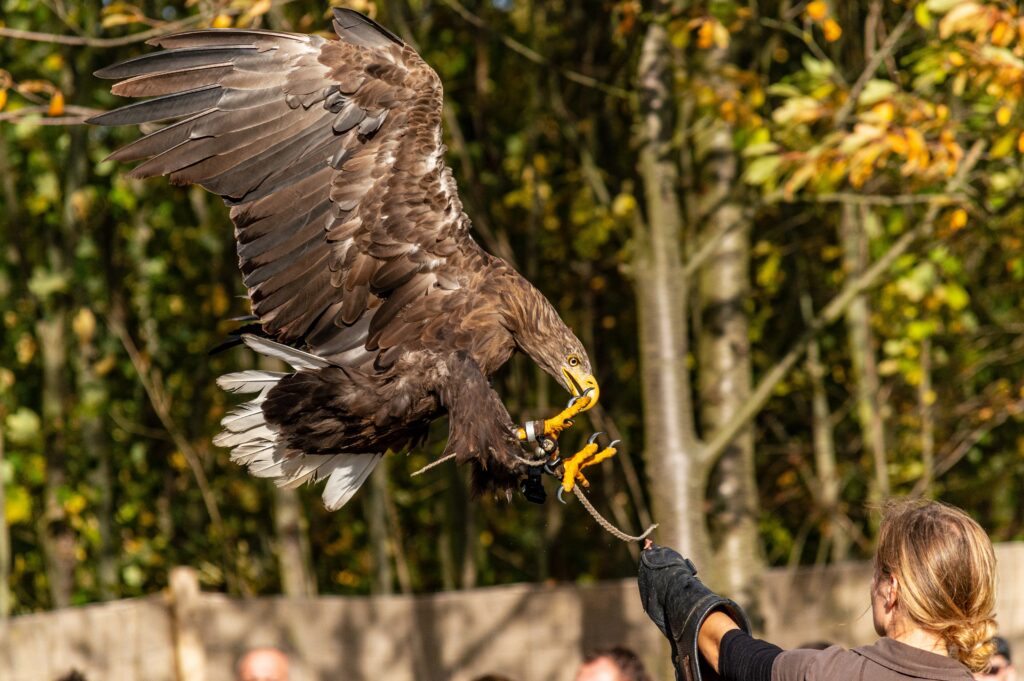 Guided Adventures
Adventure-based corporate events are an amazing way to expand your team's understanding of one another, not just as colleagues but as people and friends. Joining together on a challenging and sometimes scary (but always safe) guided adventure will build trust, cooperation, and mutual respect among team members. Sharing these unique experiences translates to better camaraderie and communication in the office. In turn, these skills can then boost productivity and get those difficult projects finished.
Zip lining is a thrilling activity in stark opposition to the confines of a desk. Between the Woods and Fins Courses, your staff can experience eight zip lines up to 1,800 feet long and heights up to 500 feet. These awesome courses, which are among the best Colorado Springs attractions, include rope bridges, hikes, and rappels. This is a unique corporate event idea with tons of adrenaline and laughs to bring your team closer together.
The difficulties of office life will pale in comparison to the test of the firewalk! If your team needs a morale boost, overcoming a firewalk will certainly do the trick. If you are planning a corporate event and looking for something edgy and memorable, a guided firewalk with an expert trainer will leave your staff feeling empowered and connected like never before.
This may be one of the more standard corporate event ideas on this list. However, a guided hiking tour is still an awesome experience in Colorado Springs. Choose between a relaxed nature walk or a challenging hike to the top of Seven Falls. Either way, your team will enjoy fresh air, beautiful scenery, and stunning local flora and fauna.
This half-day corporate event is perfect for teams with a need for speed. There's no better way to shake off work stress than to hit the trail, dodging obstacles and pushing yourself to the limit. The Gold Camp and Garden of the Gods trails are some of the most picturesque rides in Colorado Springs. Your team will surely finish the day feeling mentally refreshed.
If you are looking to unite and empower your team by overcoming struggle, a four-hour trip down into the caverns under Pikes Peak is a stellar way to do it. This guided tour abandons the beaten path in lieu of private, undeveloped sections of the cave. Your team will surely bond over this unforgettable foray into the dark and spooky depths.
One of our favorite corporate event ideas, rock climbing, is a great way to bring people together. In this half-day adventure at one of Colorado Springs' best climbing spots, colleagues watch each other learn new skills and overcome obstacles. The sense of camaraderie builds as teammates support one another with advice and encouragement.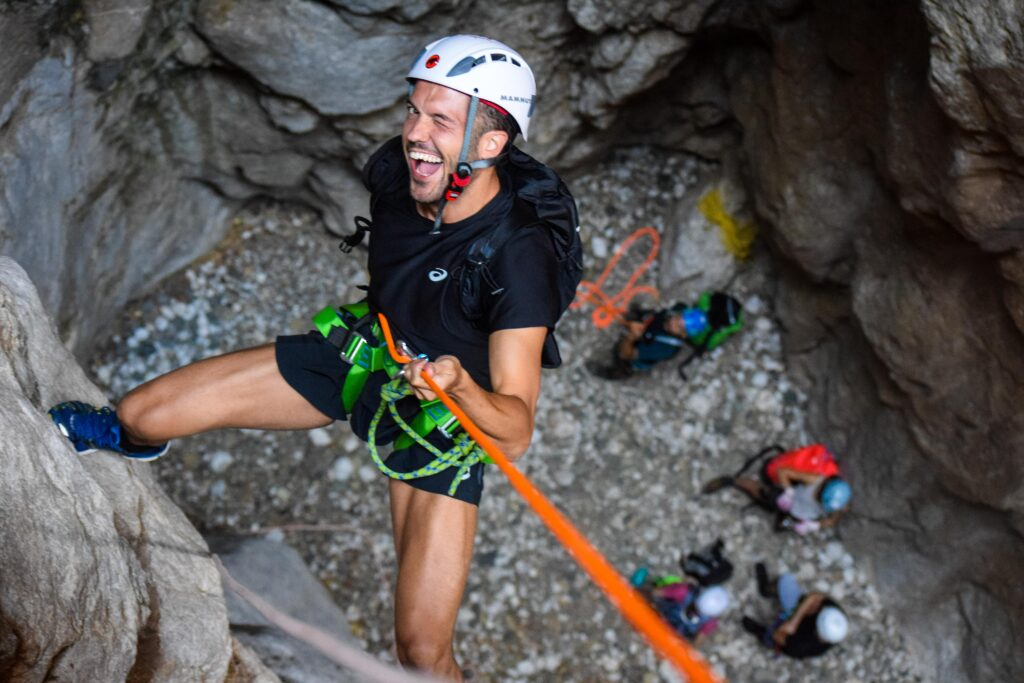 Team-Building Competitions 
Nothing brings people together like a little friendly competition. If your team needs some cohesion and communication, these activities will encourage coworkers to face and overcome these problem areas as a group.
Building challenges invite staff to work together to design and build. The first event features building bridges to withstand the Atomic Pulverizer (Battle of the Bridges). The second allows teams to build small houses that other teams later try to destroy (Domestic Demolition). Out of the Park requires team problem solving, as groups must decipher clues and collect the materials needed to build a water-powered rocket that can reach up to 200 feet in the air! Similarly, Firequest stresses the importance of collaboration, as teams must find all the materials necessary to build a small fire. These challenges force teams to work on communication skills, negotiation, compromise, and trust in one another.
Your staff could also compete against each other in a two-hour paintball challenge or a scavenger hunt. These events span the Broadmoor property and promote healthy competition via a live leaderboard. A more in-depth competition called The Amazing Race combines brain teasers, physical games, and problem-solving. Here, teams work together to acquire clues and race to find checkpoints around the city. A woodsier version, the Cheyenne Canyon Quest, requires teams to navigate a woods course that traverses the gorgeous Cheyenne Canyon using orienteering, communication, and leadership skills. 
These unique challenges create friends and enemies of coworkers, all in the name of good fun. While staff may think it's just a random competition, your team will actually be learning important skills, taking turns leading and listening, compromising and collaborating. If they don't, they'll fail the challenge and face defeat by another team. 
Why Outdoors?
Similar activities could easily be set up indoors, so why work on getting your team outdoors? Well, in short, practicing team-building skills in beautiful Colorado Springs is a much more rejuvenating and memorable activity! Why put your team in a plain hotel conference room when you could utilize the beautiful backdrop of nature that's all around us? At the end of the day, your staff will go back to work with new skills and fun memories to recall over the water cooler.
Planning a Corporate Event Activity for Your Staff
The key to choosing the best corporate event is to understand your team's passions and abilities. You can do a poll to gauge staff interest in building challenges, athletic adventures, or happy hour entertainment. Then, consider the team's areas for improvement to ensure the corporate event activity is also a fun way to develop and cultivate important team-building skills. For example, if your staff tends to work individually, a building challenge will force all hands on deck. Or, if you have new members on board, an engaging cocktail hour can help them make new office friends.
These corporate event ideas are all unique opportunities to help teams cooperate and bond through shared experiences. Each one is designed to be a rewarding experience in itself and also to facilitate team building, communication, and mutual respect. Whether you choose a relaxing, guided nature hike or a full-blown battle, your staff will surely benefit from the time outdoors and come away feeling refreshed and closer together.