Witnessing the beauty of large birds of prey up close is an unforgettable experience. Falconry (hunting with a bird of prey) is a thrilling sport with a rich history and culture that offers a unique connection with nature and provides a different view of the world around you. You quite literally get a bird's eye view!
Head falconer at Broadmoor Outfitters, Deanna Curtis, has been enamored with raptors ever since she first saw a live presentation with them in 1999. Curtis now has over 16 years of experience as a licensed falconer. Here, she'll answer the question "what is falconry?" and share a little of her falconry expertise along with what you can expect from a Broadmoor Outfitters falconry experience in Colorado Springs, CO.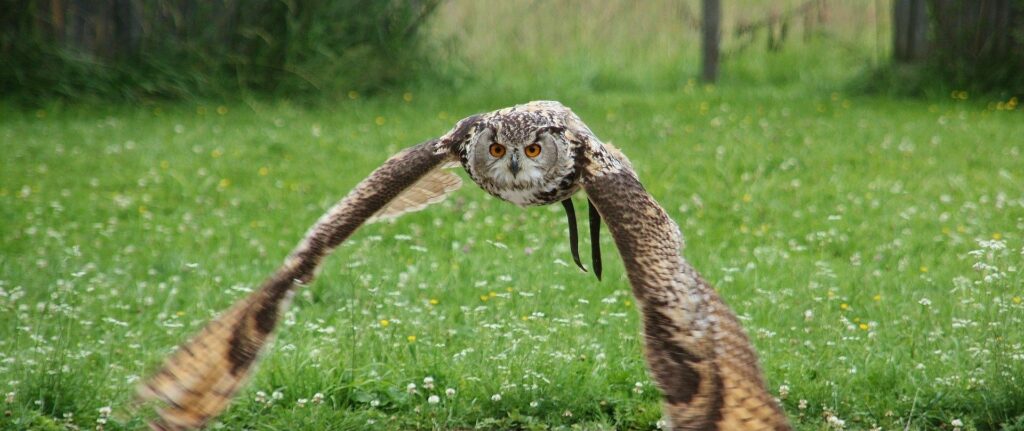 What Is Falconry?
"Falconry is to hunt wild quarry with a trained raptor in its natural state," says Curtis. "So the birds are out there hunting, and when they catch something, we convince them to give it up for us to eat."
The type of wild game you hunt with your raptor depends on the type of bird you're working with.

"For instance, a red-tailed hawk is generally going to be hunting rabbits – so cottontails, jackrabbits, squirrels," says Curtis. "If you're hunting with a peregrine falcon, you'd be hunting pheasants, grouse, quail, ducks."
While falconry does mean working with a trained bird, they are also still wild animals with free will, and the sport requires a tremendous amount of work and dedication.
A Brief History of Falconry
Falconry is an ancient sport people have practiced for thousands of years both as a form of hunting for food in nomadic societies and as a sport for nobles in Medieval Europe, Middle East, and the Mongolian Empire. In empires, the nobility would hire master falconers to trap, train, and care for the hawks and other birds of prey so they would be available for hunting with kings and other high nobles.
Falconry has a history worldwide, though the exact origin of falconry is unknown and could date back as far as 8,000 to 10,000 years.
Nowadays, there are strict laws around falconry to ensure the raptors are properly cared for and trained because of the potential impact improper care could have on wild raptor populations.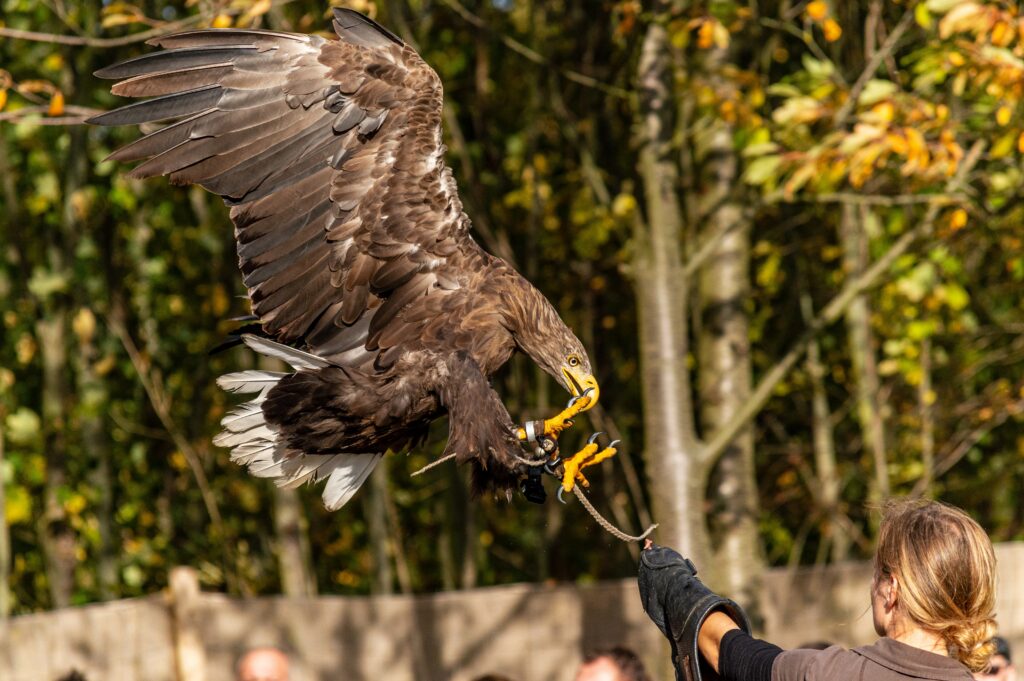 What Does a Falconer Do?
For Curtis, being a falconer doesn't just mean training and hunting, but also educating people about falconry and raptor conservation. Curtis has trained and worked with 22 different species of raptors and has spent much of her career working with non-releasable raptors for educational purposes.
When Curtis takes any of her birds hunting, she goes with her hunting dog, who "flushes" the game out of bushes or tall grass for the raptor to chase.
"And hopefully [my hawk] ends up catching one, and then I give her a large reward, and I take the rabbit and cook it up the next day," says Curtis.
How Are Raptors Trained?
"People are [often] amazed by how fast one can train a bird to hunt with humans," says Curtis. "Usually, it's about 2 to 6 weeks."
The actual training process is all through food. The falconer limits the bird's food intake to keep the bird both motivated to follow commands and light enough to fly with the speed it needs to catch prey.

Curtis says, "If your bird is fed up, then I hold no value, and there's no reason for it to come back to me."
In fact, that's where the term "fed up" comes from!
Like working with any animal, the training happens incrementally with getting the bird to fly to a post or the falconer's hand from longer and longer distances. Eventually, the bird can fly free and will still fly back when the falconer calls (most of the time), knowing they'll get food.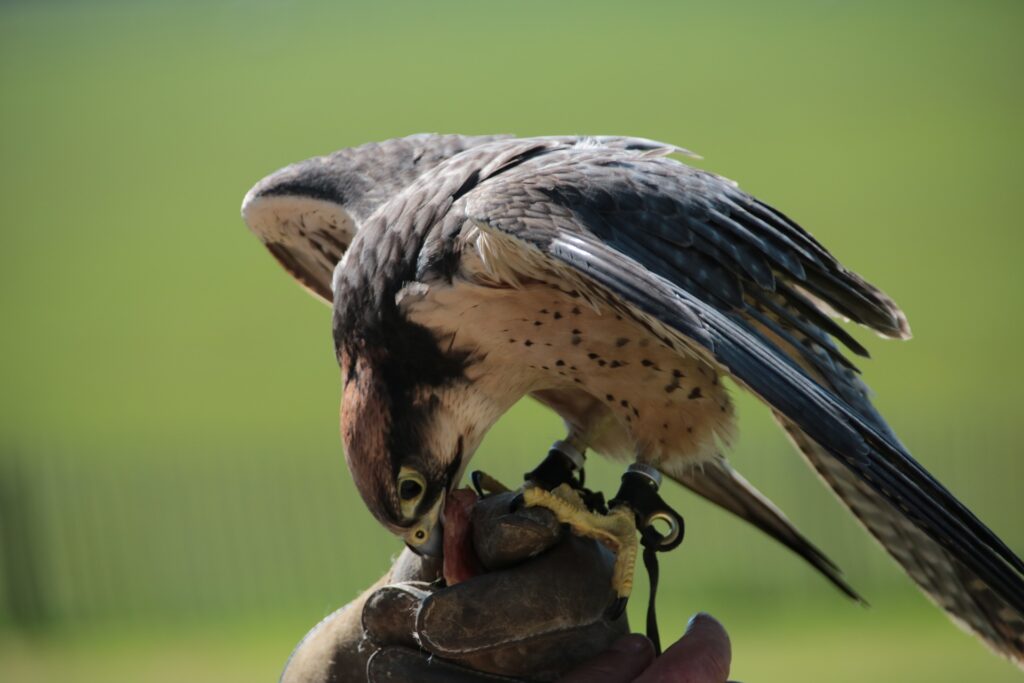 How Can I Learn Falconry?
Learning falconry and becoming a falconer requires a significant time and monetary commitment. It requires money for all the bird equipment, shelter, food, veterinary costs, permits, and other fees. With time commitment, it requires the time to go through at least a two-year apprenticeship and then take at least another five years to become a master falconer.
Throughout this time, your bird needs daily care and training. Being a falconer becomes a lifestyle rather than just a hobby.
Experience Falconry at Broadmoor Outfitters
Now let's move on from "what is falconry" to how you can experience it! If you'd like to get a taste of what falconry is like and spend time with these magnificent birds, you can also take one of Broadmoor's falconry experience lessons. During these sessions, you'll meet Curtis – or Broadmoor Outfitters' other falconer, Roger Tucker – and the birds they work with while experiencing Colorado falconry firsthand.
Beginner Falconry Lesson
During the beginner falconry lesson, your falconer will go over the natural history of the birds they have, discuss the history of falconry, and how they train and hunt with the birds. The group then goes to Broadmoor's outdoor space in beautiful Colorado Springs, where your falconer will have a Harris hawk fly over and in between the guests. Finally, guests get the opportunity to hold the raptor using specialized leather gloves – making this lesson the perfect opportunity to explore falconry for beginners.
"I think the flying portion honestly is where people light up the most," says Curtis. "They get excited about the birds flying so close to them and over the top of their heads."
Broadmoor Outfitters currently has 3 Harris hawks, 3 falcons (a Saker falcon, a Lanner falcon, and a Peregrine falcon), a barn owl, a Eurasian eagle owl, and an Ornate Hawk-eagle.
Intermediate Falconry Lesson
The intermediate falconry experience is even more hands-on, where you'll go out on one of Broadmoor's outdoor trails with an expert guide and a trained Harris hawk. On the trail, you'll have an opportunity to work with the hawk. Either Curtis or Tucker will guide you through using the falconry glove, holding the hawk, and casting the hawk out to one of the nearby pine trees. You'll then be able to watch it fly from tree to tree and eventually return to your glove.
This experience is only available to folks who have taken the beginner's falconry experience within the past year. However, if you fall in love with the raptors that first round, this is the next step!