Are you looking forward to your first backpacking trip? Or maybe you've been on the trail and are wondering why your back hurts so much. A poorly fitting backpack can be a real hazard, causing back and hip pain, setting you off balance, and turning a beautiful hike into a miserable slog.
In this article, we will set you up for success with three important steps: backpack fitting tips, how to properly pack a hiking backpack, and the right way to wear a heavy hiking backpack. Once you have these pieces sorted out, you will be ready to check out some of the best hikes near Colorado Springs with confidence and comfort.
Hiking Backpack Fitting Tips
The easiest way to get a backpack that fits well is to go to an outdoor equipment store where you can try some on with expert guidance. If you are buying a pack online or getting one from a friend, you might not have access to a professional opinion. But don't worry: you can easily confirm on your own if a pack is a good fit for you.
The first thing you will do is measure your torso and hipbelt (not the same as your pants size!) and choose a pack that fits these dimensions. Whatever site you buy from will offer tips for taking these measurements, and be sure to look at the pack's sizing guide, as different brands will vary.
The Many Straps of a Pack, or How to Properly Wear a Hiking Backpack
Once you have your backpack in hand, you will see that there are plenty of adjustments to make. The torso size is key because too short a pack will strain your muscles and too big a pack will destabilize you. When you have that proper torso size, you can move to the hipbelt, which is the most important part of the backpack to adjust.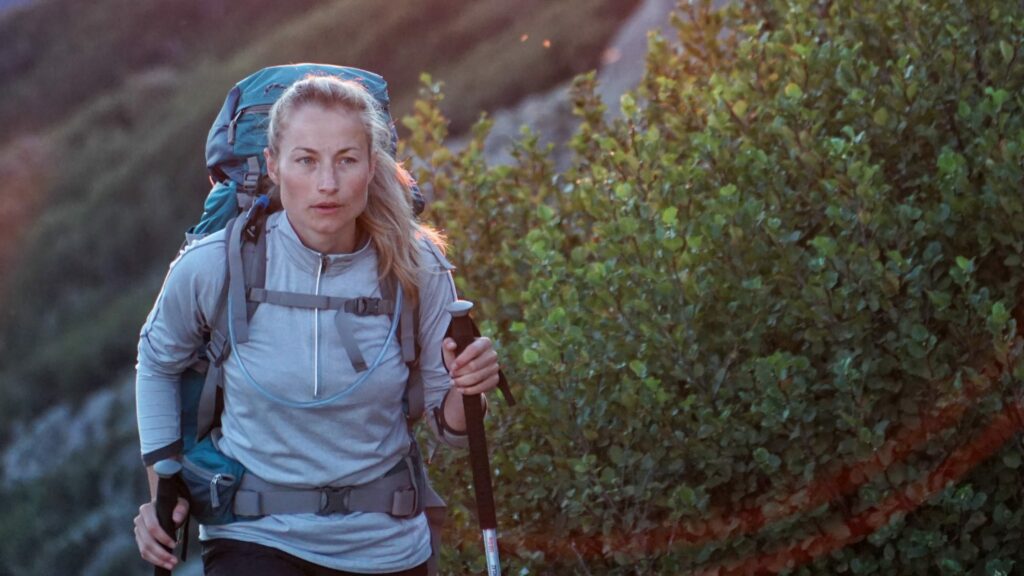 The Hipbelt
The pads of the hipbelt should sit high on your hips, around where your 'love handles' would be. Shrug your shoulders and tighten the hipbelt here. Your hips do a lot of the work in carrying the weight of a backpack, so if you find your shoulders hurting during a hike, you probably need to readjust the hipbelt.
You do not want this to be too tight that it hurts or too loose that it slips down. It should be snug in order to stay affixed in place while you hike. If you find yourself with bruises (called hip rot) or a rash on the hip, it is probably because there is too much movement of the hipbelt.
The Shoulder Straps
Once the hipbelt is in place, you can use the shoulder straps to make adjustments to get the pack to sit snugly against your body. It is a good idea to do this initial adjustment with a bit of weight, say ten pounds, in the pack. If it is totally empty, you may not get a good feel for how the weight will feel on your shoulders and hip.
Load Lifters and Sternum Strap
There are still a few more straps on the pack, namely the load lifters and the sternum strap. The load lifters are small straps that go from the top of the pack frame to the shoulder straps. When properly tightened to about a 45-degree angle from the pack, these straps bring the load closer to your body, which makes it easier to carry with the pack's center of gravity closer to your own. The sternum strap should sit about an inch below your collarbones and be just tight enough to keep the shoulder straps off your armpits.
Make sure you do not overtighten any of these straps. If you do, you will feel tension, in your neck as the load lifters pull your head back or in your chest as the sternum strap pulls your body inward. You want the shoulder straps to be snug, but they should not pinch your armpits or restrict your arm movements at all.
How to Properly Pack a Hiking Backpack
You might not realize it matters, but there are actually ergonomic reasons that you should pack in a specific way. This mostly concerns where the backpack's center of gravity is and how you can bring it closest to your sturdiest parts.
The best place to put heavy gear is in the middle of a hiking backpack. The bottom of the pack is great for bulky items like sleeping bags and pads and maybe your pajamas. Heavy items down here, though, will make the pack sag, and for back safety, you should avoid letting it hang lower than four inches below your waist. Throw these bulky light items in first, especially ones you won't need to access until camp, and then pack the heavier items like cooking gear and food next. Weighting the core middle area of the pack will help you feel stable on the trail.
Finally, the top of the pack is for trail essentials like your rain jacket, first aid kit, and supplies for water filtration and toilet usage. You don't want to put anything too heavy up here, as it will throw off your balance and cause unnecessary tension. Hiking backpacks also have plenty of strap pockets and loops for storing headlamps, bug spray, navigation tools, high-calorie snacks, and other small essentials that you might want to access on the move.
How to Adjust a Hiking Backpack on the Trail
Lean Forward
Because the backpack's weight is mostly behind you, leaning forward slightly will help you feel more balanced. Especially while going up or downhill, be aware of how the backpack's position can change how heavy it feels. Try making slight adjustments to the straps and backpack's positioning as you walk so you can learn to identify these stressors and improve your comfort on the trail. If you are wondering if trekking poles are worth it, they can certainly help in this situation to disperse weight better.
Avoid Load Fatigue
One helpful way to give yourself a rest as you continue hiking is to alternate between backpack positions. It is common to take a few minutes with a hip-heavy load, where you loosen the shoulder straps slightly and give your upper body a rest. Then you can switch, tightening the shoulder straps back up and loosening the hipbelt a little. You don't want the pack to be in danger of falling off or affecting your ability to walk, but a few moments of small adjustments can help you recover mid-hike and avoid muscle fatigue.
Rest
It is so important to take breaks along your hike. Not only for water and snacks but also to give your body a rest. Even if you are only taking a short water break, you should take the pack off and shake out your shoulders. Take a moment to assess how you are feeling and if there are any sore places on your body that you need to address. If you ignore pain, it will likely only get worse, so pay attention to what your body needs and make changes.
With these backpack fitting tips, you should be ready to hit the trail and conquer Colorado's beautiful peaks. Make sure you listen to your body, pack smart, and stay safe. If you are looking for a little extra guidance as you begin your hiking journey, check out one of these scenic guided hiking tours around Colorado Springs. Happy hiking!