Stand-up paddle boarding (SUPing) is a widely recognized water sport that involves standing on a board, similar to a surfboard and using a paddle to move around the water. It's been a method people have used to move in the water since around 3000 B.C. but has only become popular since the early 2000s. You've likely seen spectacular photos on social media or other advertisements of people posing on their stand-up paddleboard (SUP) while on a beach vacation – but what you don't see is the clumsiness that often preludes their picture-perfect pose. 
Stand-up paddle boarding may look like a piece of cake, but it isn't entirely intuitive. Balancing on a floating board while steering with a paddle takes a lot of coordination and core strength. But don't let the challenge stop you! After all, paddle boarding is so popular partly due to how beginner-friendly and inclusive it is. All you need is a good attitude and this guide we've created for you to learn how to stand up on a paddle board.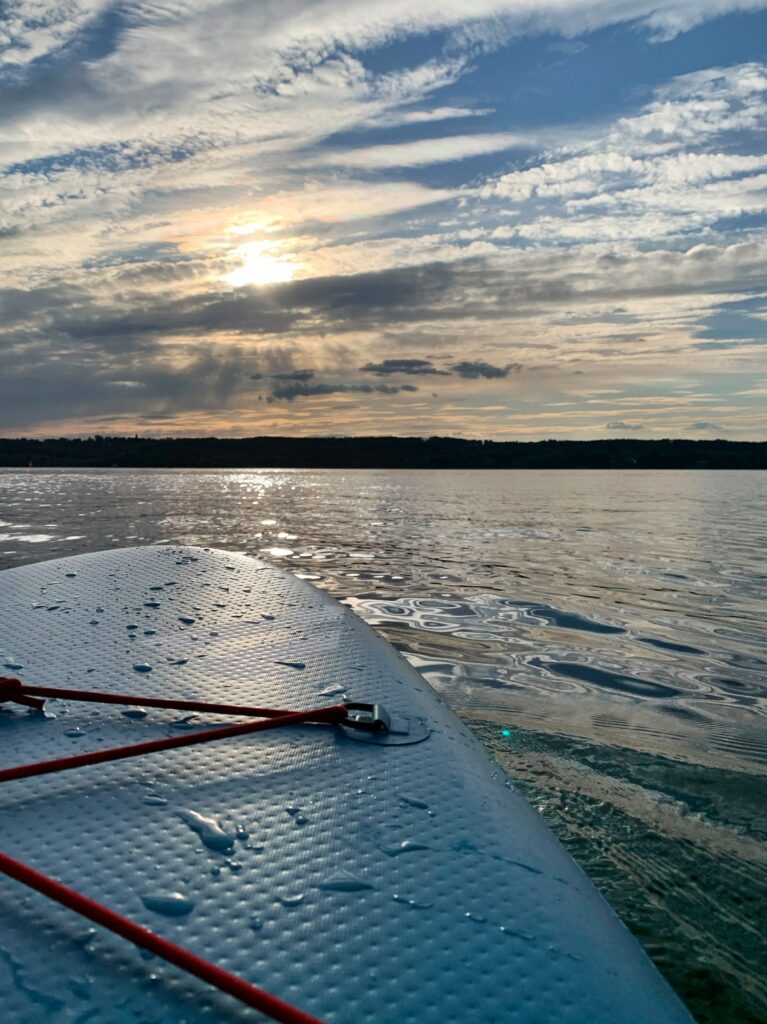 How to Get On The Board
If you're a beginner, mounting the SUP in calm, shallow waters (about knee deep) will be the easiest. Trying to get on the board while in deep waters or strong currents as a beginner could leave you up a creek without a paddle. To get on the board from the water, stand beside the board and lay your paddle across the nose of the board (horizontally) with the handle on your side. Hold the board on both sides, with the hand closest to you holding both the paddle handle and the board. Lift your alternate knee out of the water and onto the board, then pull the rest of your body onto the board, ensuring the nose stays in the water. Different SUPs have different balancing points, but you should be near the middle of the SUP. Continue kneeling and get your balance before attempting to stand up. 
Go From Kneeling to Standing
Once you've paddled around on your knees and gotten your balance for several strokes (or however many it takes!), you may feel comfortable transitioning into the standing position. This will be easier for some than others. For those with stiff knees, choosing a wider board might make standing up on your board easier. Staff at Broadmoor will definitely help you choose the perfect board for our Stand Up Paddle Board Tours. Now, here are a couple of methods to stand up on your board.
If you're a reasonably agile person, you can lay your paddle down across the nose of the board, then lean down to place your hands on the board in front of your knees to balance. At this point, you should be able to bring your knees up and get your feet under your torso, then lift your body up into the standing position.
For those who aren't exactly spring chickens or who aren't as limber, follow the steps above, except instead of laying your paddle down, use it as a prop to help you bring your body to standing upright.
Once you're standing, you will want to make sure your feet are in the same position on your SUP as your knees were. That way, you already know where the sweet spot of balance is on your SUP.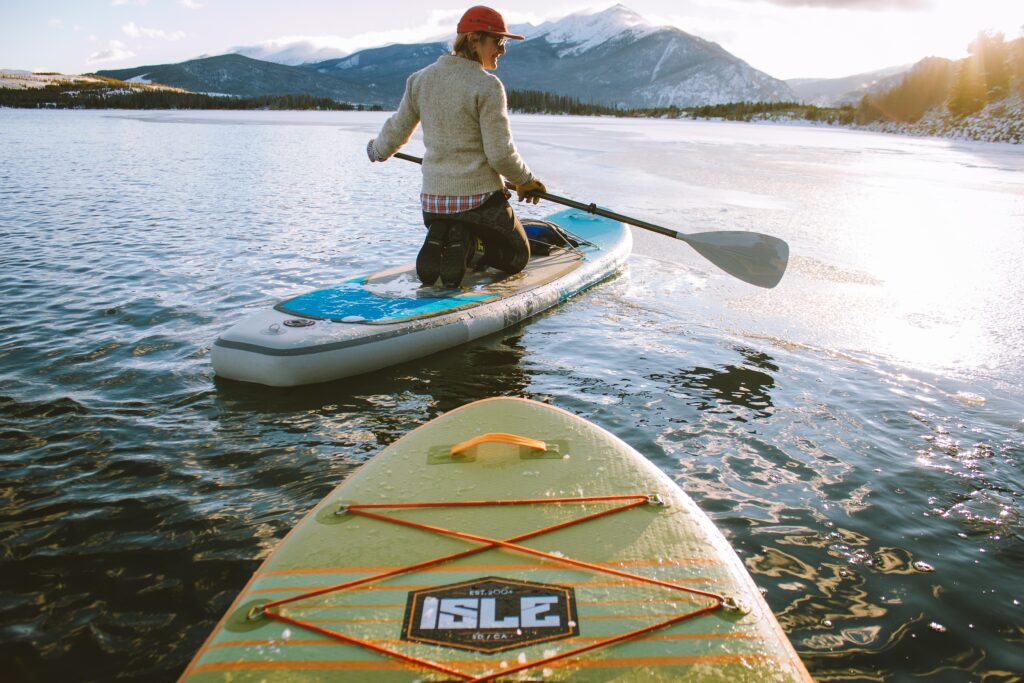 How to Balance
The number one tip for how to stand up on a paddle board is: Don't look down. SUPing is one of those sports that requires you to get out of your head and into your body, so really try to feel it in your feet, hips, back, shoulders, and core while learning. Place your feet around the middle of the board, about hip-width apart, and point your toes forward. Keep your posture solid but not too rigid. Also, move from your hips and core rather than trying to walk around on the board. And last but not least- prepare to fall. It happens!
How to Paddle
Now that you know how to stand up and balance on a paddle board, you need to learn how to use your paddle. Believe it or not, there is a wrong way to paddle a SUP, and most beginners do it incorrectly when left to their own devices.
First, you want to ensure that the paddle's T-grip handle feels comfortable in your hand. You'll be paddling on both sides, but start with the handle in your dominant hand, so you can get the hang of the paddling technique. Hold around the middle of the paddle with your other hand.
To paddle, put your blade in the water, ensuring that the angled part of the paddle blade is pointed toward the nose of your SUP and that the entire blade is submerged in the water. Now, make a big sweeping motion, pushing down with your top hand, as opposed to pulling the paddle through the water toward you. Paddle from about two feet in front of you, back to your ankles, and lift the paddle out of the water. Keep your arms straight during the paddle motion, and only move with your torso and upper body. Keep in mind that you should be paddling with your core strength, not with your arms. 
Prepare Your Body
If you're planning on spending a big chunk of time SUPing or want to SUP several days in a row, you'll be wise to exercise first. Building your core muscles as well as increasing stamina will pay off on the water! And, you might not be as sore after paddle boarding as you might be if you don't work those muscles in the days and weeks before your SUP adventure. Plank (traditional and side plank) exercises, mountain climbers, and squats are a good starting point if you want to stand up on a paddle board.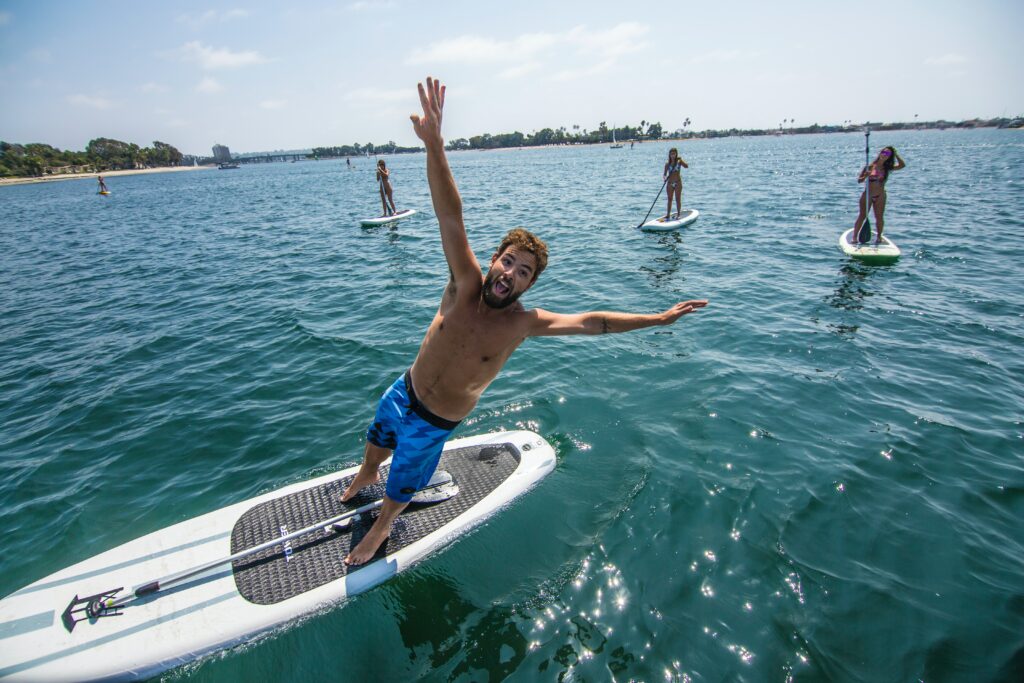 Final Thoughts
Now that you know the basic steps for how to stand up on a paddle board, you're ready to get on the water and rock it. Remember, to be good at something, you've got to be bad at it first. So don't be afraid to practice and perhaps take a couple of falls. But this beginner's guide to stand up paddle boarding will send you on your way!