Beginners Guide to Stand Up Paddleboarding
If you've ever watched people gracefully paddling on water and wondered how to stand up paddleboard, you've come to the right place. Stand up paddleboarding is a fun way to enjoy the outdoors, and it's easy for beginners to learn. Check out our stand up paddleboarding tips below, and when you're ready to join us, book your spot in our Stand Up Paddleboard Tour in Colorado Springs.
What Is Stand Up Paddleboarding
Stand up paddleboarding involves standing on a paddleboard, which is not unlike a surfboard, and using a paddle to propel yourself across the water. Unlike surfing, however, these boards are wide and stable, so it's easier to stay upright. Beginner paddleboards are usually 10'6" long and 31" wide. They are easy to maneuver and don't require as much balance as you might think. Plus, the benefits of learning how to stand up paddleboard are totally worth the potential of falling off in front of your kids.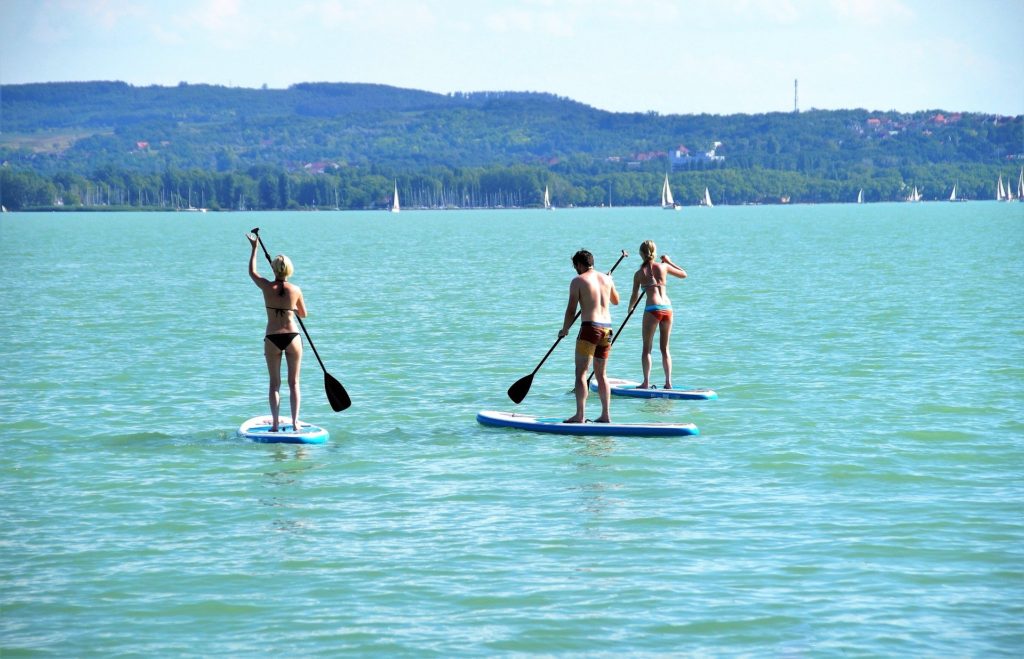 There are plenty of benefits to this fun watersport. First, stand up paddleboarding is an excellent full-body workout, using core muscles for balance and paddling. Second, it's a great way to enjoy the beauty that Colorado Springs has to offer. You can paddleboard on a river, ocean, or – as we do here – a lake. Since you are standing, you can easily take in the sights while relaxing on the water. Finally, it's a fun social activity for friends and families. This is an excellent adventure for older kids to tackle alone, and little ones can stand on a board with a parent.
Gear Needed for Stand Up Paddleboarding
Your Paddleboard
There are three required pieces of equipment for learning how to stand up paddleboard, and we provide them all on our tours. The first is a paddleboard, and we use only high-quality and reliable boards. These solid boards with slip-proof coating are ideal stand up paddleboards for beginners to learn on. All boards come with a velcro leash to secure around your ankle. This prevents the board from drifting away if (and when) you tackle a tumble into the water.
The Paddle
The second is a paddle, and our lightweight paddles are comfortable to use. The paddles are adjustable and should be nine or ten inches taller than you. One simple trick for sizing your paddle is to raise your hand straight up above your head and put the paddle handle in your palm. When you can comfortably grip the paddle from this position, that's the perfect height for you. It's easy to learn how to use the paddle to navigate through the water, and our Stand Up Paddleboarding Tour in Colorado Springs covers this and other techniques.
Personal Flotation Device (PFD)
The third piece of gear is a personal flotation device (PFD), which is essential while paddleboarding. A PFD allows you to stay safe while paddleboarding over deeper waters, and it also makes it easier to remount the paddleboard from the water. PFDs come in multiple sizes for adults and children, so be sure to get one that fits snugly without being restrictive.
Finally, let's talk about clothing. If it's cold, you may want a wet suit or rash guard. You can also wear water shoes to keep your feet warm while paddleboarding. Make sure to pick shoes that will stay on (flip flops are sure to get lost) and won't slip on wet surfaces. In warmer weather, don't forget to lather up with sunscreen before hitting the water.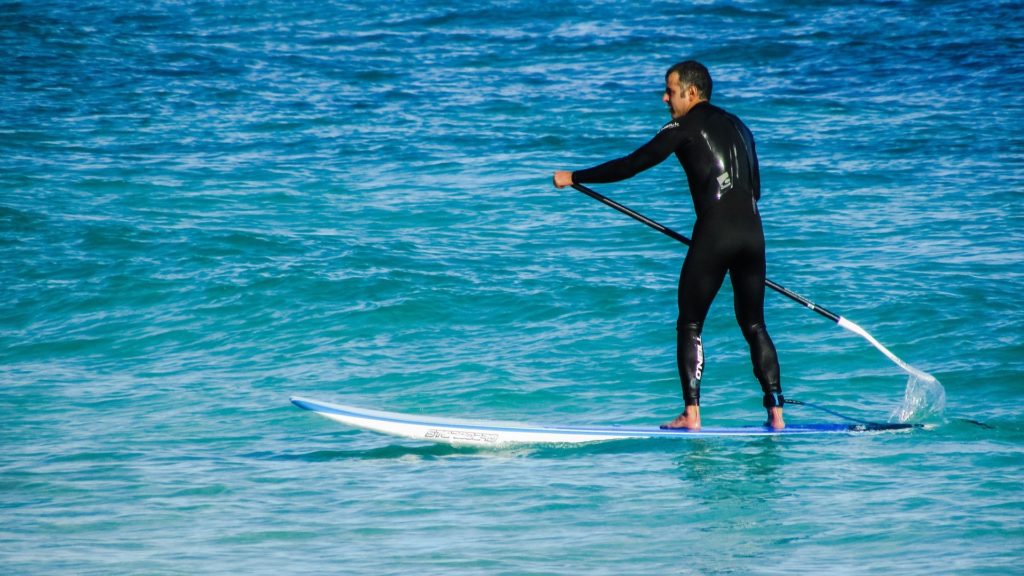 Stand Up Paddleboarding Tips and Techniques
When you first get on the water, you'll do so from a kneeling position. Having your center of gravity a little lower keeps you more balanced and prevents falling in shallow waters. You can stay kneeling or sitting the whole time, but then you wouldn't be stand up paddleboarding. What's the fun in that? So the first thing you need to learn about how to stand up paddleboard is, well, standing up!
Standing Up on Your Paddleboard
The key to standing up on a paddleboard is to go slowly from kneeling, to squatting, to standing. When you stand from a kneeling position on solid ground, you move all your body weight to one foot and then the other. If you tried this on a paddleboard, you would tip over and end up in the water. This is an easy enough mistake to make, but it's also avoidable if you know the proper technique!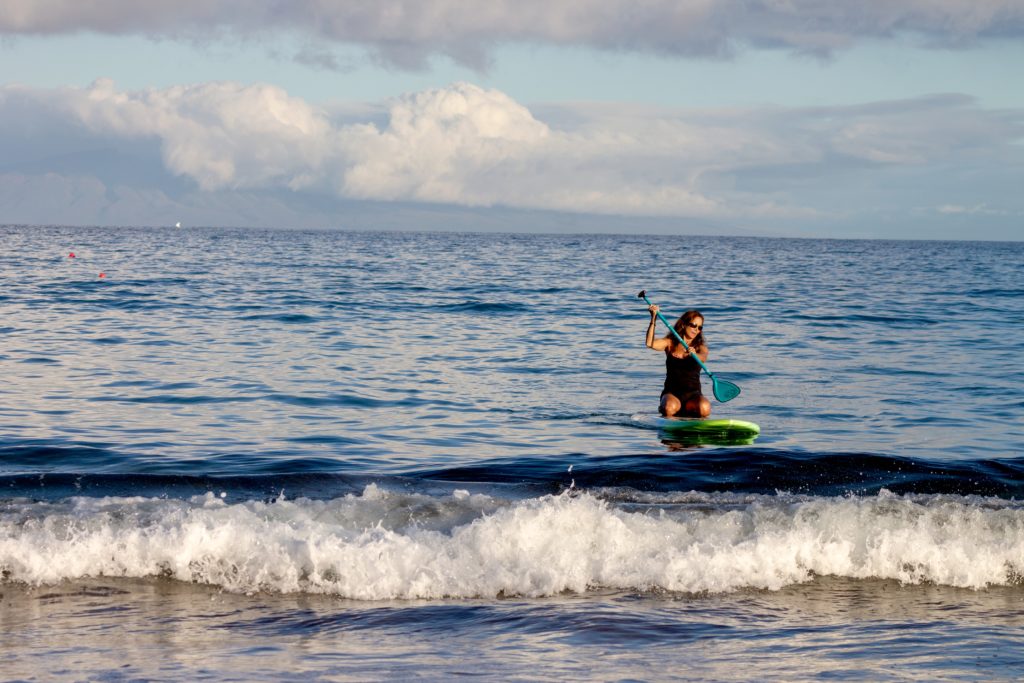 To maintain your balance, first move into a low squat to keep your center of gravity closer to the paddleboard. It's easiest to put down your paddle first – across the paddleboard in front of you. Then, place a hand (or both) on the board while you move into a squat. Place your foot in the same place your knee just left to ensure balance and stability in your stance.
Once you've made it to a low squat, you can stand straight up. Don't forget to bring the paddle with you! Now standing, make sure your feet are hip-width apart with your toes facing forward. Keep your knees bent and engage your core for balance. This is especially important while paddling, which is next on the list.
How to Paddle a Stand Up Paddleboard
First, let's go over the proper technique for holding a paddle. If the paddle is to the right of your board, your left hand should be on top, holding the T-grip in your fist. Place your right hand a few feet down the shaft. To keep the paddleboard moving straight, switch sides every few strokes. When you do this, also change your hand positions so the opposite hand is always on top.
The Forward Stroke
Let's start moving with a forward stroke. Both of your arms should be fully extended, with your top arm parallel to the board and your bottom arm at a forty-five-degree angle. The angle of the paddle blade should point away from you. Bury the whole blade in the water to get maximum power with each stroke. Be sure to pull your paddle back as far as you can; try to get your body past the paddle before you take it out of the water for the next stroke.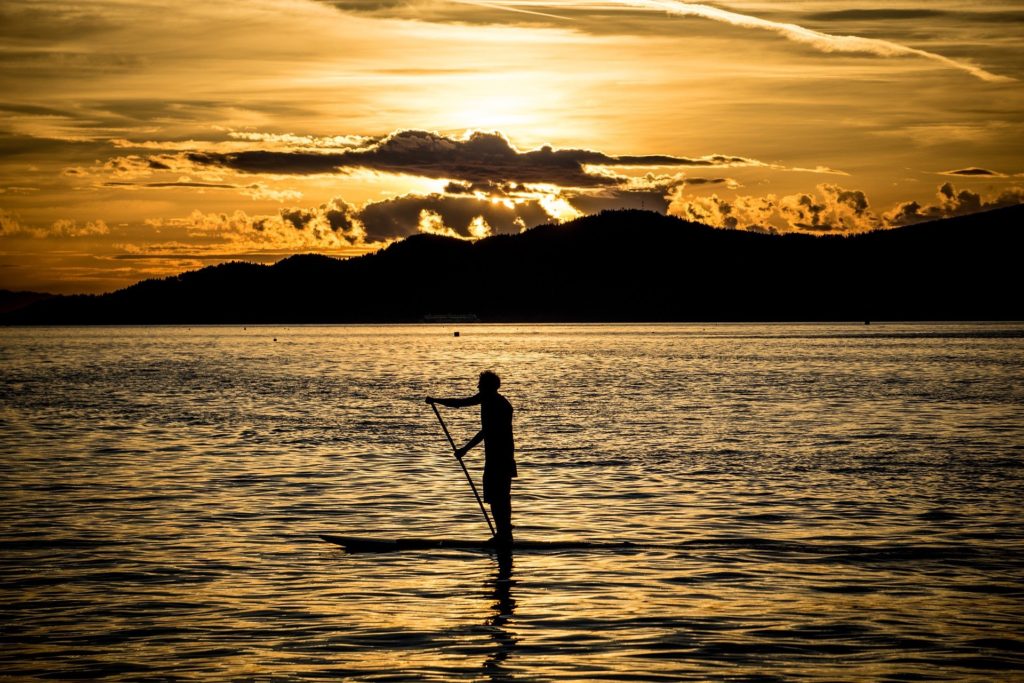 Reverse Stroke
Once you've got the forward stroke down, you can also do a reverse stroke. As the name implies, it's just the forward stroke backward with the paddle starting next to or slightly behind you. Make sure to bend your knees and engage your core! Doing so provides stability and power as well as protecting your back from injury in this twisted position. You'll most often use the reverse stroke for stopping or slowing down.
The Sweep Stroke – For Turning
The last aspect to paddling a stand up paddleboard for beginners is the sweep stroke. This stroke allows you to turn quickly, even when your board is standing still. Start by placing the paddle near the nose of your board with the blade perpendicular to the paddleboard. Then, using your legs and hips for power, sweep the paddle in a semicircle backward towards the tail of your board. This motion will cause you to turn away from the paddle. If you do a reverse stroke, starting at the tail and sweeping toward the nose, you will turn toward the paddle.
This technique gives you a couple of options for turning in the water. If you want to turn to the right, for example, you can do a sweep stroke on the left side of the board or a reverse sweep on the right.
How to Get Back on a Stand Up Paddleboard from the Water
The last of our stand up paddleboard tips, especially important for beginners, is how to get back onto a board after you've fallen in the water. The first step is to locate your paddle and place it across the nose of your paddleboard. If it has drifted too far away, you'll need to get back on your stand up paddleboard first (since you're connected via leash) and paddle with your hands to retrieve it.