Surrounding the cities of the Colorado foothills are mountain vistas erupting from long stretches of prairie. The sight in itself is astonishing, but it gets even better in the spring. When wildflowers come out to bloom and show their colors after a long winter tucked away, the mountains light up with a vibrance unseen since the year prior.
Of course, it's one of the best times of the year to get outside. This list of wildflower hikes in Colorado Springs is a start towards a longer journey of finding every last petal of every last flower and taking in its beauty. And the best part is that you don't have to look far when seeking out where to see wildflowers in Colorado Springs. With a camera and identification book in hand, it's time to set out on the trails and see what's out there.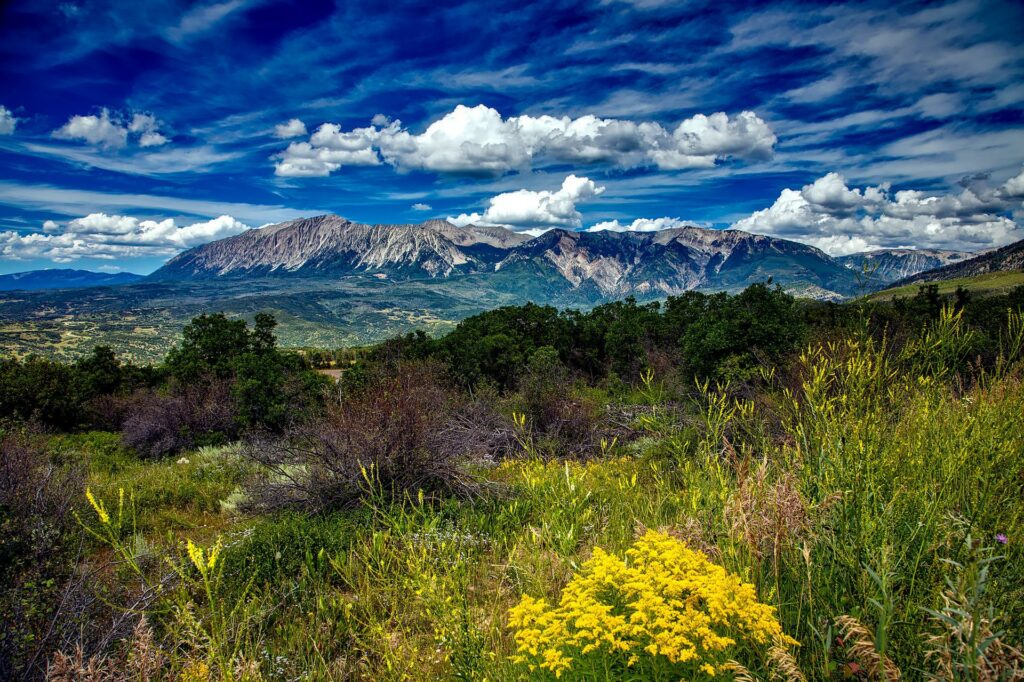 Garden of the Gods Park
Come springtime, Garden of the Gods has shoots of color popping up in every direction you look. It's one of the best places to go throughout the entire year, so of course, it makes the list of where to see wildflowers in Colorado Springs. 
This region is perfect for day hiking in Colorado. There are guided walks throughout the day, and you can book hiking tours that will allow you to get a full experience and understanding of flora and fauna along the way. 
The Palmer, Buckskin-Charley, Niobrara, and Bretag Trail loop is an easy four-mile loop throughout the park where you can tour several of the park's most outstanding features. If you want to get out for some outstanding sights but only have a couple of hours, this is one of the best picks.
Indian paintbrush covers the landscape here along with multiple varieties of wildflowers – such as Colorado blue columbine and bluebells – making it a diverse color scape that can impress anyone who passes through.
Red Rock Canyon Open Space
Located right on the limits of Colorado Springs, Red Rock Canyon Open Space offers another quick getaway to see some of the most spectacular wildflowers the area has to offer. It's an easy place to get to and has miles of trails to offer. 
Any combination of the various trails can make a great loop to explore and see a variety of different sights like beautiful rock faces to climb and open fields that just recently lost their snow. You may spot some Arrowleaf balsamroot or Rocky Mountain bee plant amongst the Indian paintbrush and other delicate flowers.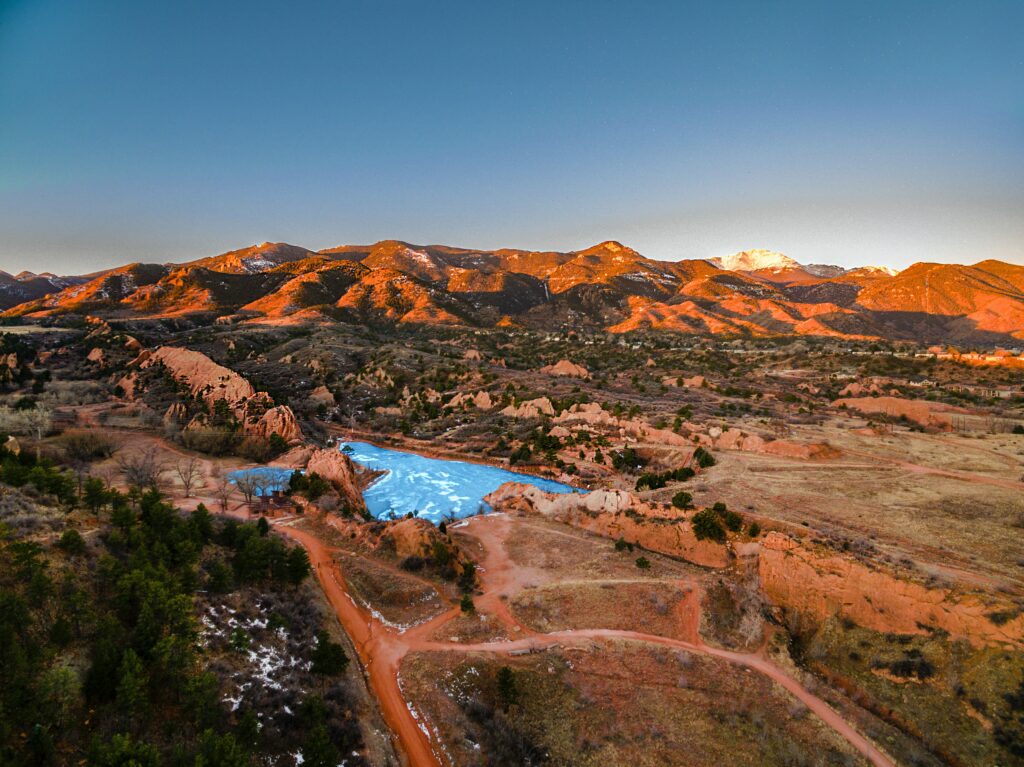 North Cheyenne Cañon Park
Here's another gem that sits so close to the city but makes you feel like you've driven hours to find wilderness. The North Cheyenne Cañon Park is a short ten-minute drive from the heart of Colorado Springs and has wildflowers aplenty to offer anyone who comes looking. 
This park is full of granite cliffs and waterfalls, providing a luscious environment for flowers to grow and thrive. The park is 1,000-feet deep in the granite canyon, following the creek the entire way. The water draws an array of birds and wildlife that makes this park unique. 
The Daniels Pass Trail system is a newer part of the park where you can go deep into the woods and find flowers that have stayed hidden for many years without trails to blaze the way. The Mount Muscoco and the Mount Cutler trails are also great options for getting a higher vantage point and seeing the landscape from a new perspective.
Pikes Peak
Pikes Peak may define the area surrounding Colorado Springs. It was what gold miners looked to when they first made their way west, and today it's one of the most popular 14ers climbed in the state. Pikes Peak is an easy way to get up high and see wildflowers for miles on end as well as right in front of you on the trail. 
The Elk Park trail will take you along open meadows and a beautiful creek that provides an ample environment for wildflowers of all different types. As you move up the mountain, the flora changes with elevation, which can give you the chance to see an even wider variety of flowers on a single trail. 
Here you'll find Columbia monkshood, Indian paintbrush, orange Agoseris, mountain bluebells, arctic yellow violet, darkthroat shooting star, and the list goes on. Be sure to bring a wildflower identification guide in order to find as many as possible because this is the spot to tick off a lot of boxes in the hunt to discover them all. 
This is likely the only trail where you'll find a good amount of snow alongside the wildflowers. It can provide a stark contrast that is unlike many other regions in the area and draws visitors from all around.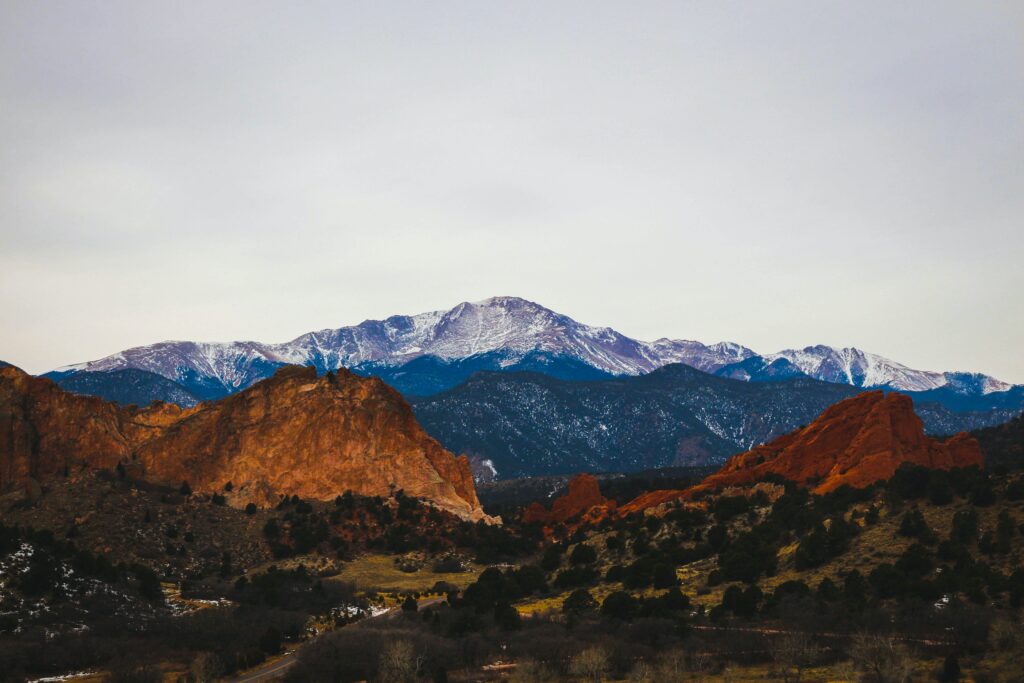 Ute Valley Park
Mere minutes north of downtown Colorado Springs is Ute Valley Park. This hidden gem is surrounded by humanity but can still make you feel as if you've left the city. All along the trails of this 538-acre park, you can find a blast of color from the many wildflowers in the area. 
Within the park, you'll likely see some Mariposa lily blooms, prickly pear cacti, and faerie trumpets that are common in the area. While this park might not offer massive mountains to climb, it's a fantastic representation of what the area is truly like – all within the city limits.