There are so many bodies of water in Colorful Colorado. If you're willing to make just a short drive, you can find many places to enjoy aquatic activities like stand up paddleboarding near Colorado Springs. Whether you're renting a stand up paddleboard (SUP) or have your own, we've got some great places to explore – all within an hour's drive of Colorado Springs.
This list has all the best reservoirs and lakes for paddleboarding in the heart of Colorado. It includes prices, availability, and what is best for beginners. We've also organized these spots by distance from Colorado Springs, and you'll note that options for larger lakes tend to be outside of the city proper.
But before we get into the top spots for paddleboarding in Colorado Springs, let's make sure you know what you are doing! First, you can check out the comprehensive Beginner's Guide to Stand Up Paddleboarding. This guide covers all the gear you need and some basic techniques for staying on the board. If you think you might need more help, consider a SUP Tour at a Colorado Springs lake for in-person instruction. These guided tours are an awesome way to ensure your first paddleboarding adventure will be a memorable experience.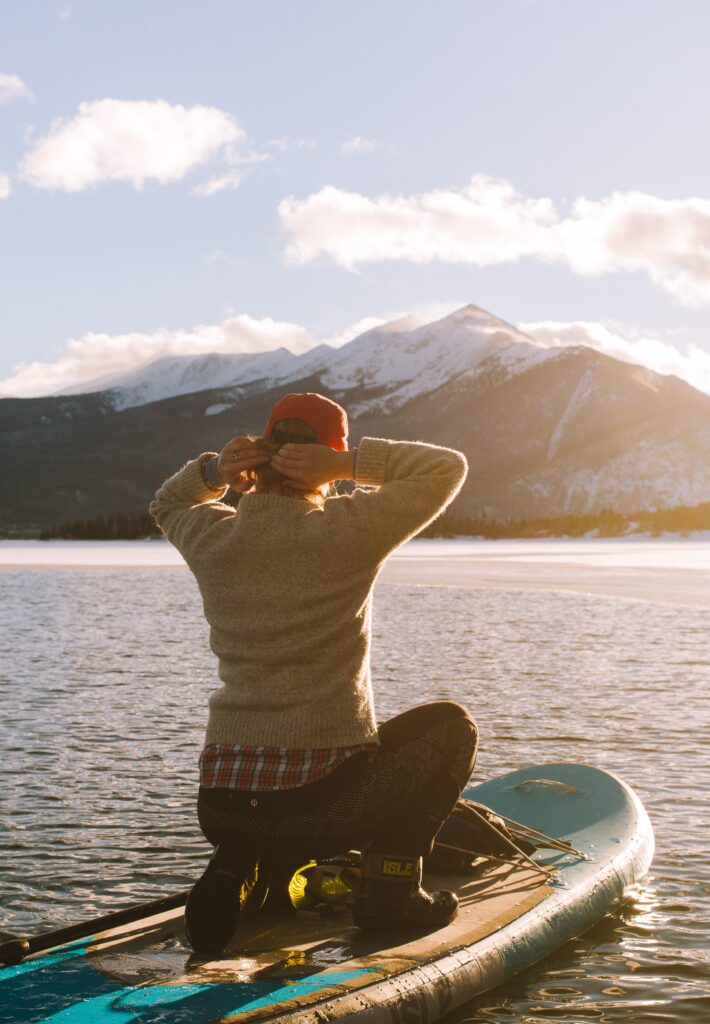 Prospect Lake
Located in Memorial Park (1605 E Pikes Peak Ave) in central Colorado Springs, Prospect Lake is a charming spot to spend an afternoon. The hiking trail around the lake is a flat and accessible 1.3-mile loop. The park also has other sports facilities, including tennis courts and a skatepark.
Prospect Lake has a beach and a designated swimming area. No matter what activity you choose, you'll have amazing views of Pikes Peak to enjoy. Daily use permits for access to the lake (non-motorized vehicles only) are available for $5. You can also rent a stand up paddleboard on-site if you do not have your own. 
Quail Lake
Still within city limits, at 915 Cheyenne Mountain Blvd in Southwest Colorado Springs, Quail Lake Park is a gorgeous city oasis west of the Broadmoor World Arena. The park offers a one-mile hiking trail around the lake, a basketball court, a picnic area, and more. All this is available for just a $5 daily use fee.
Both Quail and Prospect Lake are relatively small bodies of water. This makes them great options for beginner paddleboarders or people who have limited time for their next excursion. If you're looking for a more advanced paddleboard experience, keep reading. Just a short drive out of town you'll find yourself at some beautiful larger lakes that are prime spots for seasoned paddleboarders.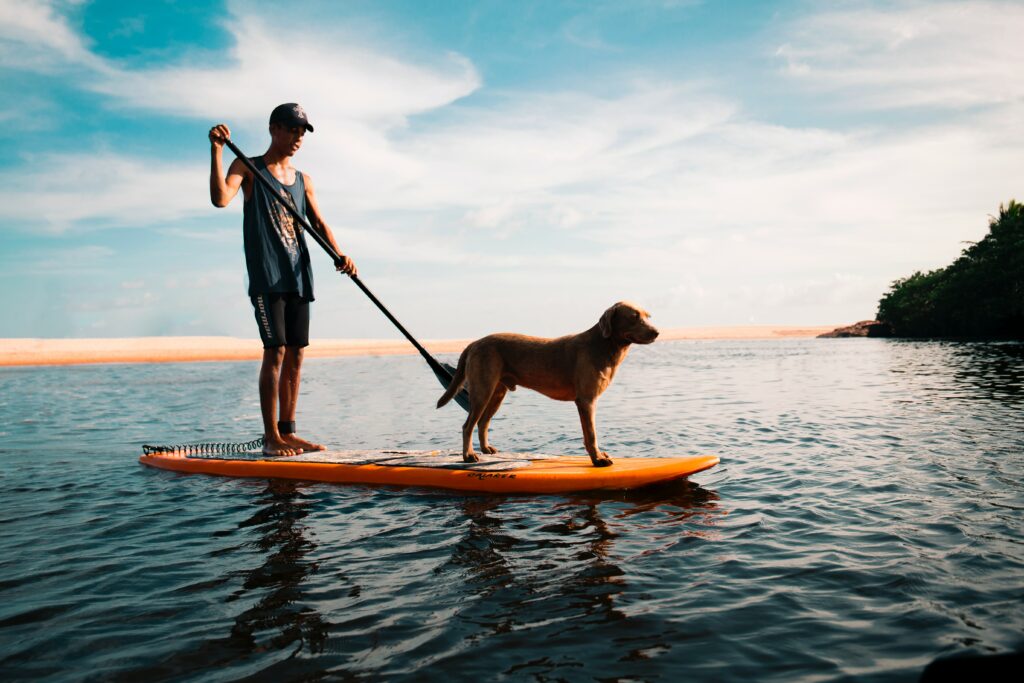 North and South Catamount Reservoirs
Located in the North Slope Recreation Area (on Pikes Peak Toll Road), the North and South Catamount Reservoirs are pristine bodies of water available for a $5 daily use permit. The areas have seasonal usage hours, so check online before heading up the mountain. There is limited parking available, so it's good to reserve a free one-day parking pass for your visit.
The largest of the three, North Catamount Reservoir has over 210 acres of water for paddleboarders to explore. Positioned on the north side of Pikes Peak, as the name implies, the reservoir has amazing views of the beautiful scenery. With little nooks and crannies everywhere, this spot is a SUP adventurer's dream. The South Catamount Reservoir is also available. However, the nearby Crystal Reservoir is closed to all aquatic activities for maintenance and repair work.
Rampart Reservoir
This stunning reservoir is a beautiful place to enjoy aquatic sports like stand up paddleboarding near Colorado Springs. Rampart Reservoir also boasts over 500 surface acres of water. Located about half an hour from downtown Colorado Springs near Woodland Park in Pike National Forest, the Rampart Reservoir Trail is nearly fourteen miles around the lake, taking you up and over the many ridges that form its sides.
The reservoir is open from May to October. But be sure to double-check if it is currently open before you go. Once there, you'll pay a $7 daily use fee to get into the reservoir. There is a boat launch for fishing, a picnic area, and toilets. The reservoir offers picture-perfect scenery for paddleboarders. You also have plenty of shoreline to enjoy a picnic or take a break from the water.
Monument Lake
Only a half-hour drive north of Colorado Springs, Monument Lake is a 30-acre reservoir tucked into the Sangre de Cristo Mountains. This gorgeous spot has clear water, awe-inspiring mountain views, and free access for paddleboarders and other water sport enthusiasts.
For a longer stay here, the Monument Lake Resort is a beautiful hotel option that offers rentals of paddleboards, kayaks, canoes, fishing pontoons, and more. This is a great family-friendly spot with a small, calm body of water for beginners to safely try paddleboarding near Colorado Springs.
Palmer Lake
Just past Monument Lake, the Palmer Lake Regional Recreation Area is a 36-acre park nestled between nearby mountains and the town of Palmer Lake. At the parking area (199 County Line Road), you'll find a playground, a pavilion, restrooms, and the trailhead to the New Santa Fe Regional Trail.
The park has free entry, and paddleboarding here will give you great views of Ben Lomand Mountain and the surrounding area. Even if you just hang out on the shore, Palmer Lake is a cute community with plenty to see on a local walk.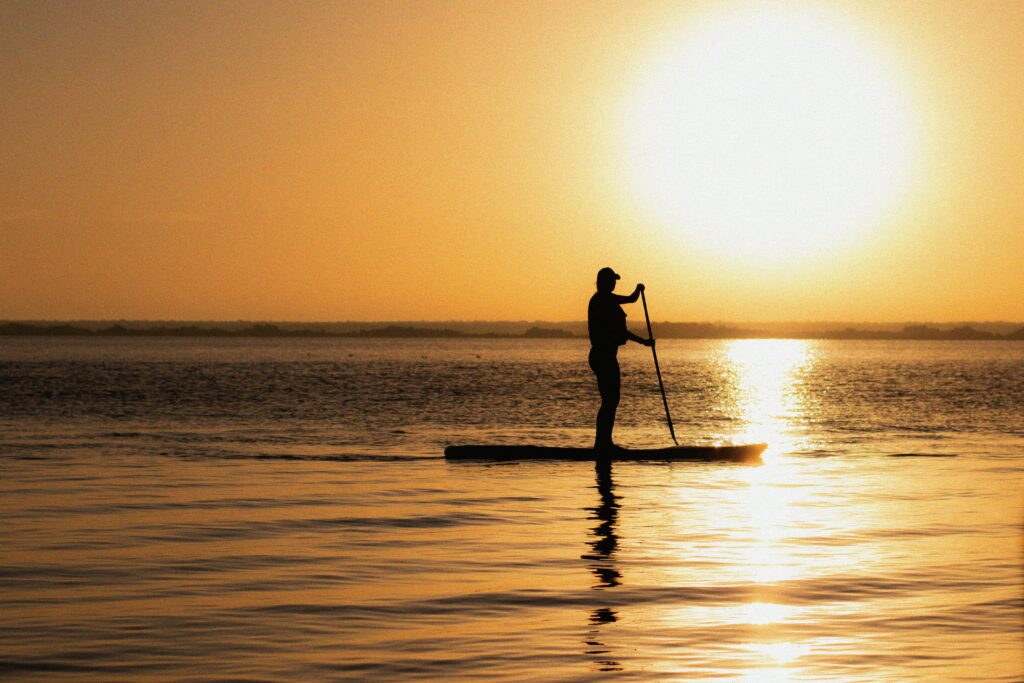 Lake Pueblo
Lake Pueblo State Park is just under an hour south of Colorado Springs. The park has over 10,000 acres of land, including a sprawling lake with over 4,600 surface acres of water. This lake is a great place for more advanced paddleboarders looking for interesting waterways to navigate.
The visitors center (640 Pueblo Reservoir Road) offers parking, bathrooms, and a nearby jet ski rental. There are also hiking trailheads and campsites located around the corner, giving outdoor enthusiasts opportunities for a multi-day stay. Access to the park is available via an $8 daily use fee.
Paddleboarding Near Colorado Springs
So if you have been wondering where to paddleboard in Colorado Springs, be sure to check out some of these gorgeous spots. Colorado's many lakes and mountains offer stunning landscapes to enjoy aquatic adventures, picturesque hikes, and other outdoor activities. If you need to rent gear or take a lesson, be sure to check out a SUP Tour at a local area lake for professional instruction and assistance with your first time.