Leaving your dog at home isn't a real option for most of us. You may tell others that your dog doesn't do well away from you, but the truth is always that you don't do well away from the pup. Regardless of the reasoning, hiking with your dog in the winter is an enjoyable experience for everyone involved. 
Winter hiking can be strenuous for seasoned hikers all around the world. Some are more accustomed to it, while others are better adjusted for tropical climates. The fact holds true when we start talking about your furry best friend as well. Certain dogs love the snow, while some won't even leave the house and brave the cold.
This quick guide serves to help first-time snow pups become lovers of the cold rather than learn to fear it. Soon enough, your dog will be crying to get outside when the flakes start falling.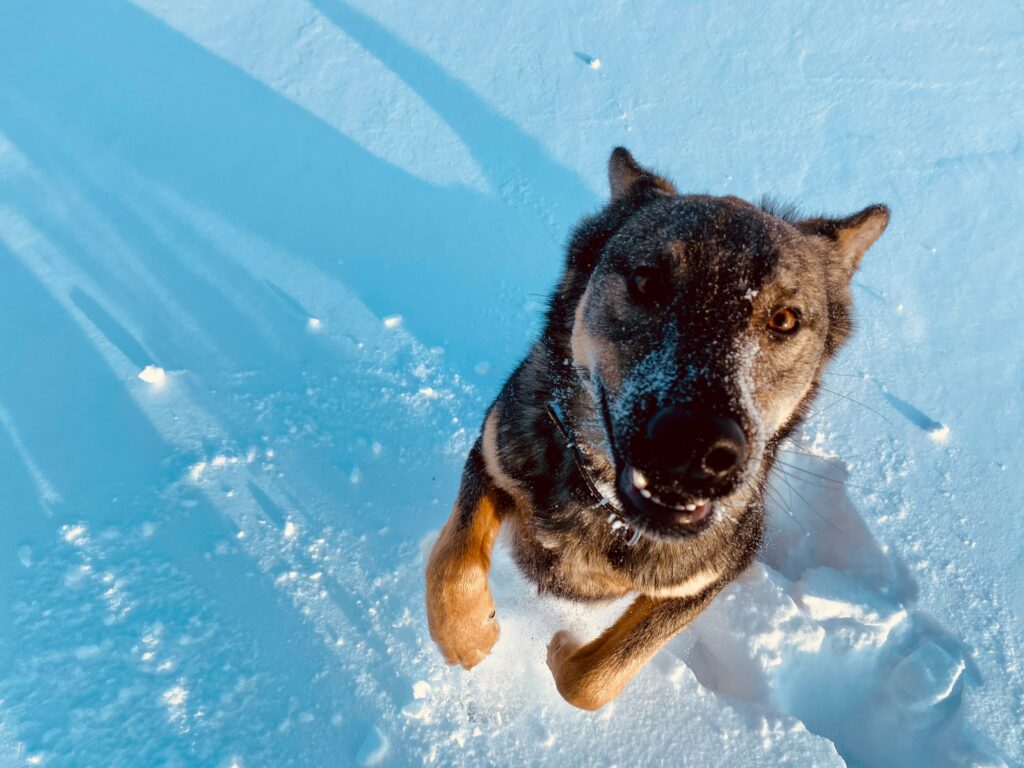 Paw protection
Before all else, your dog is going to feel the cold in its paws. Even with years of rough roads to toughen up their pads, the snow can be detrimental to a dog's winter hiking experience.
Many dogs that aren't accustomed to winter will get snow trapped in between their toes, causing them to stop and try to remove it quite often. It's a difficult thing to work with and is much better to prevent before having to pick snow out of their paws every ten minutes.
One of the best ways to protect paws is to try on booties. A lot of different companies make booties, but they all fit differently. Remember that your dog's front and back paws might be different sizes, so some booties only come in pairs.
There are other options for the dogs who rip the booties off immediately or have the kind of paws that booties fall straight off. In the North, the most popular solution amongst sled dogs is a salve called Musher's Secret. Although it isn't much of a secret anymore, it's the perfect layer that protects snow from building up and damaging paws.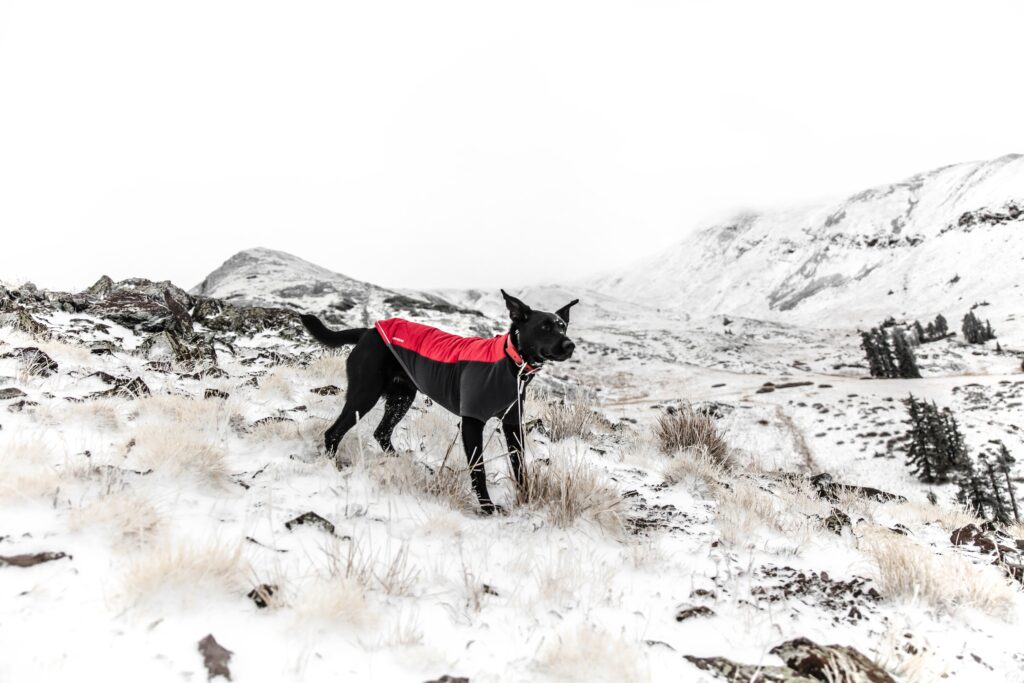 Bundle them up
Malamutes and Huskies are well-equipped with a thick fur coats to keep them toasty all winter long. Even your Golden Retriever or Australian Shepherd might have enough hair to get them through more mild winters. If you've fallen for a short-haired pup, it might not be long before you see them shivering and trying to cozy up next to you.
Many dogs love to be swaddled in a warm winter jacket that adds another layer of protection from the elements and helps trap the heat they produce while running around. In winter, hiking with your dog isn't about making a big fashion statement, but it may require adding to your dog's wardrobe.
Higher caloric intake
When people start asking, "is it safe to hike in winter?" they inevitably find an article that talks about eating. Food is the body's main fuel source to produce heat, and the same goes for your dog.
So, before you head out onto the trail, give your pup a few extra handfuls or scoops of their kibble. It can make a huge difference in helping to keep them warm and energized for a longer hike.
Even when your dog is fit and ready to go on long summer hikes, the winter is much more demanding when it comes to energy spent. Bring along a lot of high-fat treats (think "salmon jerky") that will give a boost of energy to help your pup warm up.
Train them properly
Another added danger on the trail in the winter is skiers and snowboarders. In the summer, your dog may avoid mountain bikers on the trail, but many dogs see skiers as a person to play a game with. Train them to stay away from skiers and other people moving quickly through the snow. 
Skis use a sharp metal edge on both sides to help dig into the ice. In the wrong circumstances, that metal edge can easily hurt any person or dog, especially at high speeds.
It's best to keep your dog on a leash, even if they are used to having free range. The transition to winter hiking with your dog can be a big one, and they need to learn the new environment before being left to roam freely.
Have a backup
Bringing a dog along can sometimes be like bringing a small child. When they decide that they don't want to hike anymore, you won't be hiking anymore. So, you need to come prepared with a backup plan.
One day your pup can be ready to take on any level of snow, and the next, they will be shivering at the sight of it. If you have another hike planned that might be drier or slightly warmer, head in that direction. Recognize that you need to be flexible and make smart decisions for your dogs because they won't always do the same.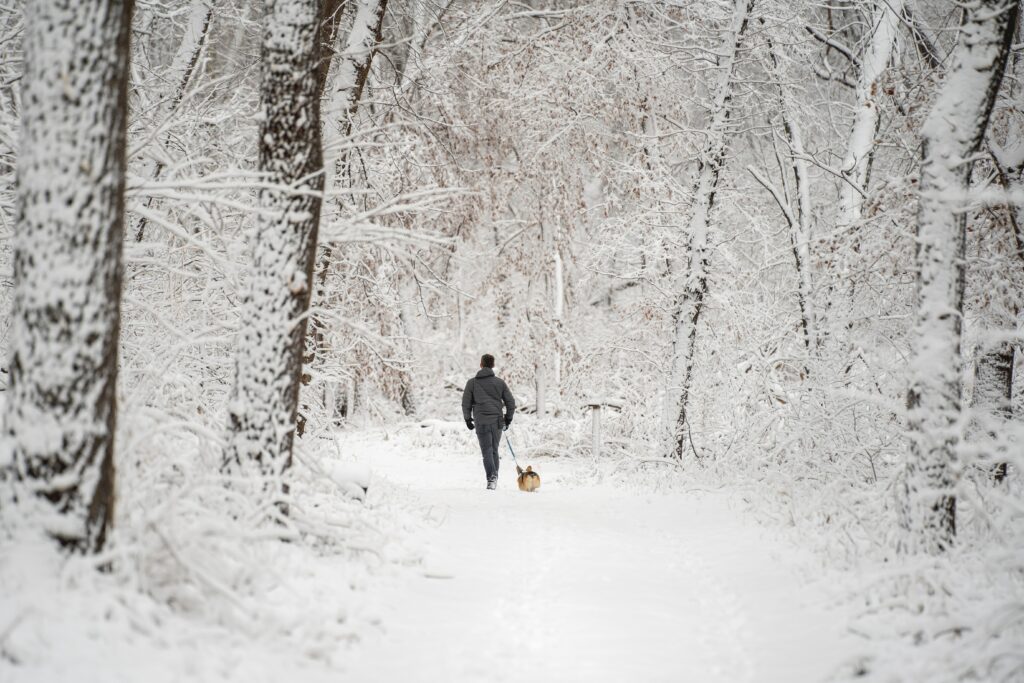 Modify your first aid kit
One of the biggest parts of hiking safety is having first aid training and the supplies you'll need. First off, a first aid kit is a must for any hiking, regardless of the season. When you add your dog into the mix, you "need to modify it to become a human and dog first aid kit. In the winter, hiking with a dog means learning proper hiking safety and first aid. 
A lot of doggy first aid is the same as human first aid. You'll want to add extra gauze pads, athletic tape, cotton balls, gloves, and the rest of the normal gear. More dog-centered first aid would mean packing some of the following:
Hydrogen peroxide – Useful for inducing vomiting if they found anything they shouldn't have gotten into.
Towel – Wet dogs are dangerous in the winter. They can freeze quickly, and it's best to get them as dry as possible, fast. 
Soft muzzle – Any mouth injuries may be inflamed by eating snow, which they will likely try and do. This can also help reduce the licking of other wounds. 
Rubber booties – To protect any wounds that happen on their feet, have some rubber booties to cover them up. 
We all prefer not to even think about our dog getting injured, but the truth is that it's possible. It's best to come prepared and ready to treat anything as the vet is a bit more out of reach when you are in the mountains.
Visibility
Visibility means two separate things here. First off, a whiteout snowstorm and blinding sunlight bouncing off the snow can be dangerous for your dog's eyes. Second, short days mean longer nights, and you want to find your dog if they ever get loose in the dark.
If you've hiked in the snow, you know how bright the white landscape around you makes everything. It can be difficult to see, which is why mountaineers wear those silly goggles with peripheral protection.
Fortunately, you can get a pair of goggles for your dog for both function and fashion that makes them look ready to hit the ski slopes. Goggles will help to protect them from the dangerous UV rays that can quickly damage their eyes as well as the cold snow pelting through the air. They'll look cool and be able to keep their vision.
Long, dark nights and winter go hand in hand. Maybe you don't live somewhere like Alaska, where there's barely any sun to be seen in winter, but the chance is still higher that you will get stuck out in the dark. 
Any time you go out with the potential of finding yourself in the dark, it's best to have something like a light-up collar for your dog. This way, if they get loose, you can track them through the woods by the bobbing neon green light. It will simply help to ease your mind and know where they're at throughout the entire hike.