Are you wishing you could go on an epic bike tour of Colorado Springs' best attractions? Or maybe you want to prepare for one of Colorado's annual cycling events. It doesn't take much to train for a bike tour. With just a little preparation, you can feel confident in your riding abilities and enjoy your time in the saddle exploring the sites.
Training for a bike tour consists mainly of cardio workouts and strengthening for the legs, back, and core. You should also include flexibility training to ensure your muscles do not tighten in response to the strength training. We'll go over what a typical week of bike training looks like so you can get riding in no time.
Strength Training for a Bike Tour
If you're not used to riding a bicycle, your legs will struggle to keep up on a bike tour. Strengthening your leg muscles, back, and core will keep you comfortable as you sit and work your leg muscles for hours on end on a bike tour. 
Leg Workouts for Biking
To prepare for a bike tour, you will need to build strength in the quadriceps, hamstring, and gluteus muscles. You can do goblet squats and lunges (or split squats which are static). Start with no weight and progress to doing them with a dumbbell. These will help strengthen the leg muscles that interact with the knee and keep your knees happy and healthy during your bike tour. 
Glute bridges are a great way to work out the butt muscles and the hip flexors making sure that you will be able to tolerate so much leg exercise in the sitting position. If you are not used to biking, you will notice your quads and hips getting tired first. That is why exercises like these are key for improving bicycle endurance.
Other leg exercises for biking include calf raises for the lower legs and side kicks for the outer quad muscles. Finally, you can use a stationary bike to practice one-leg pedaling. This is a strenuous but effective exercise because it forces your hips to work harder. When you pedal with both legs, it is common to push down more than pull up, so one-leg pedaling strengthens those pulling-up muscles.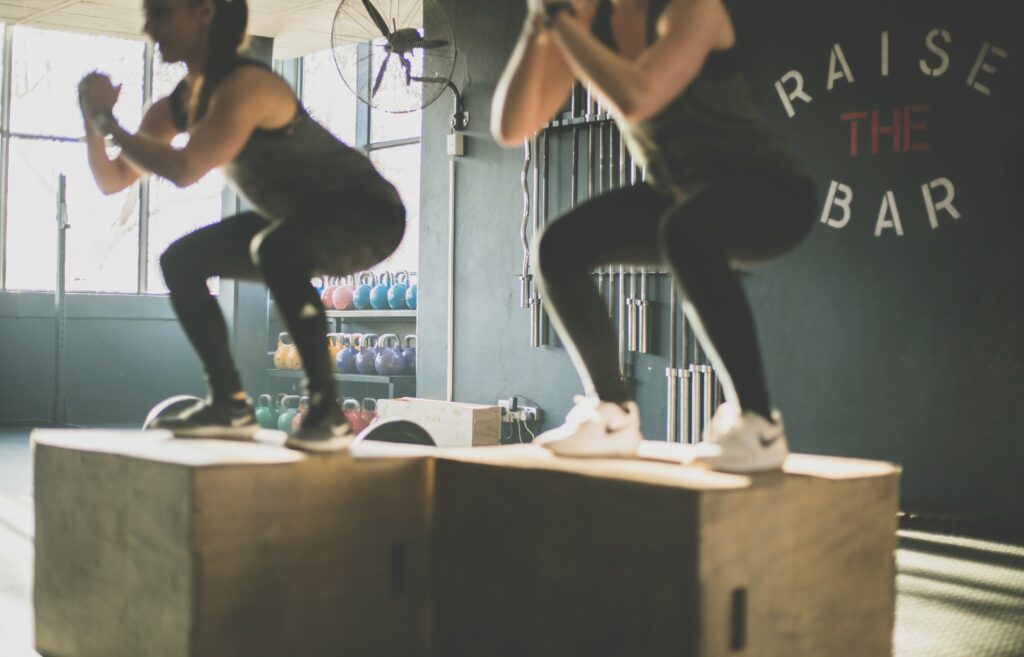 Back and Core Strength Training for a Bike Tour
Moving up the body, back and core workouts are also crucial to get you in bike-tour shape. Legs are not the only muscles that you will use when spending a day or more in the saddle. You also need to strengthen the muscles that keep you sitting upright on the bike. Romanian deadlifts are one of the best exercises to train the lower back. These exercises will help prevent discomfort when sitting for long periods of time. Unlike traditional deadlifts, Romanian deadlifts work the core more than the legs because you do not lower the weight to the ground and squat. When doing these, be sure to have the proper form and avoid rounding your back.
While deadlifts work the lower back and core muscles, you will also need to strengthen the erector spinae muscles, which travel the length of your back from the neck to the pelvis on either side of the spine. These muscles are important for posture and keeping upright on the bicycle. One great exercise for these back muscles is a quadruped, or bird dog, exercise. Start with your hands and knees on the ground and raise one arm and the opposite leg while keeping your core tight. This is a great way to strengthen your core for bicycling.
One final muscle group not to forget is the arm muscles. It is easy to overlook upper body workouts when thinking about bike riding, but you would be surprised at how tired your arms can get. When you think about the proper positioning on a bicycle, you actually use your arms a lot. Typically, bicyclists push against the handlebars for leverage, especially when biking uphill. And boy, are there a lot of hills involved in a Colorado Springs bike tour. Training your arms for a bike tour might consist of push-ups, planks, and side planks.
Cardio Training for Endurance Biking
You do not need to bike every day to train for biking. In fact, your cardio workouts can be anything. You can cross-train on a treadmill, with a HIIT (high-intensity interval training) workout, in a pool, or on a rowing machine. You can go jogging or hiking, or play a cardio-heavy sport like soccer or boxing. Cross-training is a great way to keep your schedule exciting and work out different muscle groups at the same time.
An ideal schedule for training for a bike tour is five or six days a week, alternating cardio and strength training days. You can plan to include one or two cross-training days per week, and make sure you are getting on the bike twice a week. Due to time constraints, you may plan a shorter ride of an hour during the week and a longer endurance ride for the weekend. You can plan for a two or three-hour weekend ride to start, and one great option is a guided bike tour. The distance you plan to achieve will determine the endurance rides. You can build up to it gradually over a few months or longer.
Pack Training for a Bike Tour
One essential step of training for a bike tour is pack training. Do not forget that a multi-day bike tour will necessarily include you carrying a backpack on your back or at least on the bike. This added weight will be quite a shock when you start if you have not introduced it during training. You can build up to it by starting with no weight and adding five pounds at a time. Once you have completed a month of training, including core and back exercises, you will find this added weight is no problem.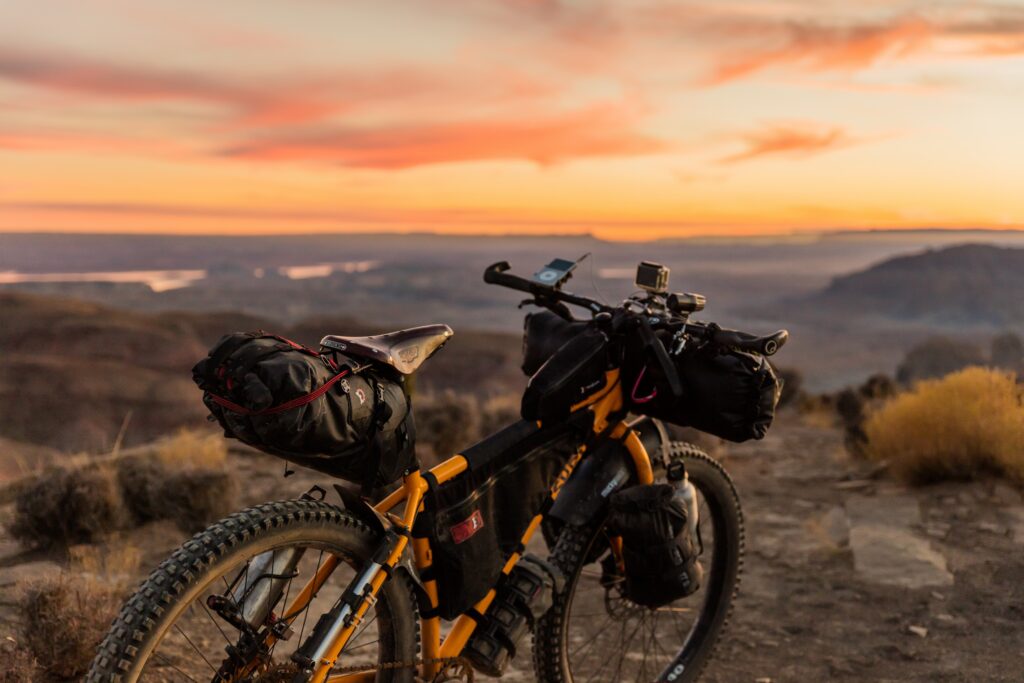 Best Stretches for Bicycling
Anytime you work out, either strength training or cardio, you need to stretch, too. Bicycling can easily cause joint pain and sore muscles if you are tight. Flexibility is essential for comfort and muscle endurance. That is why you should stretch every day, even on off days. 
Focusing on leg stretches, you will want to include hamstring (touch your toes), IT band and hip (figure 4), groin (butterfly), and quad (bring your foot to your butt). Key hip flexor and core stretches include reaching for the ceiling and the yoga cobra pose. Finally, keep your spine muscles flexible with neck and back stretches.
Final Thoughts
Training for a bike tour is a fantastic goal to keep you motivated to work out every day. You can also see some beautiful places in Colorado Springs as you train for the big event. Choose one of these six best mountain biking spots for an endurance ride, and you will surely come to love your biking training. Please always wear a helmet, follow bike safety guidelines, and have fun. Happy riding!