It's a constant debate among hikers. Are hiking boots or trail runners better for exploring the backcountry? As professional hiking guides, we've heard this question countless times, and now it's time to list the pros and cons of each option so you can make the best choice for your future adventure.
So, let's take a close look at trailer runners vs. hiking boots and what each option brings to the trail. But first, let's define these two types of footwear. 
What Are Hiking Boots?
Hiking boots are sturdy footwear that can take on everything the trail can throw at you. They typically deploy heavy-duty materials (such as leather) with a proven track record of holding up against harsh trail conditions season after season. Hiking boot soles tend to be stiff and supportive, while the upper can be waterproof or not – depending on your preference.
Boots either sit above the ankle, providing improved support and protection, or below the ankle. The low-cut option can also be referred to as a hiking shoe. But boot or shoe, this dedicated hiking footwear shares the same material and construction.
The last defining characteristic of hiking boots is that they are often noticeably heavier than your average street shoe or runner. This point brings us to trail runners.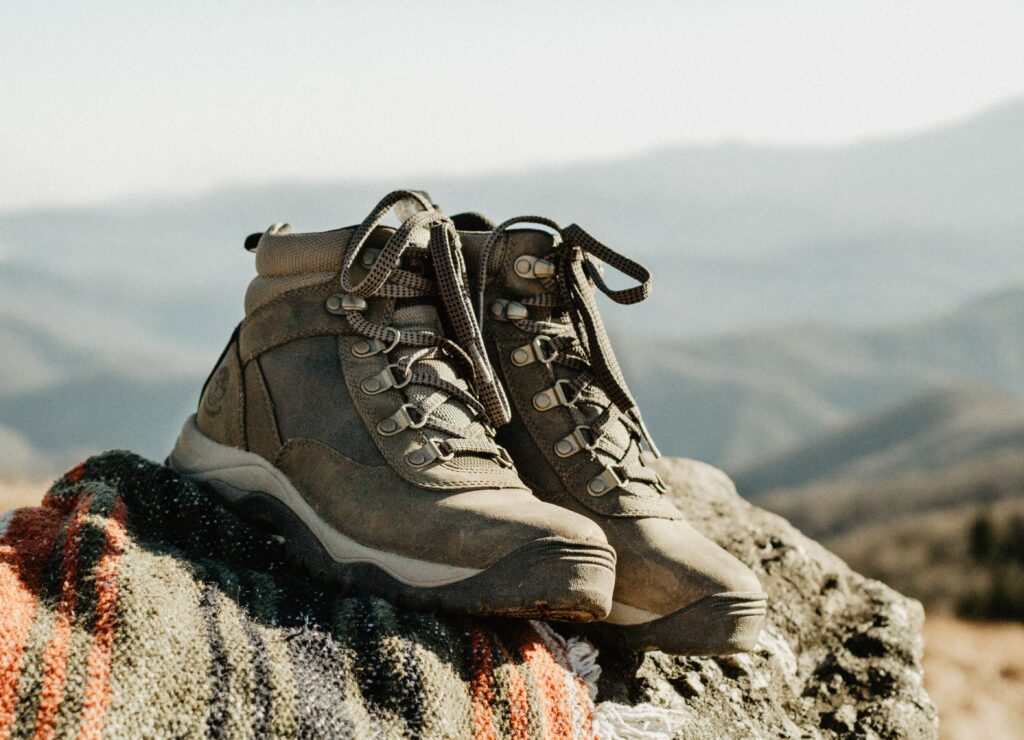 What Are Trail Runners?
As their name implies, trail runners are designed for runners tackling any terrain that's not pavement. It could be dirt trails, mud, gravel, rock, or any combination of these options. Since they're designed for running, trail runners have a flexible and light design to facilitate moving fast and fluidly. Since they're lighter, trail runners use less robust materials than dedicated hiking boots and offer less cushioning. But their naturally light movement and lower rigidity tend to make up for these drawbacks.
Now that we know the basics of hiking boots and trail runners let's dive into each one's benefits and drawbacks for hiking.
Hiking Boots – Benefits and Drawbacks
Benefits
Durability
Hiking boots are the burly tank of the hiking trail. Their heavy design is robust, long-lasting, and offers a great deal of support. Specifically, the heavier boot materials, such as leather, synthetics, and nubuck, are incredibly resistant to everything the trail can throw at you. They'll hold up season after season (with proper care).
Support
Hiking Boots are also noticeably stiffer than your average footwear, thanks to their midsoles (the middle layer embedded in the sole of the boot). It may initially seem and feel counterintuitive to opt for stiffer footwear, but this design provides more protection and stability when you're hiking for hours across rocky or uneven terrain.
Additionally, hiking boots offer significant ankle support. The lacing system typically extends above the ankle. This allows you to wrap your ankles in a stiff, supportive shell that significantly improves your stability on the trail. Such ankle support is absolutely crucial for hikers with a history of ankle issues or those tackling very loose or uneven terrain.
Warmth
The thick materials and increased coverage that hiking boots offer also improve warmth retention on chilly hikes. They can block a sharp wind and slow down how quickly heat escapes from your foot area. Combine these benefits with a thick sock, and burly waterproof hiking boots can get you through most 3-season hiking conditions. However, remember that regular mid-winter hiking in sub-freezing temperatures may require a winter-specific boot.
Drawbacks
Weight and Bulk
All the benefits and features that contribute to hiking boots' benefits combine to form one glaring drawback – weight. Hiking boots are noticeably heavy on the trail – although recent technology advancements are helping – and can sometimes feel ungainly and bulky while hiking.
This bulkiness is often highlighted on longer hikes when your energy starts to dip, and all that added weight on your feet may feel ponderous.
Stiff Materials
While stiffer soles and materials help with hiking stability, they can also detract from your overall comfort on the trail. The uncompromising nature of tough hiking boot material often doesn't automatically yield to accommodate your foot.
This leads to the common "break-in" period, where you wear your boots on several preliminary hikes before the material very subtly starts to conform to your foot size. Still, the material is stiff, and what may be comfortable at the beginning of a hike may not be hours later when your feet have swelled slightly from the hike.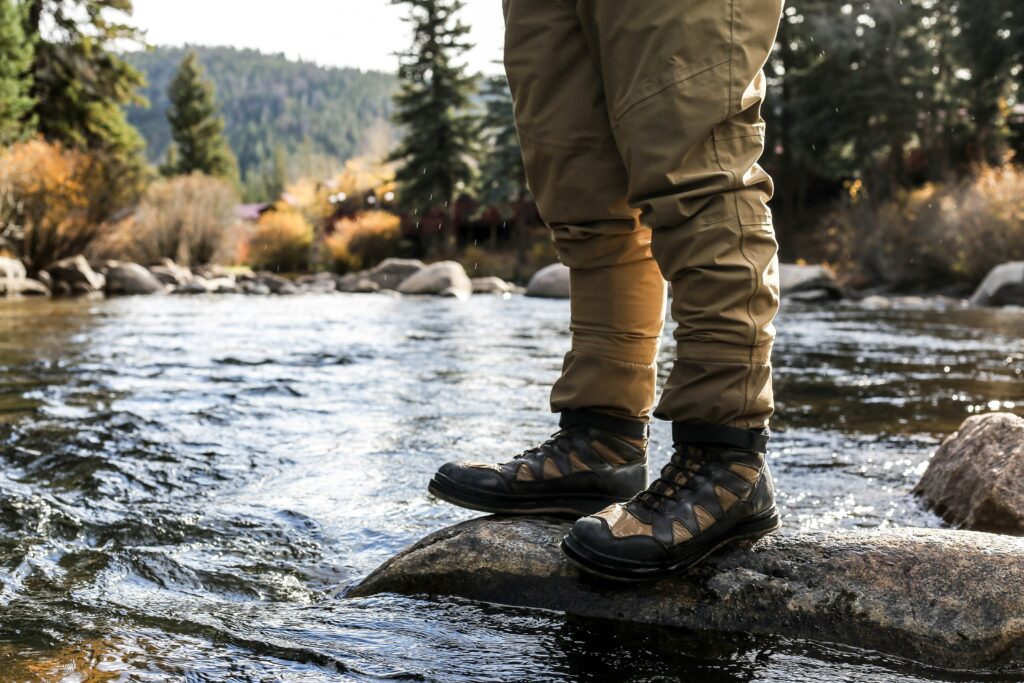 Trail Runners – Benefits and Drawbacks
Trail runners are almost the exact opposite of hiking boots. Let's take a close look at what sets them apart in the world of hiking, and where their benefits and drawbacks lie. As we progress through this section, keep in mind that trail runners are – as their name implies – designed first and foremost for running. However, they've recently gained an intense following in the hiking community for their comfortable and lightweight design.
Benefits
Lightweight
First off, they place a premium on lightweight materials. The shoes are designed to move light and fast, and every upper material choice reflects this goal. Therefore, trail runners don't hold you back while hiking and make each step feel light and natural.
This natural feel is further enhanced by trail runners' flexible design, which we'll discuss next.
Flexible
The bottom sole and midsole (if it has one) on a trail runner feature lightweight and flexible material choices. This flexibility gives these shoes a very natural feel. Every step is fluid and unrestricted, making this footwear option feel much more comfortable than its heavier boot counterparts.
Breathability
Exceptionally lightweight material choices also facilitate a wonderfully breathable design. Trail runners are often designed to shed heat and moisture very quickly. The result is footwear that helps keep your feet cool and comfortable when you're working hard and also dry quickly when they get wet – either from a quick downpour or a sweaty hike.
A note on weatherproofing: Many trail runners are available in a waterproof option. These options won't be as breathable as their non-waterproof counterparts but offer improved resistance to bad weather. However, keep in mind that the thin and lightweight materials don't retain the waterproofing treatment as long as full-sized hiking boots.
Comfort
As we've touched on while discussing flexibility, trail runners are exceptionally comfortable. The light and soft material easily conform to your feet to mitigate almost all rubbing, chaffing, and stiffness. The result is vastly improved comfort that has no break-in period. This point also tends to make trail runners an ideal option for hikers with exceptionally large or wide feet, as many trail runners (such as the Altra Brand) focus on naturally wide designs for optimum comfort.
Drawbacks
Lower Durability
The focus on lightweight materials means trail runners aren't as durable as heavy-duty hiking boots. They'll often wear down more quickly, and the thin upper material is more susceptible to scrapes or tears. Everyone's expereince will vary, but we often see trail runners lasting for just one or two seasons of heavy-duty use before materials begin to fail.
Less Support
Trail runners typically offer minimal support. Their low cut means no ankle support, while less cushioning in the sole leads to a rougher ride than hiking boots. Many trail runner shoes will include a rock plate – a hard plastic insert – in the sole to help lessen the impact of rocks underfoot. But nevertheless, trail runners undoubtedly offer much less support than a burly hiking boot.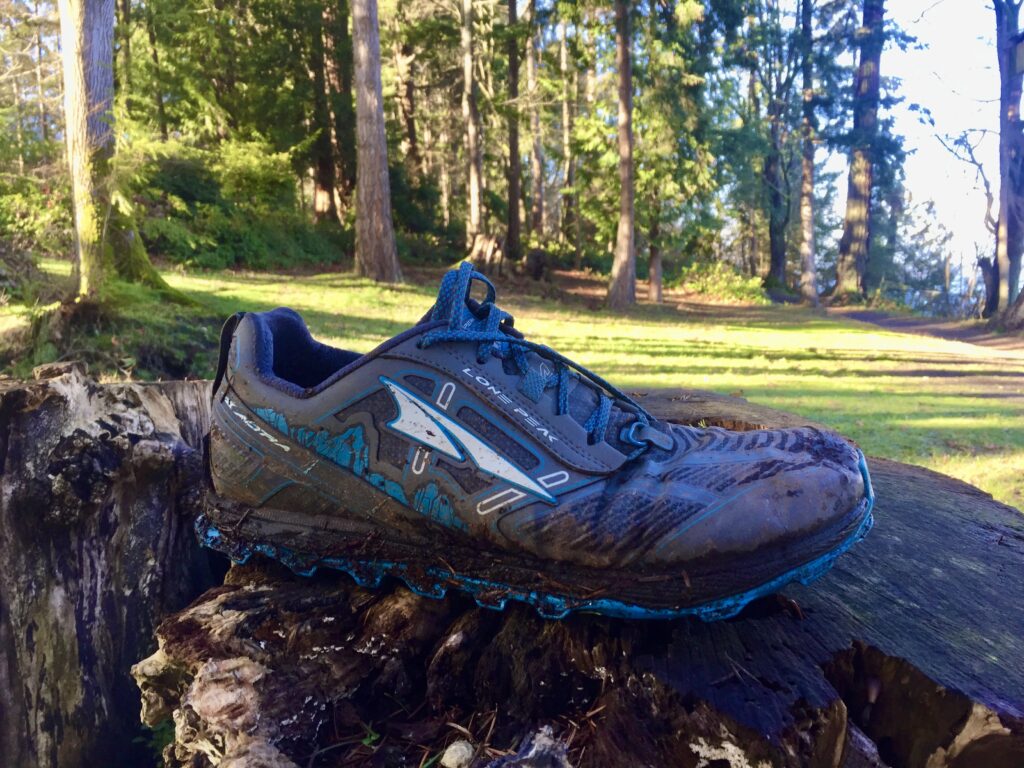 Bringing It Together
We've certainly covered plenty of information regarding both trail runners and hiking boots. So let's bring all the benefits together to see where each option shines in the backcountry.
| | |
| --- | --- |
| Trail Runner Benefits | Hiking Boot Benefits |
| – Lightweight | – Highly Durable |
| – Flexible | – Supportive |
| – Natural Step | – Excellent weatherproofing |
| – Breathable | – Warm |
| – Quick Drying | – Increased Cushioning |
How to Choose Between Hiking Boot and Trail Runners
So which is best, hiking boots or trail runners? Well, the decision comes down to your preferences and what you expect from your footwear. To help you make that decision, let's consider a few specific questions that dramatically influence which option is for you.
Do your ankles or arch require support in order to hike comfortably? Many hikers need additional support in these areas to prevent a rolled ankle or arch pain. Additionally, a previous injury may also necessitate increased support to avoid flare-ups. If this sounds like your situation, hiking boots may be the best option. Alternatively, do your feet ache in stiff or rigid shoes, or do you always get blisters from your toes rubbing against the inside material of stiff shoes? In this case, trail runners' soft and flexible comfort will likely be a good choice.
You can see where we're going with these questions. Think about what will make your feet happy. Everyone's priorities and comfort levels are different, so consider what works for your feet, the terrain you're expecting to encounter, and what you expect your footwear to provide out on the trail. Fill in these blanks, and you'll be well on your way to finding the perfect shoes for your next hiking adventure.